Aparajito is a familiar, fictionalised story: the older generation will be awash in nostalgia, but it certainly speaks to the younger generation too, as practically every other youngster dreams of making a film some day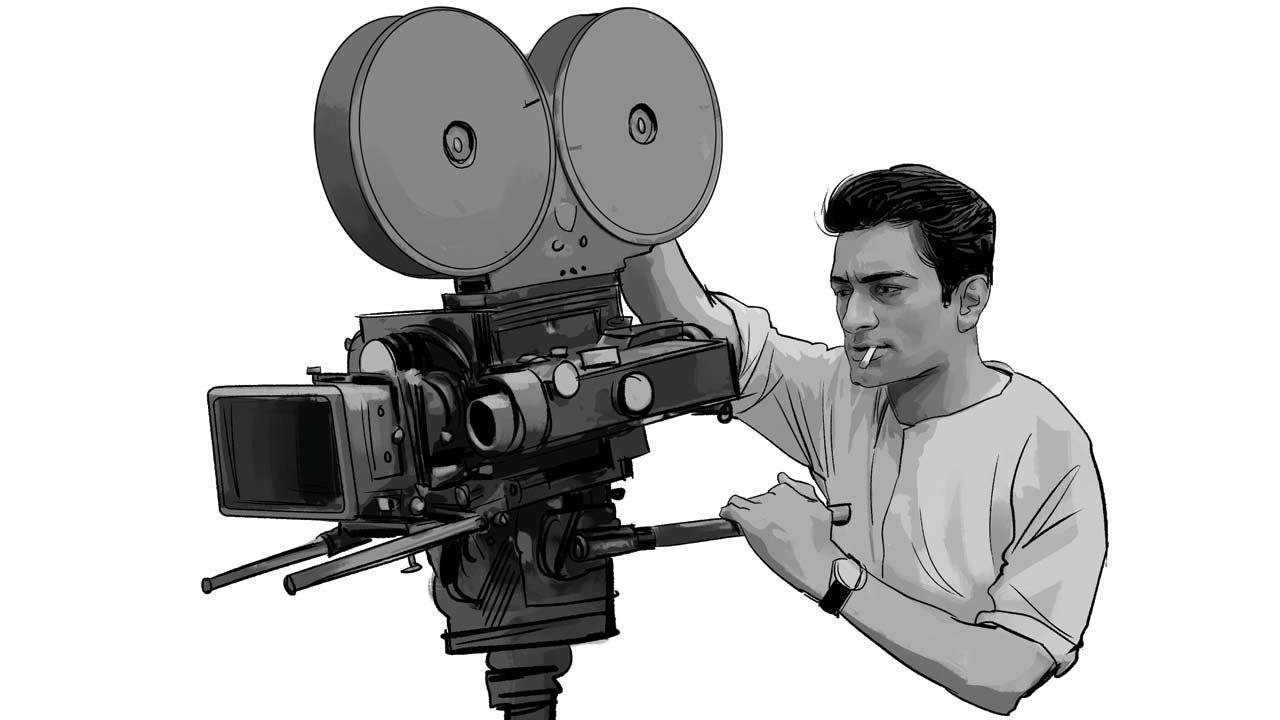 Illustration/Uday Mohite

Once in a while, a film comes along that sweeps you off your feet. Anik Dutta's Aparajito (The Undefeated, Bengali with English subtitles) is one such. Celebrating Satyajit Ray's (1921-1992) centenary year, actually 101st year, it is not a biopic on his life, but a film on the making of a masterpiece. On how Satyajit Ray made his first film Pather Panchali (Song of the Little Road) in 1955, that catapulted him and Indian cinema into the international league, by winning the Best Human Document Award at the Cannes Film Festival, and screening at the influential Museum of Modern Art (MoMA), New York. It is a charming primer, a great entry point into the work of a master of world cinema: Ray directed about 37 films, many world classics, including fiction, documentaries, TV films, children's films and shorts.
Aparajito is a familiar, fictionalised story: the older generation will be awash in nostalgia, but it certainly speaks to the younger generation too, as practically every other youngster dreams of making a film some day. The film opened in all-India theatres on May 13, and is available on bookmyshow. Dutta's earlier acclaimed work, sometimes flecked with satire and political comment, includes the horror-comedy Bhooter Bhabishyat, Ashchorjyo Prodeep, Meghnadbodh Rohoshyo, Bhobishyoter Bhoot (which was banned) and Borunbabur Bondhu. Aparajito chronicles Ray's struggles to make a film outside Bombay's stifling mainstream template, without a hero-heroine, romance or song and dance; about two kids, Apu and Durga, and their family, in a Bengali village, their joys and sorrows. We know Ray was a Renaissance man, skilled in direction, writing dialogues, doing illustrations, storyboarding, posters, inventing fonts, composing music, and more. Here we see how Ray started out in advertising, started a film society, and went to London on work, where he saw 99 films in six months. Deeply influenced by Vittorio De Sica's Bicycle Thieves and Italian neo-realism, he conceived Pather Panchali as a film on the return journey by ship. There are charming and funny insights, as to how Ray, a bit of an anglicised snob, had never read Bibhutibhushan Bandyopadhyay's popular novel Pather Panchali, until his boss commissioned him to design the cover for a new edition. How legendary cinematographer Subrata Mitra had never held a moving camera before this film. And how, thanks to the English title, the Bengal chief minister sanctioned PWD funds meant for the Siliguri highway, for a film called Song of the Little Road!
ADVERTISEMENT
The film is superbly directed, with genteel humour. The narrative is framed as an All India Radio interview of Ray, with his life told in flashback. This is rather old fashioned, but we don't care. Bengalis are prickly when it comes to their gods Rabindranath Tagore and Satyajit Ray, so the film is not a roman a clef but a film a clef, with the names of all the characters and films changed for legal reasons, yet recognisable. Ray himself is called Aparajito (Apu), uff! Jeetu Kamal, a Bengali TV actor, is a startling, delicious embodiment of Satyajit Ray (with Somnath Kundu's brilliant make-up), with his scowly gravitas, body language and dangling cigarette. The superb ensemble cast includes the lovely Saayoni Ghosh as his wife, Debashis Roy as cinematographer Subrata Mitra, Haro Kumar Gupta as Indir Thakrun and Paran Bandopadhyay as an oily minister. The screenplay and dialogues by Anik Dutta, Utsav Mukherjee and Sreeparna Mitra, are finely observant. We see the endless humiliation of the filmmaker by producers. The film honours the significant contribution of Ray's wife Bijoya, who pawned her wedding jewels, then arranged a meeting with the chief minister, who finally gave completion funds for the film; she also spotted Apu and Durga for the cast. Pather Panchali was made mostly by newcomers; Aparajito tributes the coffee house addabaji and friendships that gave such audacity wings. It also emphasises the role of film curators in championing original voices, that can dramatically change filmmakers' careers. Supratim Bhol's black and white cinematography (tributing Ray's earlier work itself) and lighting are exquisite; while honouring Subrata Mitra's natural (and bounce) lighting, the images even seem to have a silver nitratey glow. There's deft editing by Arghyakamal Mitra, marvellous art direction by Ananda Addhya and evocative music by Debojyoti Mishra. The women's contribution includes Sreeparna Mitra (screenplay, dialogues) and Suchismita Dasgupta (costume design). Bravo to producers Firdausul Hasan and Probal Halder. 
The audience clapped at the famous scene where Apu and Durga race among the kaash flowers to see a train for the first time, at its world premiere at the National Museum of Indian Cinema in Mumbai last fortnight. An excellent sign.
Meenakshi Shedde is India and South Asia Delegate to the Berlin International Film Festival, National Award-winning critic, curator to festivals worldwide and journalist. 
Reach her at meenakshi.shedde@mid-day.com
"Exciting news! Mid-day is now on WhatsApp Channels

Subscribe today by clicking the link and stay updated with the latest news!"
Click here!