The sublime first hour of Gangubai Kathiawadi smiled into my shining eyes and held me tight. Bhansali's maximalism had cooked itself into something rich but mellow like ragu sauce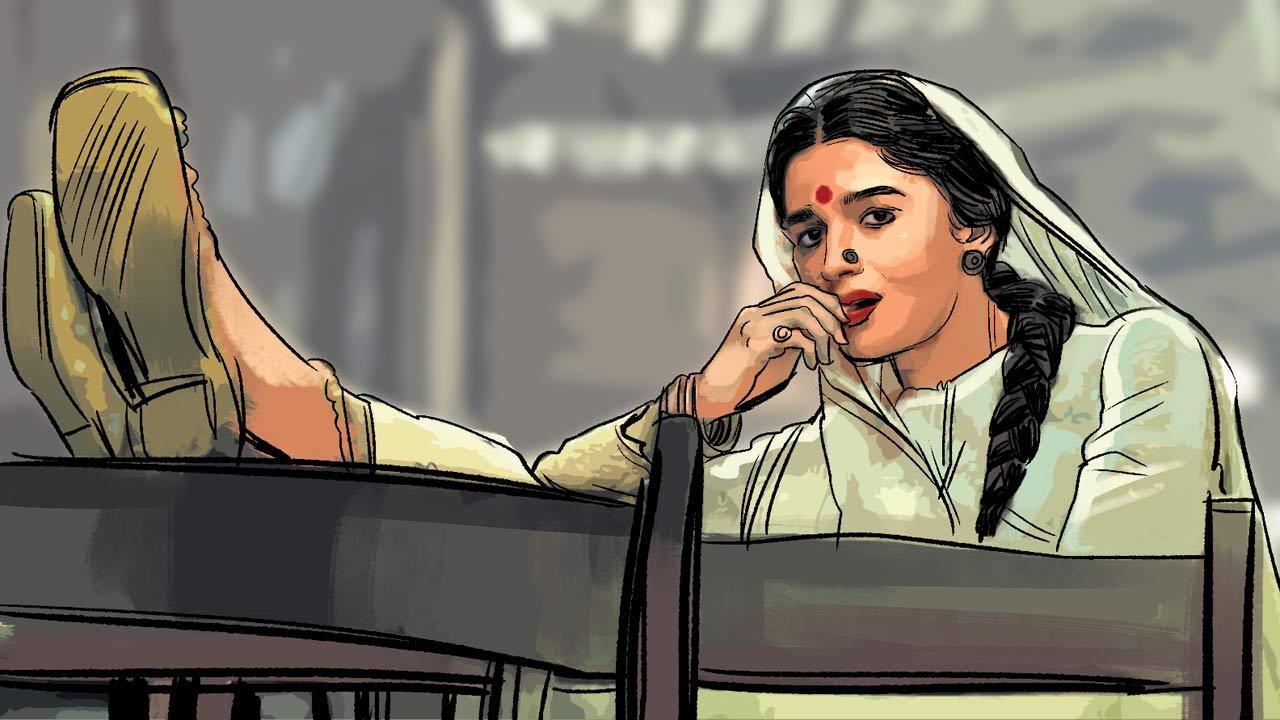 Illustration/Uday Mohite

As people have rolled their eyes at my love of Shah Rukh, so they have been horrified at my admiration of Sanjay Leela Bhansali. Belief that the aesthetic of realism signals enlightenment and rationality, that the discussion of power is a higher political truth than discussions of desire, feels distaste for their emotionally over-saturated, pleasure first conceptualisation, politically indisciplined queerness, and the unseemly passion that demands sincerity.
The sublime first hour of Gangubai Kathiawadi smiled into my shining eyes and held me tight. Bhansali's maximalism had cooked itself into something rich but mellow like ragu sauce. Though indicating the 1950s, its iconography and narrative energy are rooted in an older time, a younger Bombay and the libidinal energy which birthed the city: the bazaar. Sex, cinema, business nestle cheek-by-jowl, mohallas and professions seeping into each other's shades of grey. Sepia frames are designed like old film magazine photos, invoking actresses of the 1930s and '40s, hair frizzy, crimped, double-plaited, gleaming darker skin tones, potent, sultry glamour. The frontal frames use mirrors in ways playful, sensual, emotive and conceptual by turns and allude, with a delicious, dense economy, to cinema's courtesanal and theatrical roots. In a gorgeous scene, one woman's letter to her father is built of lines uttered by many members of the brothel, for each has a similar seam of pain. I laughed aloud when Seema Pahwa's bleach-covered face is reflected in a mirror held up by an assistant, becoming his face. Popular cinema has given refuge to much not considered respectable and acceptable by society, making it beautiful through the figure of the star; the cinema idol rules the spirit religion of our rejected parts. This is also the film's strength. Alia Bhatt is breathtaking—gathering into her body pain, loneliness, ambition and smarts, the burning heart of Gangu and many sex workers, such that it possesses our souls forever. In Ajay Devgn's presence, the star's heat and light floods the frame and fills our senses, cinematic intimacy that helps us embrace and empathise with the forbidden.
ADVERTISEMENT
Then, heartbreakingly the film falls apart. Sometimes, a fabulous moment flickers—the Nehruvian benevolence that gives protection, but not rights—but the slackjawed screenplay is unable to accompany Gangu from her internal world into her foray out of Kamathipura, or find a language for Bhansali's own foray out of his hermetic worlds, consisting of proto-feminist lived experiences of women, into arenas of political reality and intersectionality and feminist collectivisation. Vijay Raaz as Razia is a thoughtless portrayal—and fuels the question of why not cast a transperson,  revel in diverse beauties? The film becomes inarticulate, closer to the dull respectabilities of contemporary Bollywood, namely, the absence of lip sync songs with their emotional and cinematic expansiveness (the most tepid qawwali in the history of cinema is here, alas), a lugubrious voice-over to tell the Meaning of Everything, and images whose desaturation devolves into a gallery of Instagram filters, the cinematic suppressed by the photographic, movement(s) becoming static in every sense. The film becomes unintentionally meta, as if capitalism and respectability swallowed the liberations of cinema and burped out the homogenous faux-freedoms of Instagram where we nod, woke but disconnected from the visceral power of dream. One can only hope this is a transitional phase for the director—and for the world. Consider this column the missing song (happy and sad version).
Paromita Vohra is an award-winning Mumbai-based filmmaker, writer and curator working with fiction and non-fiction. Reach her at paromita.vohra@mid-day.com