Actor Sharad Ponkshe's new book on his two decade-long stage association with Nathuram Godse is a missed opportunity, as he mostly harps on duels over bed-breakfast logistics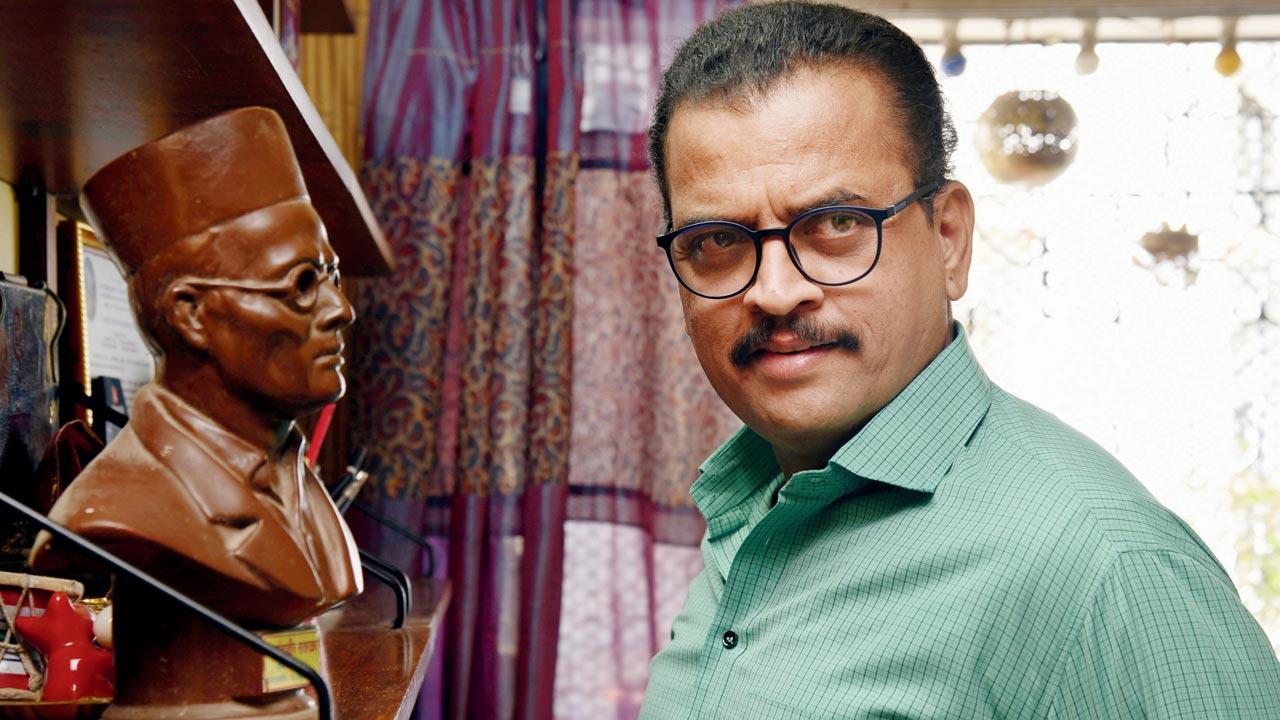 Sharad Ponkshe's role as Nathuram Godse in Mee Nathuram Godse Boltoy, not only gave him a new identity, but also shaped his new vocation as a speaker on the philosophy of Vinayak Damodar Savarkar. Pic/Nimesh Dave
When I received the manuscript of actor Sharad Ponkshe's new book, Mee ani Nathuram, three editions of the unpublished work had been booked in advance. The book's Aurangabad-based publisher, Shabdamrut Prakashan, was excited to announce a record fourth edition before the release.  I was also curious to read how one stage character impacts a performer over 20 years.  I had written on the ban on the play way back in 1998 and therefore, was awaiting some rear view reflective moments, which Ponkshe experienced, while essaying the historical—particularly hated—figure of Nathuram Godse amid political protest.
But, Mee ani Nathuram turned out to be a different book than the one I expected to read.  It offered me little in terms of the actor-character chemistry, but rather was a laundry list of conveniences denied to Ponkshe by producer Uday Dhurat.
Having reported on the theatre industry since the '80s, I have interacted with professional actors like Ponkshe, who brave tiring bus journeys, poor accommodation facilities, uncertain contractual terms and inadequate rest breaks.  They keep the show going despite the grind. Some take up cudgels with producers; stories of these performers are common to Marathi, Hindi and English theatre circuits. Producers too, represent their side of the business.  Journalists are meant to factor in all sides, just as I did by talking to Dhurat.
Dhurat, not privy to the book, will obviously read it after its Gudi Padwa release, which is this Tuesday.  I asked him about the broader allegation of mean miserly behaviour as producer of the Marathi play, Mee Nathuram Godse Boltoy, which had a spectacular run of 850 shows in 18 years.  Dhurat not just denied exploitative cost-cutting practices, but claimed that Ponkshe's anger stems from his inability to get performance-production rights of the popular script from him. Incidentally, Dhurat told this writer about his plans to write a book—in a fiercer response mode—negating the charges levelled against him.  He urged me to do a credential-check with other veteran actors, who have worked with him. I did not proceed in that direction knowing the landmines over there.
In fact, Dhurat's book-in-the-making did not enthuse me, especially after Ponkshe's account, which is not what it claims to be—an actor's journey with a character that is vilified in the Indian social discourse.  What was it like playing a disliked real-life figure? Since the actor believed in Godse's ideology, was it easier to enter the Godse persona?  Did he feel heroic or traumatised? Did he feel the need for an emotional distance, especially when the play received record houseful response? How much did the character allow or aid Ponkshe's own evolution?
Ponkshe's book addresses none of my questions; instead, it is a rant against one villain-like figure, who never shared the booty, schemed for non-AC auditorium rates, provided tap water as against the bottled variety, and chose paan-stained hotel rooms. Despite getting houseful shows and ample media mileage, the baddie never distributed pedas to commemorate the play's milestones. In a Bollywood-like twist to his roguery, he ticked his own brother off the play's production process, as soon as he realised the box office potential of the subject.
Incidentally, Marathi theatre industry has no dearth of instances when actors have rebelled against producers; some performers preferred to put on the producer's robes, so as to prevent further exploitation. Ponkshe himself severed ties from the producer. He wrote-directed a new script on Godse titled Hey Ram… Nathuram, and the play was mounted by the former producer's aforementioned sidelined brother.  It completed 250 shows in March 2018, following which Ponkshe declared that he won't play the character in the future. "I had to stop somewhere. As a 52-year-old actor, I cannot be playing a character, who was hanged at 39."
It is indeed graceful on an actor's part to bid goodbye to a popular role that gave him an identity in the Hindi-Marathi entertainment industry; the role shaped his new vocation as a sought-after globe-trotting speaker on the philosophy of Vinayak Damodar Savarkar. Ponkshe has been also approached for the protagonist's role in a Savarkar biopic, which he turned down because he thinks "he doesn't resemble the leader in any way". For a performer who has been-there-done-that and travelled the world in the intervening years, one expects a perspective heft in his look-back effort —not the rage of an upset struggler. His mention of the awards he did not win could have been avoided. 
Mee ani Nathuram could have been a captivating read. The play made history, and it lived a suspense-filled stage life that few contemporary works can boast of.  Its playwright Pradeep Dalvi and director Vinay Apte, no longer alive, reside in popular consciousness because of their sensational high-decibel presentation of Godse on stage.  It was watched by an eclectic audience—Bhimsen Joshi to Bhupen Hazarika. The ban on the play, resultant uproar in Rajya Sabha, permission for a restart after prolonged litigation, performances held in police bandobast, state-wide tours, instances of physical attacks and sloganeering during shows—Mee Nathruram Godse Boltoy was a package. At the centre of this was an impressionable 32-year-old actor who had done two-bit roles to eke a living. 
It is commendable that Ponkshe, the intense sincere Godse performer enjoyed the support and goodwill of fellow theatre persons, even those who did not subscribe to Godse's right-wing ideology or those who felt the script glorifies a murderer. Ponkshe's mentors and seniors disregarded political differences to uphold his right to perform a play in free India.  But, we don't find explicit mentions of that. Despite the humbling and ennobling moments the play gave him, his book dwells on extremes—on the one hand we read about the fans fawning over his stage histrionics, on the other, stands a producer who tricks him into paying an upma bill.
I find Ponkshe's book somewhat like his personality—abrasive, and driven by a vague activist agenda.  Born in the Brahmanpuri neighbourhood in Miraj, young Ponkshe was raised by his grandparents in the initial years. At an age when children play Ludo, he took to the RSS shakha, which defined his reading choices and life-long affection for Hindu ideologues like KB Hedgewar, Savarkar and Godse, too.  When he joined his parents, both employees of BEST living in far off Bhayander, the shakha and RSS ideology remained a constant. After matriculation, he was more inclined towards theatre; he followed his father in BEST as a diesel mechanic. Meanwhile, he worked as a volunteer in many RSS projects like Keshav Srushti (Uttan). In 1985, he left the RSS due to differences and joined the Shiv Sena.  In the 
book, he often thanks Sena for protecting him during the tumultuous Godse play run. Irrespective of his leanings towards the RSS or the Sena, his identity as a Konkanastha Brahmin remains central to his stance—a fact he flaunts without much heed for political correctness. 
Ponkshe's journey is eventful.  It evokes awe. His experiences are specific—be it the small Godse cameo in Kamal Hasan's Hey Ram, his recent fight with cancer, and the indefatigable spirit, which prompts him to play Nathuram, hours after losing a dear one. If only the spirit lifted him above minutiae.
Sumedha Raikar-Mhatre is a culture columnist in search of the sub-text.  You can reach her at  sumedha.raikar@mid-day.com