So we glided in the boat at sunset, watching Varanasi's ghats from the river, till the full moon rose, and they had the showstopper Ganga aarti at the Dashashwamedh ghat.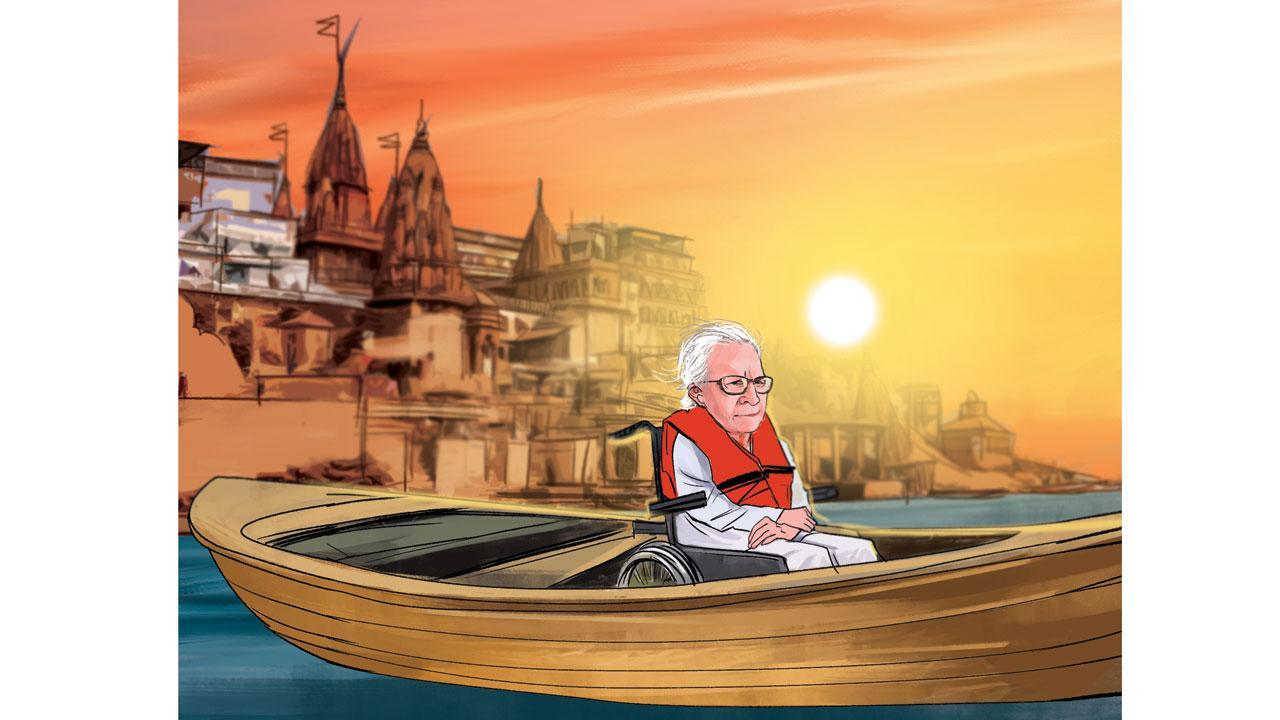 Illustration/Uday Mohite

Pha-Pho-Phu-Pha-Pha!" That was the boatman on the Ganga at Varanasi, explaining the names of all the ancient ghats to us. Kya??? "Pha-Pho-Phu-Pha-Pha!" he repeated, only much louder. I had taken Amma, Indu Shedde, 96, on a trip to Benares. Just a few minutes earlier, the boatman had very politely assured us, "Main aapko Banaras ke poore ghat bataoonga" —I'll show you all the ghats of Benares. And then he popped a Banarasi paan or two in his mouth, and bas, that was itthe rest of the evening was a series of plosive sounds weaseling their way through the paan in his bulging mouth. I wanted to tell him, ya aap paan khao, ya hame guide karo (either you eat paan or guide us). Instead, I let him enjoy his paan, and simply let Varanasi do the talking. So we glided in the boat at sunset, watching Varanasi's ghats from the river, till the full moon rose, and they had the showstopper Ganga aarti at the Dashashwamedh ghat.
We were staying at the Bal Ashram, whose head, Tejbalji, had kindly arranged a wheelchair for Amma all the way: three men lifted her wheelchair right down the steps of Assi Ghat, and amazingly, placed it right inside the boat! We went past many ghats, including the Manikarnika Ghat, where bodies of the dead are cremated all day and night, Brahma Ghat, Hanuman Ghat, Munshi Ghat (after Munshi Premchand: a writer gets sanctified, bravo!) and Meer (Mir) Ghat. The last was named after the Muslim commander Mir Rustam Ali, Faujdar of Kashi, who built the fort-ghat in 1735 AD at Lahori Tola, according to the UP Tourism government website. Anytime now a resolution can be expected, renaming it Mirabai Ghat at Lakshman Tola, so the new generation learns a "pavitra", rewritten history. Likewise, the renovated Khidkiya Ghat has been renamed Namo Ghat, with jaw-dropping modesty, effortlessly inscribing a contemporary politician into the pantheon of the gods—
but, of course, the name only means a salutation.
ADVERTISEMENT
All that birth-death-reincarnation chukker buzzing in your head is swept away on arrival at the airport, where you are greeted with an 'I heart Kashi' sign. Then you pass innumerable signs for beauty parlours called Honey Glow, Gloss n Glamour and Blushing Inn, and a Wife on Leave restaurant (with an 'I love my wife' disclaimer below, like anticipatory bail). And at Assi Ghat, there's a Basil Leaf Restro and Juice Bar and a Tattoo Baba, no less. 
The best part—Banarasis are big foodies. Even the thelawala chaiwala has a sign, RCB Ristaa Chai Bar; there's an MBA chai and a Bewafa Chai (Unfaithful Tea). And the Banarasi lassiwalas include Pehelwan Lassi. At the famous Madhur Jalpan in a little lane behind the District Jail, we tuck into kachori-jalebi (standard Banarasi breakfast), aloo-puri and jaleba (a bigger, fancier jalebi). But the delightful Kundan Shivam Mishraji at the ashram had recommended Mishrambu Thandai. At the tiny Mishrambu shop on Godowlia Chauraha, a man poured a thick yellow liquid of ground nuts (kaju-badam), saffron and milk into a glass, added thandai, lashings of malai, more ground cashew liquid, and finally, a pinch of bhang (mashed green cannabis/ marijuana, Shivji-approved), and shook it with another ulta glass on top—oh man, it was fabulous, a drink of the gods! Amma's glass didn't have anything Shivji-approved, of course ;-)
Finally, at Keshav Tambul Bhandar at Nagwa, Lanka, we had the famous Banarasi Paan. Umesh Chandra Chaurasia picked us maghai paan, slathered on katha like it were shaving cream, then added a series of gooey concoctions, including Navratan Chutney, Shankar Shambho, and Snow Peak Rasva—don't ask. Amma and I simply closed our eyes and were in paan heaven.
Meenakshi Shedde is India and South Asia Delegate to the Berlin International Film Festival, National Award-winning critic, curator to festivals worldwide and journalist. 
Reach her at meenakshi.shedde@mid-day.com