Bravo, in today's right-wing India, saffron can also be a colour of Buddhist peace and compassion.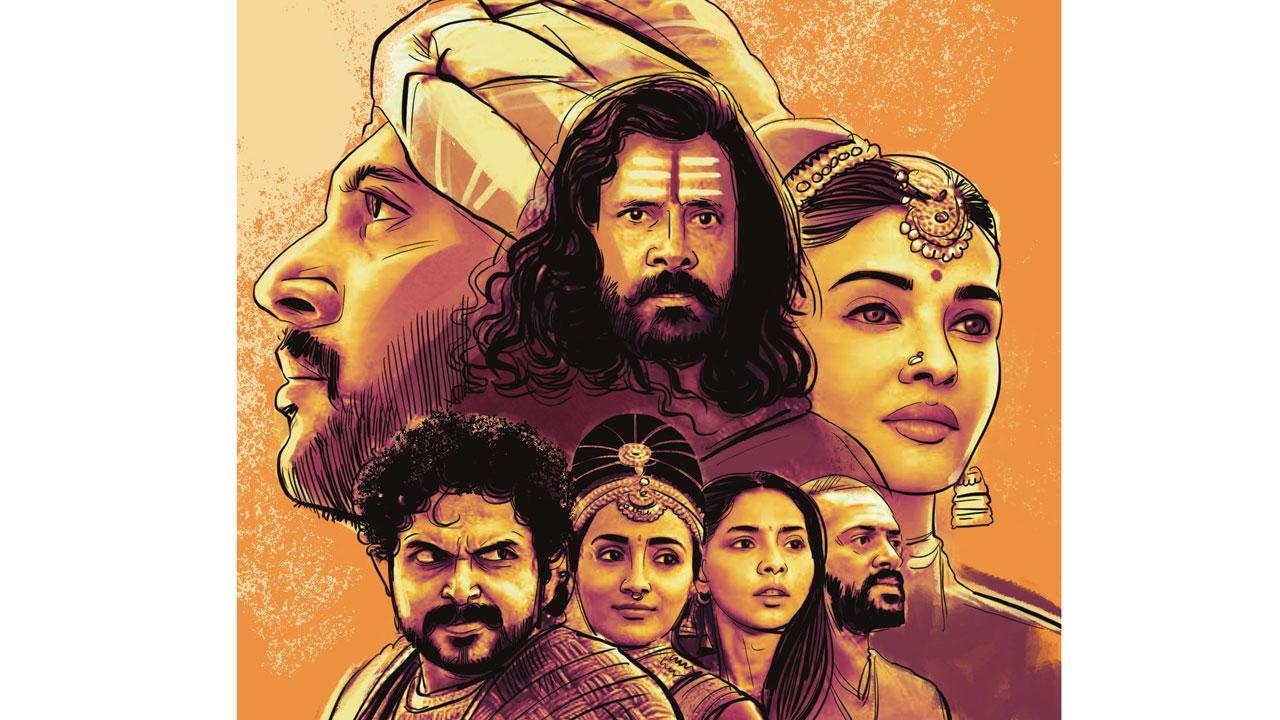 Illustration/Uday Mohite

Mani Ratnam's Ponniyin Selvan-2, PS-2, is a superb sequel to PS-1 (in theatres in Tamil, dubbed in Hindi, Telugu, Malayalam, Kannada—and Tamil with English subtitles, praise the Lord!). The eloquent title, meaning Ponni's Son or Son of the River Cauvery, refers to the great Chola King Rajaraja-I (the Cholas reigned from 9th-13th centuries CE); spoilers ahead. We meet him when he is still the young Prince Arunmozhi, who later becomes king. What I loved about his character is that he is good looking, romantic, heroic on the battlefield—but crucially, when offered the throne to the kingdom, he offers it instead to his uncle Madhurantakan, who has staked his claim. Only after the uncle dies 14 years later, he ascends the throne and takes the kingdom to heights of glory. Influenced by Buddhism in Sri Lanka, where he lived, he is not greedy, can make supreme sacrifices without hesitation, and has the most appealing, kindest eyes (Jayam Ravi, uff!). While macho Bollywood and Tamil heroes despatch 20 villains apiece, yawn, it takes a Mani Ratnam to understand that women find kindness hot.
The film is, of course, adapted from Kalki Krishnamurthy's five-volume Ponniyin Selvan, published in 1955, a fictional novel based on historical events and characters. Speaking to Gowri Ramnarayan, Kalki expert and his granddaughter, in Chicago, I understand that his novel sets a moral agenda for a newly independent nation, while reflecting pride in our ancient culture, with socialist touches, as when a boatwoman, Poonguzhali, becomes Queen. PS-1 sets the stage with swashbuckling war scenes, love stories and multiple story lines, and PS-2 takes the skeins forward convincingly. Rumours of a death trigger conspiracies and a succession war, leaving the three royal Chola siblings Aditha Karikalan (Chiyaan Vikram), Kundavai (Trisha) and Arunmozhi Varman (Jayam Ravi) vulnerable. Aditha Karikalan had killed Pandya King Veera Pandya, who was close to Aditha's estranged lover Nandini (Aishwarya), who is married to the ageing Periya Pazhuvettarayar. To his eternal guilt, Nandini becomes his sworn frenemy.
ADVERTISEMENT
Also read: Not blood or bones, but sweets
While there are superbly staged battle scenes, we cherish the quieter moments, such as the erotic frisson when a blindfolded Vanthiyathevan (Karthi) is held at swordpoint by his lover Kundavai, without so much as a kiss. There's also a marvellous sequence where enemies come to kill Arunmozhi, but he is surrounded by orange-robed Buddhist monks in a monastery, and saved. Bravo, in today's right-wing India, saffron can also be a colour of Buddhist peace and compassion.
In deft, haiku-like strokes, Ratnam's flashback explains the great love story between Aditha Karikalan and Nandini, before provoking a dramatic existential crisis: their track is a Sanjay Leela Bhansali Dept subplot by itself, in love-is-pain mode: lovers whose love burns bright, even as it is steeped in the poison of rage, revenge and betrayal. All set in a smothering, red-and-black room lit with a hundred oil lamps (production designer Thota Tharrani and costume designer Eka Lakhani are in top form). All the cast are in great form.
Both Ratnam and cinematographer Ravi Varma weave magic through small, telling details. The characters are all realistic; the action modest, yet effective. This less-is-more approach is a counterpoint to the larger-than-life, action-packed, VFX-laden approach of SS Rajamouli's period epics Baahubali or RRR, and both appeal in different ways. Editor Sreekar Prasad heroically ties up multiple storylines. As a non-Tamilian, I was still fuzzy about Veera Pandya's and Oomai Rani's relationship to Nandini, and it didn't help that it was too early for me anyway: I had set my alarm for 5 am to catch PS-2's 6.30 am First Day First Show (FDFS) at PVR Infiniti Malad, one of the few theatres in Mumbai to have Tamil with English subtitles: Hindi dubbed Tamil films are for the plebs. The screenplay, by Mani Ratnam, Jeyamohan and Kumaravel is rich, complex and complicated (both PS-1 and PS-2 have spawned a mini video industry, explaining the action on YouTube, with millions of hits). AR Rahman's music elevates the film, including soulful songs Aga Naga, Veera Raja Veera and Chinnanjiru Nilave (Oh, young moon, why is there distance between us?...I feel the universe slip through my fingers).
The film is produced by Mani Ratnam's Madras Talkies and Subaskaran's Lyca Productions—it's a Red Giant Movies release. Women crew include costume designer Eka Lakhani.
Meenakshi Shedde is India and South Asia Delegate to the Berlin International Film Festival, National Award-winning critic, curator to festivals worldwide and journalist. 
Reach her at meenakshi.shedde@mid-day.com