Rahul Bhat and Sunny Leone star in Anurag Kashyap's Kennedy, a noir thriller about an ex-cop who is believed to be dead, but is alive, a hitman, and still working for the system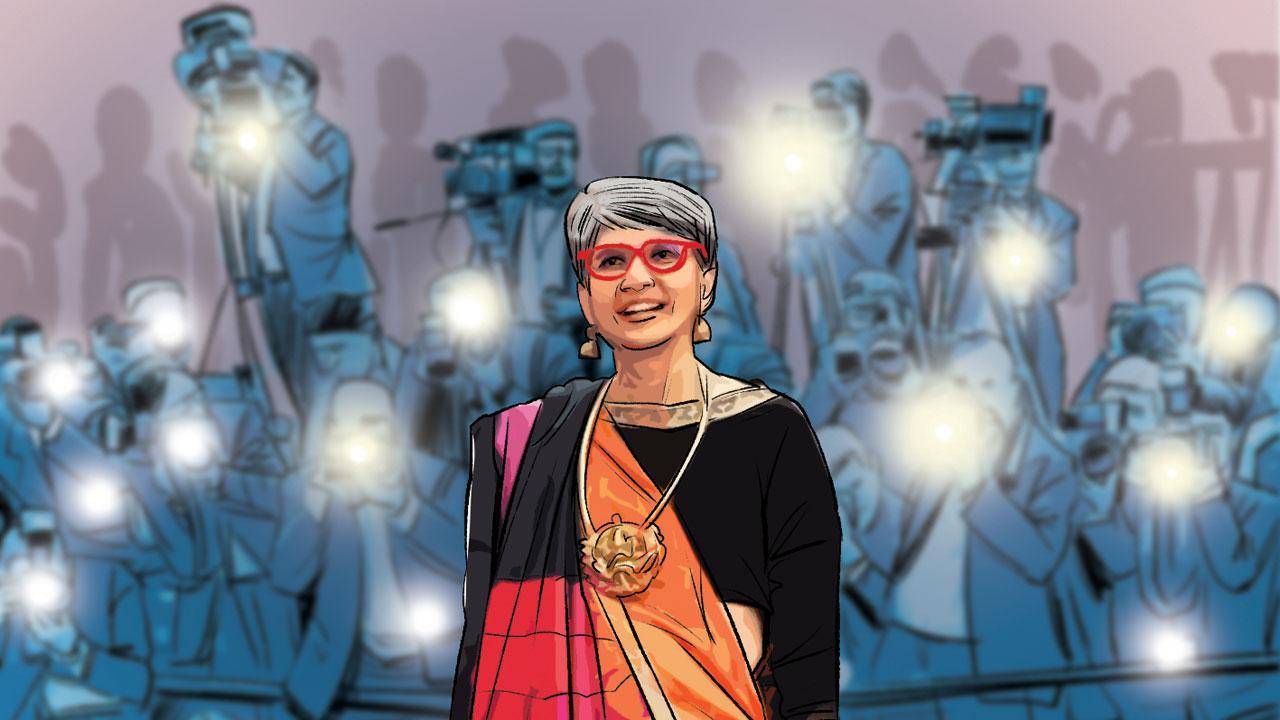 Illustration/Uday Mohite

India and South Asia have a solid showing at the 76th Cannes Film Festival this year, which runs from May 16-27. There are at least six South Asian films across various sections, and an Indian jury member as well. The films include Anurag Kashyap's Kennedy in the Midnight Screenings section, Kanu Behl's Agra in Directors' Fortnight, Zarrar Kahn's In Flames, a Pakistani-Canadian film, also in Directors' Fortnight, and Yudhajit Basu's Nehemich (Always, Marathi) in La Cinef section for film school entries. In the Cannes Classics section are two more films—Manipuri filmmaker Aribam Syam Sharma's Ishanou (The Chosen One), shown earlier at Cannes in 1991, now restored by the Film Heritage Foundation headed by Shivendra Singh Dungarpur and partners, and London-based Dheeraj Akolkar's documentary feature Liv Ullmann: A Road Less Travelled, on the Norwegian actress, director and longtime collaborator of Swedish director Ingmar Bergman. And, of course, I'm hugely honoured to be on the Jury of the Cannes Film Festival's 62nd Semaine de la Critique/Critics' Week. The Jury members of this section—for only first and second features and shorts—include French/Lebanese director, screenwriter and Jury President Audrey Diwan, German actor Franz Rogowski, Kim Yutani, Director of Programming,  Sundance Film Festival, USA, Portuguese cinematographer Rui Poças and myself. Semaine de la Critique/Critics' Week Director Ava Cahen and her team made a fine, distilled selection of seven feature films and 10 shorts in competition.
Also read: Swallowing gods
ADVERTISEMENT
Rahul Bhat and Sunny Leone star in Anurag Kashyap's Kennedy, a noir thriller about an ex-cop who is believed to be dead, but is alive, a hitman, and still working for the system. The film is produced by Kashyap's Good Bad Films and Zee Studios. Kashyap and Bhat had earlier collaborated in Ugly, which screened at the Cannes Film Festival in  2013, and in Dobaaraa.
Kanu Behl's Agra in Directors' Fortnight, written by Kanu Behl and Atika Chohan, explores multiple issues in a dysfunctional family, including mental illness, sexual frustration and patriarchy, and also relates these to lack of space and privacy. 
Zarrar Kahn's (formerly Hamza Bangash) In Flames, a Pakistani-Canadian film, also in Directors' Fortnight, reflects on the deeply rooted patriarchy in Pakistan, through a widow and daughter story; exploring mental illness, the vulnerability of single women and their access to inheritance; the film also has genre tendencies, with thriller and horror elements. The film is produced by Anam Abbas, a woman Pakistani-Canadian producer, and Kahn.
Yudhajit Basu's short Nehemich (Always, Marathi) is in La Cinef section for film school entries, in this case the Film and Television Institute of India (FTII Pune). It is a rich and compelling work that deals with womens' menstruation and their isolation during 'those days,' their desires and their relationship with animals. 
As for moi, this is my fourth time at the Cannes Film Festival and second time on the festival jury: I was earlier at Cannes on the FIPRESCI International Federation of  Film Critics' Jury (2001); I covered the festival as a critic (2004) and as the (now Jio Mami) Mumbai Film Festival's International Cinema Programmer (2009). In fact, I have a long, 28-year association with France, including as Consultant to the Cinematheque Francaise, Paris, for a Raj Kapoor retrospective; I wrote for Cahiers du Cinema magazine for about 10 years around 2005-2015, and I wrote for Au Sud du Cinema, the anniversary issue of Fonds Sud, France. W-o-h sab chhodo. Way back in 2019, at a FIPRESCI India seminar on the role of film criticism at IFFI-Goa, I had spoken passionately about why the Critics' Week at Cannes is the gold standard when it comes to what critics can do to support good, independent cinema, see YouTube. I didn't know anyone there. This month, invited to the Critics' Week as a Jury member, I felt the wheel had come a full circle.
Meenakshi Shedde is India and South Asia Delegate to the Berlin International Film Festival, National Award-winning critic, curator to festivals worldwide and journalist. 
Reach her at meenakshi.shedde@mid-day.com