The pitches on offer for the first three India-Australia Tests were not easy to bat on, but they were not unplayable either as Rohit, Jadeja, Axar, Pujara and Khawaja showed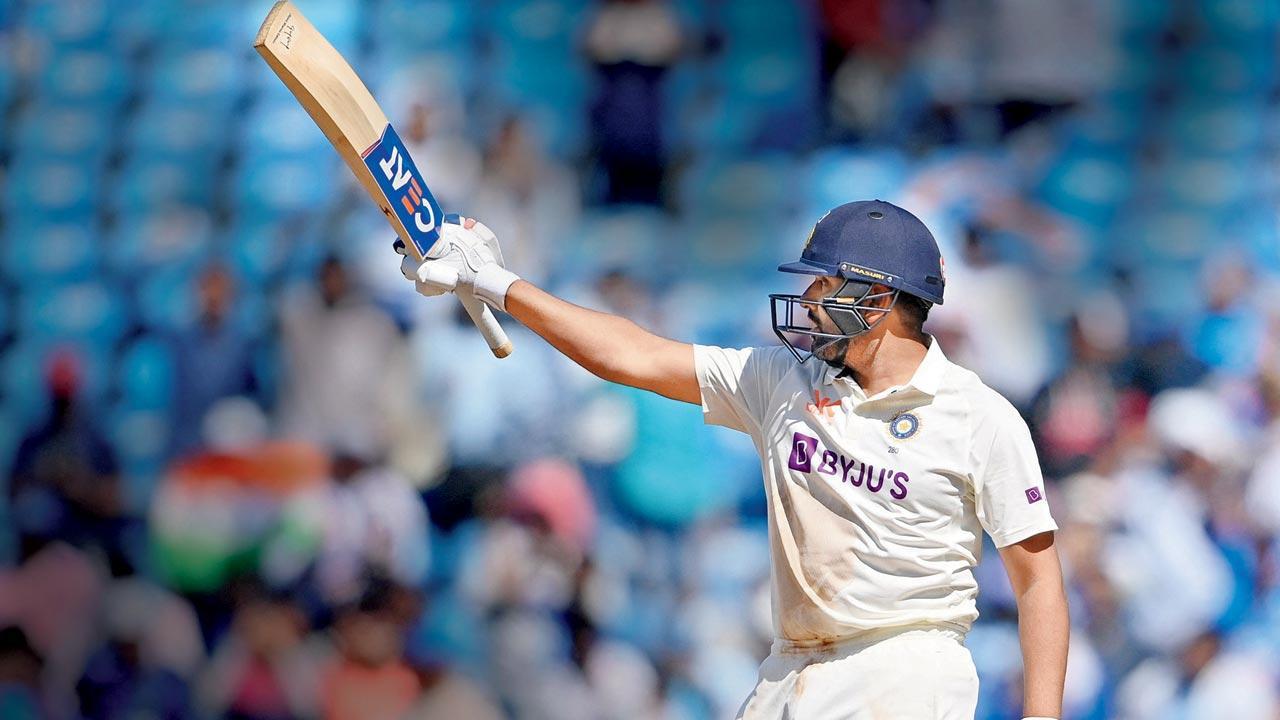 India skipper Rohit Sharma celebrates after scoring his century against Australia at Nagpur last month. Pic/AFP

Australia's win in the third Test match at Indore inside three days brought into focus not just the pitch but also the Indian strategy of preparing pitches which help spinners from the first day. 
The Indian skipper admitted at the media conference that it was a collective decision to make pitches like these with the aim of qualifying for the World Test Championship to be played in England in early June.  It is a selfless objective to get the Indian team to qualify for the finals forgetting the damage that could be done to the batters' personal stats and averages.
ADVERTISEMENT
Why have it only in England?
By the way, that also brings up the question of whether every Test Championship final is always going to be played in England. Yes, that time of the year is when most countries have finished their cricketing season and the season has just begun in England, but if it is truly a World Test Championship then it has to go to different parts of the cricketing world like the ICC one-day and T20 World Cups are going now. It took initiative from the BCCI way back in 1983 after India won the World Cup to move the World Cup away from England, who had hosted three back to back World cups. It is understandable that TV drives a lot of decisions, but only playing it in England is not the answer. 
It can be played in South Africa, where the timing would be pretty similar to England, it could be played in the sub-continent too after the IPL. If somebody questions the weather around that time in the sub-continent then where is the certainty of weather in England at any time of their summer anyway? 
Also Read: Nothing quite like Test cricket
Even the West Indies can host the finals, though for the sub-continent viewers, it may be a bit taxing to keep awake for the post-tea sessions from there. Be that as it may, the next Final in 2025 has to be located outside England if it is truly considered a World Test Championship final.
Coming back to the pitches on offer, for the first three Test matches, they were not easy to bat on for sure, but they were not unplayable either as Rohit Sharma with a classy century and Ravindra Jadeja, Axar Patel and Cheteshwar Pujara with sensible gritty patient batting showed for India. For Australia, it has been Usman Khawaja who has shown how to bat on the surfaces with a combination of patience and good shot selection. These kind of pitches bring out the technique and temperament of a player and those who don't have it, haven't scored. Truly, scoring a century in these conditions and England's seaming conditions makes a batter a great one and not just  getting hundreds on the flat pitches of Australia, South Africa, where there is extra bounce at times but that bounce eases up as a batter settles in. Don't also forget that the Kookaburra ball swings and seams only for a dozen overs or less and once that period is done then it's Diwali, Christmas, New Year come together for the batters. So frankly, scoring big runs in Australia currently where the Kookaburra ball is being used is not half as tough as getting a half-century in India.
It was refreshing to hear the stand-in skipper for Australia, Steve Smith say after the third Test match that he enjoys playing on these surfaces rather than on flat pitches. He said that captaining in India is like a game of chess, every delivery means something. Every delivery is an event and therefore can dictate what happens after. He thought he had good fun captaining the side and in fact his captaincy, his bowling changes and field placing were one of the major factors in Australia winning in Indore, not to forget that outstanding catch to get rid of Pujara who was batting so well and could have helped India get a few more runs. Smith has scored one of the greatest Test hundreds seen in India in Pune on the last tour of India in 2017 and in Nagpur and Indore looked threatening again but fortunately for India was dismissed before getting a big one.
3 demerit points harsh
So three demerit points for the Indore pitch is a bit harsh simply because if the pitch was such an unplayable one, then the Australians would never have been able to have an unbeaten partnership of 76 on Day Three nor the 96 runs stand for the second wicket on Day Two. The BCCI would do well to present these points in their appeal to the ICC to reduce the demerit points for the Indore pitch. If the Gabba pitch in December last year, which was threatening to the life and limb of the batters, was given only one demerit point, why three demerit points to the Indore pitch which was threatening only to the technique and temperament of the batters?
Professional Management Group