The Kingdom of Bhutan changed dramatically in 2006, when the monarchy gave way to democracy, internet, television and more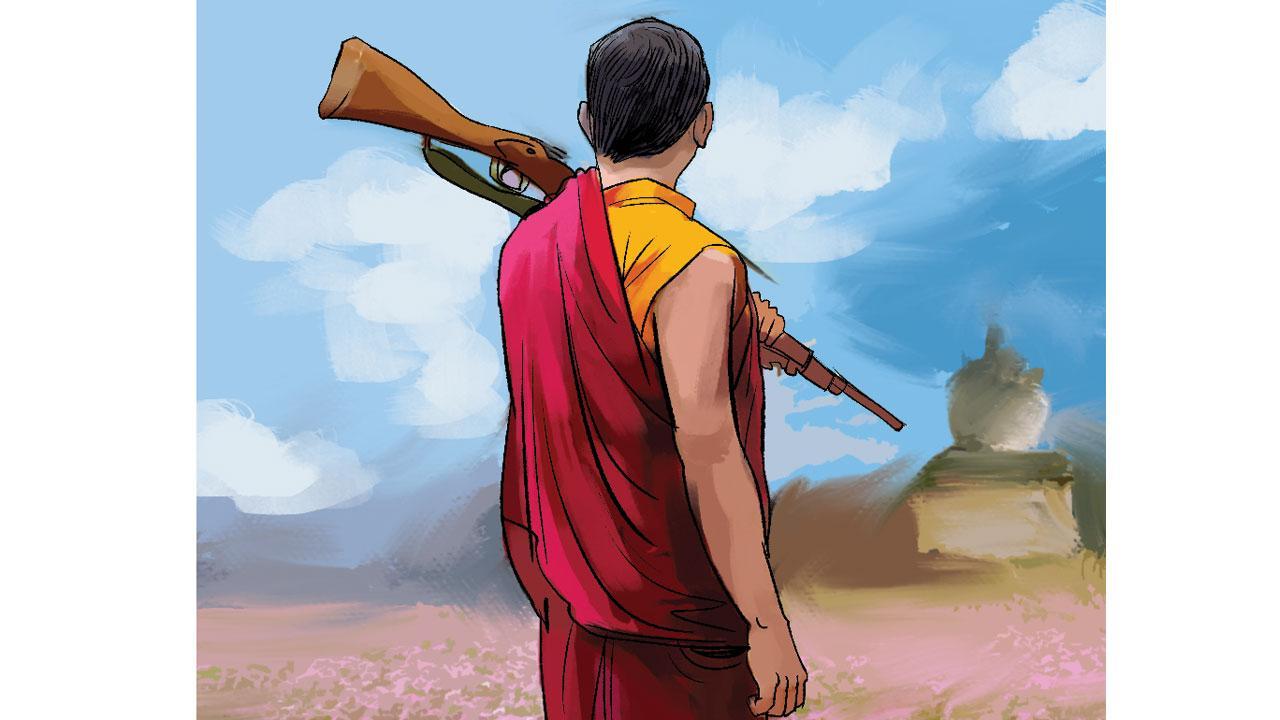 Illustration/Uday Mohite

One of the most delicious googlies in South Asian cinema today is Pawo Choyning Dorji's The Monk and the Gun. For tiny Bhutan, which has a modest economy and challenging film industry/infrastructure, to produce a film that has been selected at the Toronto, Telluride and Busan International Film Festivals, is definitely punching above its weight. What's more, the film has also been tipped by the renowned Anne Thompson, Editor at Large, Indiewire, as among the frontrunners in the Oscar 2024 race for Best International Feature Film. It is a Bhutan/ France/USA/Taiwan co-production. Bhutan already selected the film as its Oscar entry.  What's more, Dorji's debut feature Lunana: A Yak in the Classroom from Bhutan earned an Oscar nomination for Best International Feature Film in 2022—alongside Ryusuke Hamaguchi's Drive My Car and others—whereas no Indian fiction film earned an Oscar nomination in that prestigious category last year. 
The Kingdom of Bhutan changed dramatically in 2006, when the monarchy gave way to democracy, internet, television and more. The King abdicated in order to gift democracy to the people on a platter—but most of them don't want it; they are happy with the king. As the government teaches rural people how to exercise their new democratic rights through a mock-election, a monk searches for a gun to make things right again: the climax explains why, through a simple moral tale that expands the idea of democracy to a much larger philosophical idea, that also reflects on the place of violence and non-violence in our lives.
ADVERTISEMENT
The direction is confident; Dorji's screenplay aims for more characters, subplots and complexity than in Lunana, marked by gentle, satirical humour. The American gun collector's character doesn't seem organic, but his character makes an oblique comment on American gun culture. The acting is reasonably good, with mainly non-actors, and the monk being played by Bhutanese musician and singer Tandin Wangchuk aka Misty Terrace. Jigme Tenzing's cinematography with gorgeous Bhutanese landscapes and people is impressive, and Hsiao-Yun Ku's editing is fairly brisk. Taiwanese co-producer Hsu Feng was also producer of Palme d'or and Oscar Nominee Chen Kaige's Farewell my Concubine. The sound is by Tu Duu-Chih (who worked on Hsiao-Hsien Hou's The Assassin) and Chiang Yi-Chen. Films Boutique is co-producer and sales agent; whose impressive slate has topnotch films, including Ciro Guerra's Birds of Passage and Embrace of the Serpent. The film had won production funding grants from France's CNC as part of their Aide aux Cinémas du monde and Switzerland's Visions Sud Est. Hollywood's United Talent Agency (UTA) is also on board.
The Bhutanese King accorded Dorji the Druk Thuksey, the Heart Son of the Thunder Dragon, Bhutan's highest civilian order. Dorji told me, in Bhutan, you don't say, "Tell me a story", you say, "Untie a knot for me". An adaptation of Manil Suri's The Death of Vishnu is Dorji's next project; but may he untie many more knots. Here's wishing Dorji all the best at the Oscars and beyond. Indian and South Asian filmmakers have a lot to learn from him.
Meenakshi Shedde is India and South Asia Delegate to the Berlin International Film Festival, National Award-winning critic, curator to festivals worldwide and journalist. 
Reach her at meenakshi.shedde@mid-day.com
"Exciting news! Mid-day is now on WhatsApp Channels

Subscribe today by clicking the link and stay updated with the latest news!"
Click here!