Sometimes, you need more than just a tool for surgery—you need a hand, a head, and a heart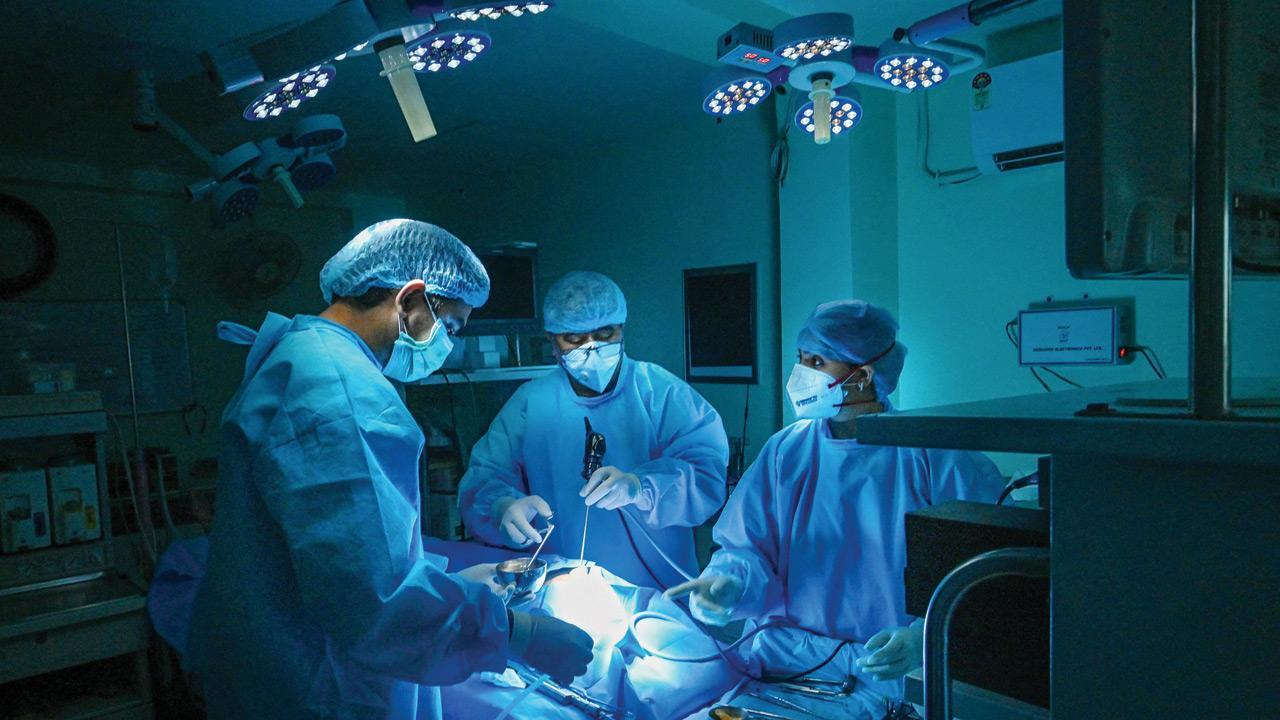 Representation Pic

Which instruments will you use to cut open my spine?" Rasiklal asked me after I examined him for a herniated lumbar disc. I had just explained to him why he was a candidate for spine surgery. He was a tailor in his mid-50s, slightly potbellied, and wearing a white shirt that, in his own words, "used to fit him well before he put on some weight". He had tried everything to avoid an operation—medication, physiotherapy, ayurveda, homeopathy, acupressure, and acupuncture. He had visited a chiropractor, osteopath, and even a "baba" who claimed to cure slip discs by kicking people on the bottom. Needless to say, his pain was much worse after that experiment, and now, he was unable to cut fabric sitting on the floor. He needed to stand to do it, and that too just barely, before his back pain shot down his legs—the classical sciatica that people with disc disease describe. 
When I asked him to sit, before doing so, he removed a large 10-inch pair of metal scissors from his pocket and placed it on the table. You could feel the intense sharpness of its blade just by looking at it. The bronze metal handles mixed with shades of silver had been softened by years of usage. "This is my tool; I never leave my house without it. It's been part of my entire life. If I must have surgery, I need to know what you will be using." He had made his point; I understood what he was trying to say. 
ADVERTISEMENT
"We do this operation with what we call minimally invasive technology," I told him, explaining that we didn't have to cut any muscle like they did in the good old days. "We'll first use a knife to make a 2-cm incision into the skin and then dilate the back muscles with a series of tubes, each a size larger than the other. We'll dock the tube on the bone of the spine, and using a fine drill that rotates at 60,000 revolutions per minute, we'll shave a portion of the lamina of the spine that covers and protects the dura," I described. He was listening intently. "You need to have a rock-steady hand to be able to work the drill, because one slip and we could rip apart all the nerve roots of the spine," I said, showing off slightly to make what we do sound more complex than what it is. 
"Then, we identify the nerve root that is being compressed by the disc, and once we expose the bulging disc, we cut into it with a sharp knife," I showed him an animated video. "Sometimes, the disc is just lying there, waiting to be popped out, and in those cases, we use forceps to grasp it and pull it out, thus relieving the pressure on the nerve root, which, in turn, relieves the pain. On occasion, we need to use a curette to scrape the disc, making sure there is nothing floating free to pop back out again." "You don't ever need to use scissors?" he asked, slightly disappointed that we were neglecting his favourite tool. "We do—to cut the stitches we make when we sew you back up," I said to a look of delight on his face. "If you don't trust the ones we have, we could use yours," I joked, "but actually, they're a little too big," I dismissed the idea before he could agree.  "You don't use a laser?" he then asked. I wasn't surprised; this is another question every patient has, especially those who come from the Middle East in lure of having laser spine surgery. "People use the term 'laser' only to make it sound fancy and attractive," I acknowledged. "The use of an actual laser is very limited in this field," I explained, "but we do the entire operation with a high magnification and brilliant illumination microscope and the focus point is a sharp red dot of light, which looks like a laser, if it makes you feel any better! 
"At the end of the day, while the tool is extremely important, it is what you do with your hands, your head, and your heart that makes all the difference.  For instance, I could never cut fabric the way you do if you gave me your scissors," I tried to explain. I told him how clinical decision-making was the key to any successful surgery, and emphasised how one needs to have the heart and the courage to deal with a complication if it were to occur. But I understand why, for some patients, it is very important to know what a surgeon will use, especially if they use a tool themselves: Artists and architects, plumbers and painters, cricketers and carpenters, musicians and maestros never cease to ask me what I will use to open up their spine or brain.
When we operate on the brain, we mainly use a suction in one hand and an instrument in the other, which could vary from bipolar forceps to buzz bleeding vessels and tissue to micro scissors to cut what we have coagulated and an entire spectrum of micro dissectors of varying shapes, curves, and sizes to get into nooks and corners of the brain that were once deemed unapproachable. We even have instruments that have lights at their tips to further illuminate what we're looking at, so that we cut only what is intended to be cut. And we also use dyes that light up tumours and help us differentiate it from healthy brain tissue.
There are several surgeons who, when they operate in multiple hospitals, travel with their own tool kit comprising instruments they are familiar with. The touch and feel of using your own tool (no pun intended) provides a certain sense of comfort and control. The joy of owning your own instruments, and looking after them like you would after your own children is unparalleled. I know an orthopaedic surgeon who carries his own portable operating table with him for joint replacement surgeries. There is a neurosurgeon from Japan who used only his own gold-plated microscope to perform his surgeries. In the interiors of India, just like farmers ask for a tractor in their dowry, surgeons ask for instruments, ultrasonic aspirators, and microscopes. These are extensions of a surgeon's hands, head, and heart, also called our second wife by a few of us, and the first wife by most others. Don't ask me which group I fall into. 
Rasiklal came for a follow-up two weeks after his spine surgery, completely pain free and delighted that he could get back to doing what he loved the most. "Here, try this for me," he said, pulling out an elegant formal shirt and pant he had stitched for me. 
"This is my gift to you for making me walk again," he insisted, his eyes welling up as he insisted that I try it on in front of him. Without any reservation, I removed my clothes and put on his. They fit immaculately. "But you didn't even take my measurements!" I exclaimed. "Sometimes, you need more than just a tool —you need a hand, a head, and a heart," he reminded me of what I had told him. I spent the rest of my day in clothes he had stitched so affectionately. 
The writer is practicing neurosurgeon at Wockhardt Hospitals and Honorary Assistant Professor of Neurosurgery at Grant Medical College and Sir JJ Group of Hospitals.
"Exciting news! Mid-day is now on WhatsApp Channels

Subscribe today by clicking the link and stay updated with the latest news!"
Click here!