Besant Montessori School in Juhu celebrates 75 years of gifting holistic early education to generations of young citizens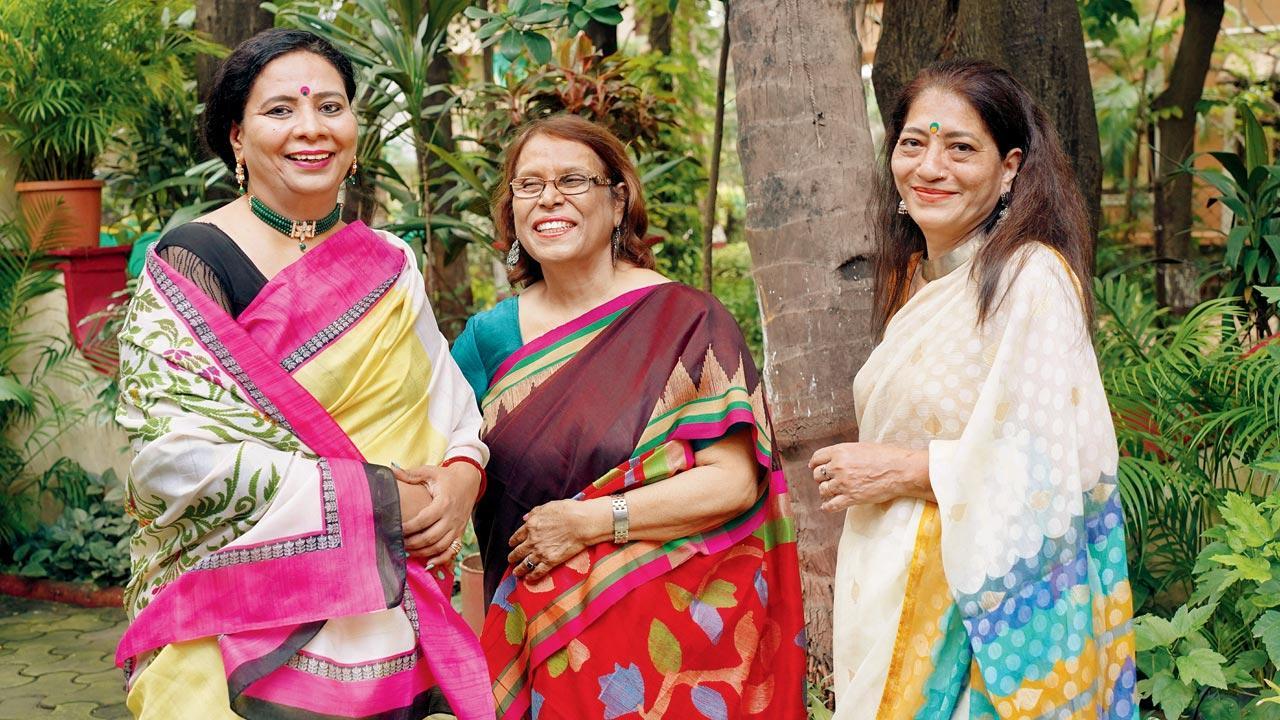 Mamta Karalkar (administration head), Arundhati Choudhury (Montessori headmistress) and Kavita Rode (Primary section headmistress) in the garden campus of Besant Montessori School, Juhu. Pic/Aishwarya Deodhar

This is as close to Shantiniketan as you get here. Enveloped by palm trees kissed by beach breezes, kids romp about tilting watering cans towards bushes swaying in the verdant garden acre. Others empty dust from baby brooms into toy-tiny "supras" scooping the ground clean. 
Hard as it is to figure, this is really a school. Its children grasp basic learning concepts organically working with materials recommended by the Montessori method of education—which follows, rather than prescribes, their developmental needs. 
ADVERTISEMENT
"It was Madam Montessori's confirmed belief that what you put into a child till the age of seven remains lifelong," says Kavita Rode, the primary section headmistress. "Montessori is a method, not a system of education. A method is flexible, as per the needs of each child."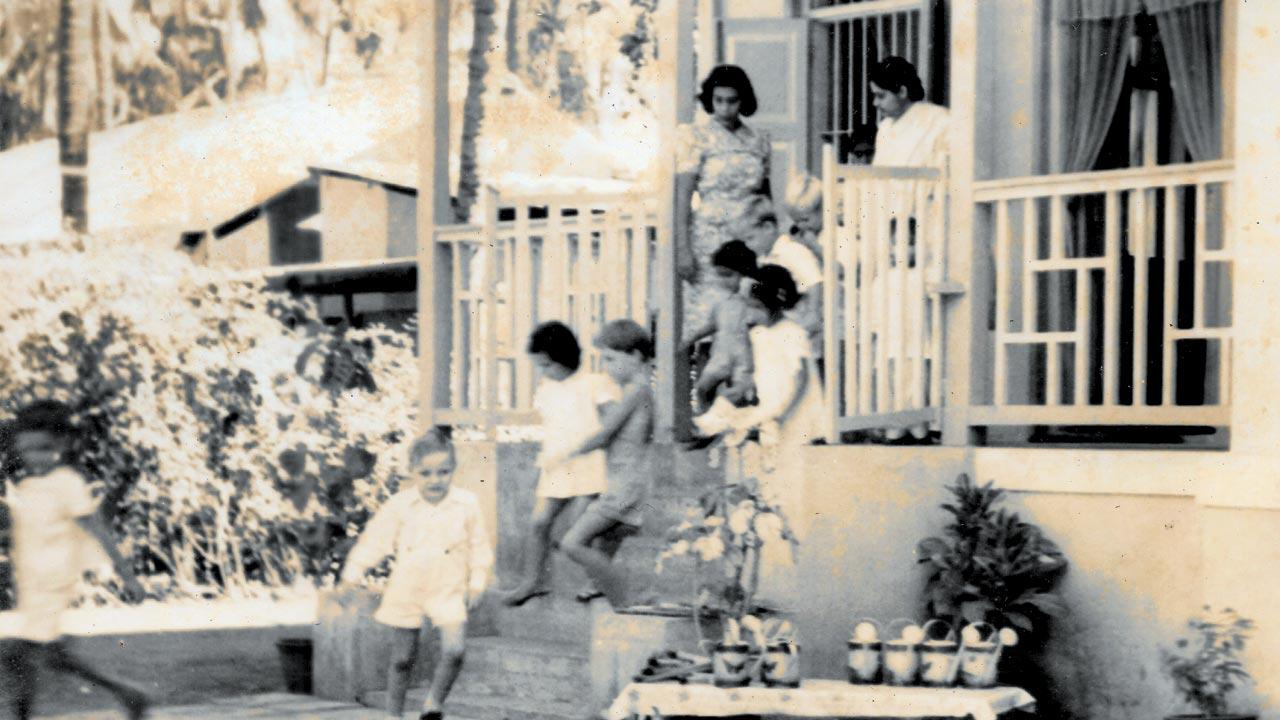 Teachers with their first batch of children in 1948
Even as she makes this distinction, a wandering music teacher strums a shoulder-slung guitar, stopping wherever he sees interested children bunch around. They run up to him of their own will, free-floating, without any specified "music period".
As Partho Gupte, the Stanley Ka Dabba actor, describes, "Imagine a paradise without high boundary walls or intimidating iron gates, where little angels flaunt mighty hearts on their sleeves. That's Besant Montessori for you. And I was in that paradise that gave me wings."    
The happy vibe wafts serenely into the teaching spaces which are, in fact, called "environments" rather than classrooms. Arundhati Choudhury, the Montessori head, explains, "We have six environments, Toddlers and five Montessori environments. Children join Toddlers at the age of 20 months as of June. Each environment has a separate set-up with 30-32 children, assigned three Montessori-trained teachers and a helper."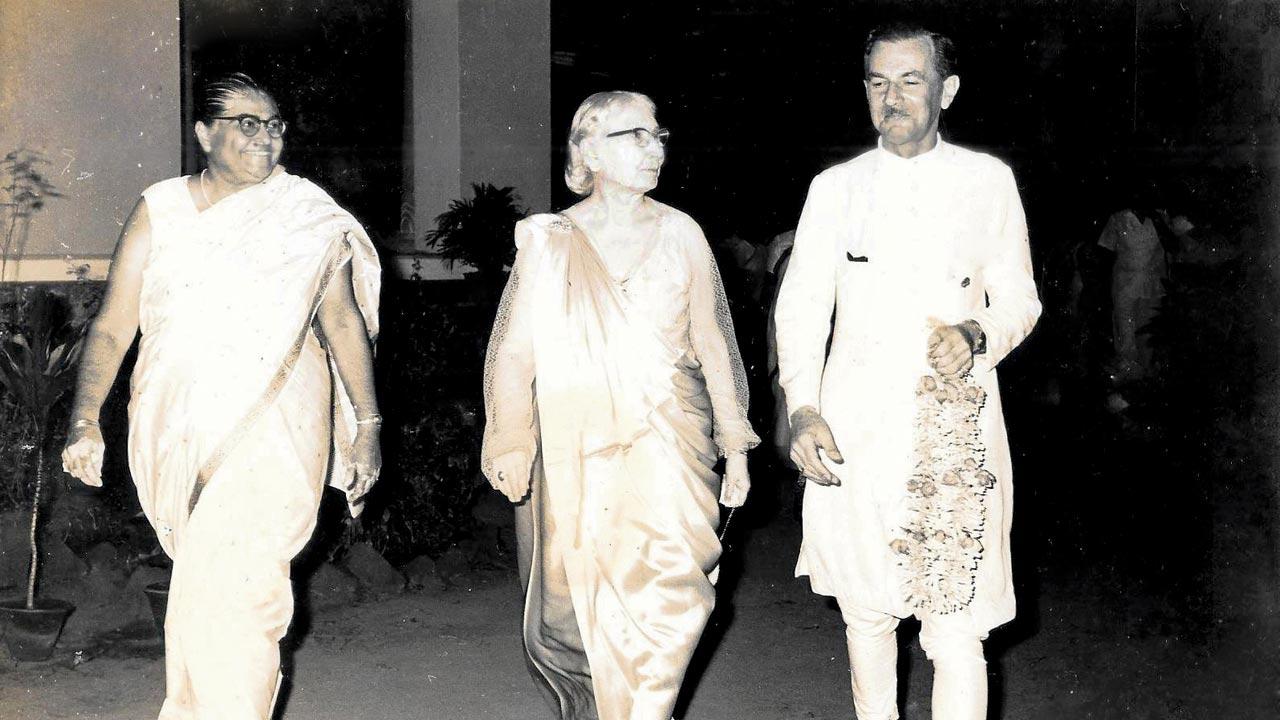 Tehmina Wadia, the school's first directress trained by Maria Montessori, with school benefactor Gulistan Jussawala and Albert Joosten, the Montessori community's India representative. Pics Courtesy/Besant Montessori
Every such environment has three groups (Group 1 from 2.5 years onwards, Group 2 from 3.5 years and Preparatory 4.5 years). Completing three Montessori years, children enter Std I to transit gradually to traditional methods of education. From Std II to V, the school follows the ICSE syllabus. 
A democratic attitude extends admissions to pupils ranging from movie star kids to children of carpenters and contractors. A seat stays reserved for one special needs child each year, supervised by a shadow teacher.  
How did this almost Utopian institution begin instilling confidence, character and integrity in the young, to realise the ideal of universal brotherhood central 
to theosophy?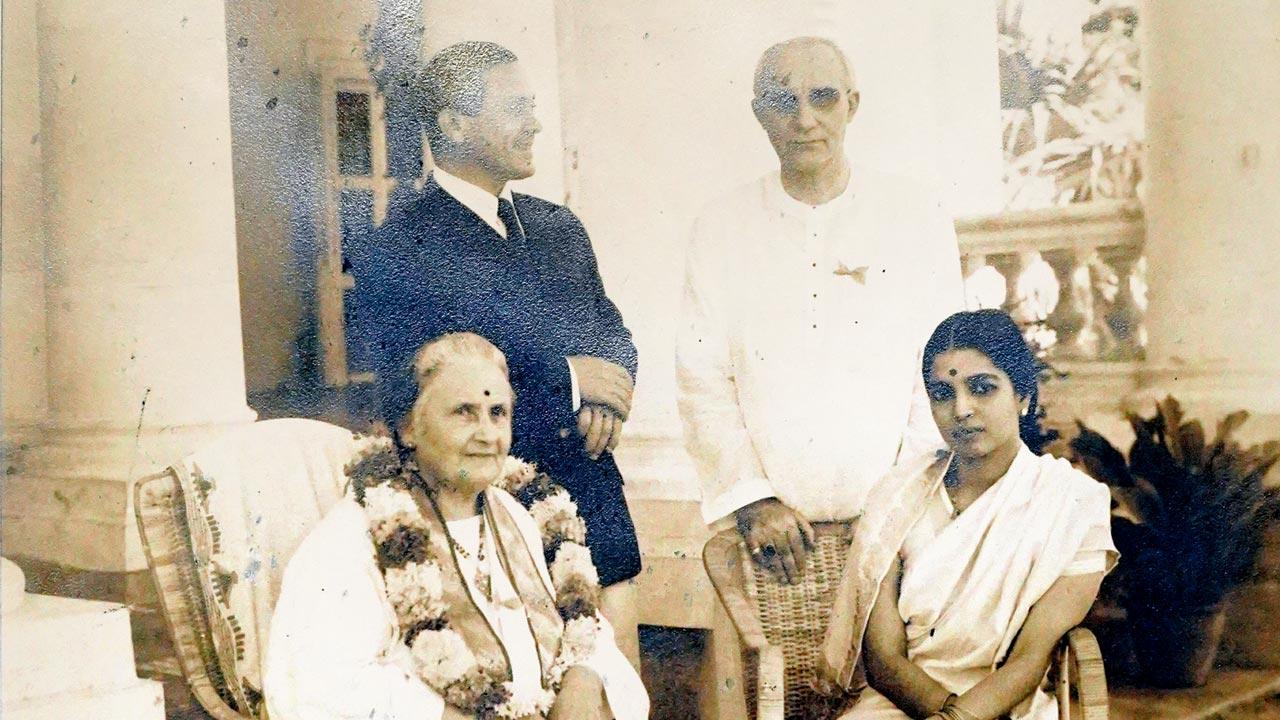 Dr Maria Montessori (seated left), Mario Montessori (behind) with Rukmini Devi and George Arundale in Adyar
Her observation of underprivileged kids in the slums of Rome led physician and child rights sympathiser, Maria Montessori, to devise a unique learning philosophy that embraced the realities of childhood. She opened the first Casa dei Bambini (house of children) in San Lorenzo in 1907 and, in 1929, founded the Association Montessori Internationale (AMI) in Denmark; it is now headquartered in Amsterdam. 
 
Dr Montessori was unable to return to Italy from India once World War II broke. That was when George and Rukmini Devi Arundale—theosophist disciples of Dr Annie Besant, the British freemason, Theosophical Society president and Home Rule activist—invited her to Adyar in 1939 to conduct teacher training courses. Tehmina Wadia enrolled for the first and became the Founder Directress of the Besant Montessori School. 
The name is a combined acknowledgement of Dr Besant, as the school opened on January 6, 1948, just after her birth centenary. And Madam Montessori because it adopted her approach to education.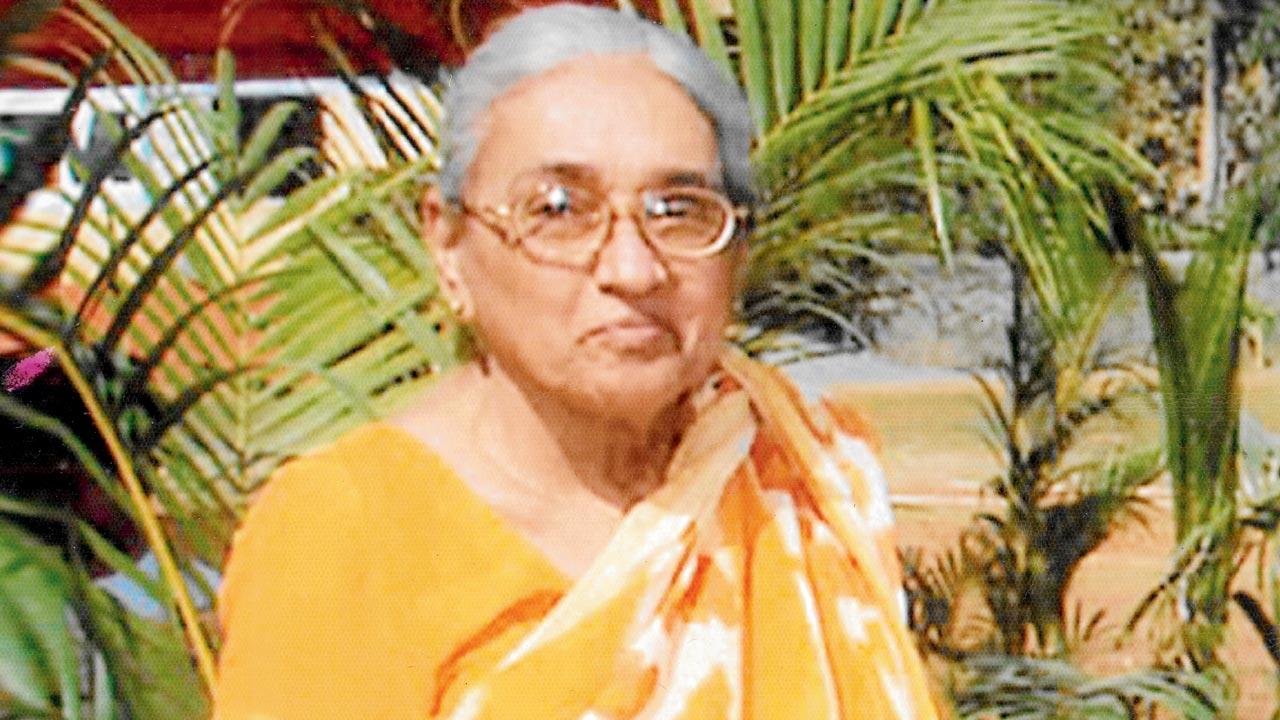 Dolly Wadia, the school's legendary former principal for over five decades
With opportune financial aid from Gulistan and Jehangir Jussawala, and premises from Adi Vatcha, the school was inaugurated in the Theosophical Colony at Juhu by Irach Taraporewala, a scholar associated with Besant and the Arundales. (With Dr Ajay Hora and Dr Shaunak Hora, Gulistan Jussawala's granddaughter Zenobia Khodaiji is a school trustee today.) 
Tehmina Wadia, fondly dubbed Aunty Tehmi, welcomed a batch of 11 pupils, which expanded to fill two more rooms. And the rest is 75-year history. 
Offering primary education rooted in theosophical concepts that adhere to child-centrism, the school was the first in Bombay Presidency and fourth in India and Pakistan to receive recognition from the AMI. Adapting to the changed post-war world, it imparted life skills and self-discipline (as against imposed discipline) through a proper and continuous use of Montessori material.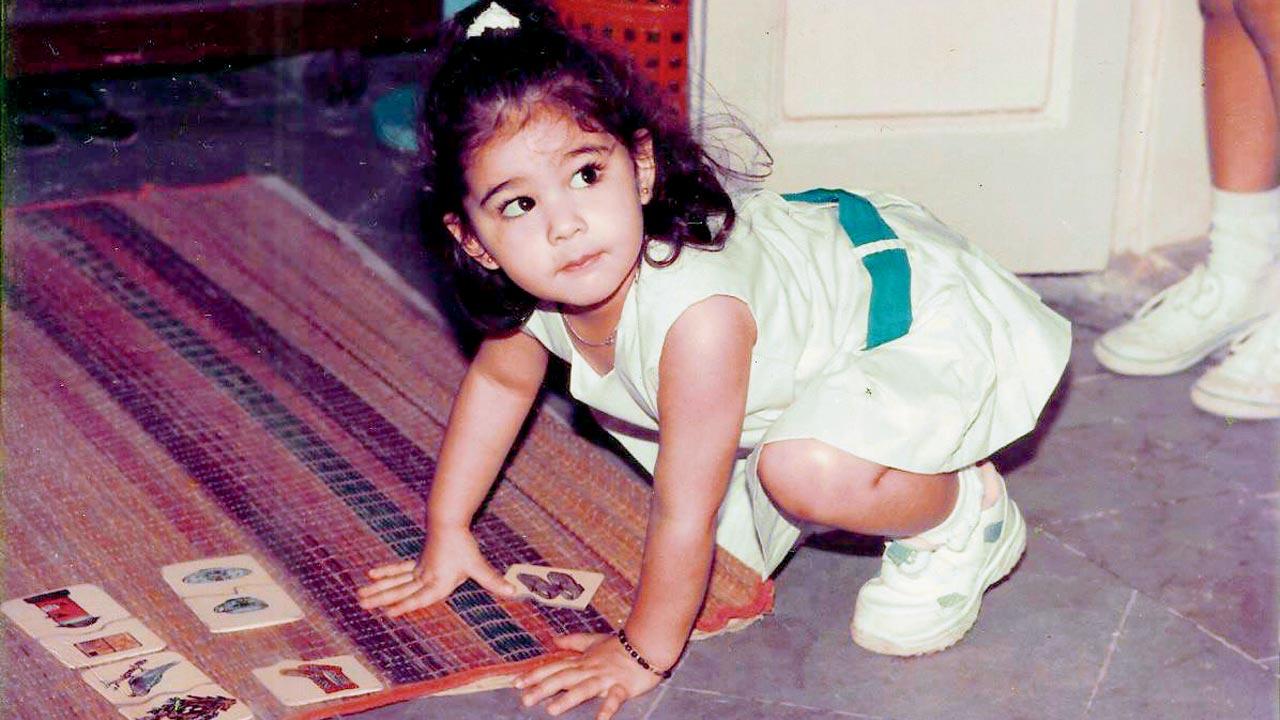 Sara Ali Khan as a toddler playing with Montessori material 
This is evident as tender lisp and toddler chatter fall soft, and soon still, within seconds of the noon bell ring for a daily minute of silence. Whether neatly folding small sitting mats or jumping in a patch of lawn, they all calm to a hushed halt. Straight after, a merry trio comes bounding up to us. Flushed with excitement, curious Pia and Om and twinkle-eyed Husain Ali want to know who I am.  
Theirs is the treasured legacy left by a most loved principal. Steering the school with legendary devotion and passion, Dolly Wadia (no relation to Tehmi), a walking encyclopaedia on the Montessori method, helmed it from the 1950s with competence and compassion till her death in 2019.  
"The sincere hard work of teachers, mentored and motivated by Aunty Dolly, is paying off," says Choudhury. "The pandemic was a difficult time for us, as Montessori techniques encourage children to learn-by-doing in open spaces. Though the shift to online learning in the first year of closure posed problems, we worked to do better, while remaining committed to Montessori pedagogies till things picked up post-lockdown."
Other important lessons proved practical when COVID struck. "I love that the Montessori method makes kids sweep the floor, wash clothes and water plants. I have two children in Besant, aged 10 and four. During the pandemic I noticed the elder one was up for helping around the house and I blessed the school!" says Hrishi K, national brand head of the RadioOne India Network. 
From ensuring the enjoyment shine on the face of a boy peeling potatoes to the rapt concentration of a girl balancing on a beam, the focus is on practical life exercises. Sensorial apparatus addresses the strongest milestone-building between the two to seven-year span when children test independence to attain gross and fine muscular movement progress. The control of so-called "error" is in the material itself. Kids read and write at their pace through the natural language tool of phonics, not formal letters of the alphabet. Math is picked up through numerical rods, beads and counter symbols.
Most refreshing in the current scenario pushing children much beyond their capacities and capabilities, is the clear cognisance and unwavering acceptance of individual sensitivities and differences. In Dolly Wadia's time, a boy reluctant to enter class stood outside for six months before spontaneously deciding he was ready to walk in after a whole term. "Parents then were also less pressuring and demanding," points out Mamta Karalkar, the school administrative head. 
"Besant prepared me to think instinctively, tap into my potential and approach hardships with a positive outlook," says hotelier Columbus Marquis from Goa. "We were lucky for this safe place that felt nothing short of going to a second home every day. The Besant style of learning gave us understanding and resilience to explore our strengths and core values through the curriculum. A four-hour school day allowed me time for competitive tennis, with teachers going out of their way with support. We could skip school to travel for tournaments."
Participation in inter-school programmes necessitated the designing of the white and blue uniform in 1964, worn on Mondays and sports days. Sports teachers have always been an integral part of the faculty, grooming students who have shone as national level footballers, among other games.  
     
"A true Montessori environment is an extension of home," says Rode. "Our parents too are as involved. A mother like Aanchal Kannan, for instance, has changed the face of our Parent Teacher Association." 
Actress Sara Ali Khan thanks her formative years here: "The attention to details and a rounded education was inculcated at a very early age. My desire and joy for learning started in Besant and continues to grow."
No doubt the Juhu location attracts a starry roster of film industry pupils, including Alia Bhatt, the Deol and the Khan kids, besides famous parents like Kailash Kher, Prahlad Kakkar and the Goenkas. But the long-lasting Montessori ethos bears an indelible imprint on contemporary educators who replicate its invaluable 
lessons well. 
"Looking for a school for my son in 1994, I fell in love with Besant the moment I entered it. The environment, the teachers, the bindaas children and kind, warm Aunty Dolly, the principal," says Nyla Masood, co-founder of Dhai Akshar. "The Montessori material which was new to me, I've now introduced in the Dhai Akshar Educational Trust I run. We have a lot of support from the school for my NGO. The bond with Besant is unbroken."
Similarly, Anansh Prasad, founder and MD of SkillSphere Education, says, "When Besant alumni look back at life-transforming experiences, we unanimously agree on the holistic education received at Besant. In a personalised environment deeply entrenched in experiential education, each of us received full opportunity to explore ourselves and pursue unconventional paths successfully. What I do as a pan Asia educator is a result of the Besant years. Travelling to many schools across the country, I state with utmost conviction—you cannot replicate Besant Montessori." 
Author-publisher Meher Marfatia writes fortnightly on everything that makes her love Mumbai and adore Bombay. You can reach her at meher.marfatia@mid-day.com/www.meher marfatia.com
"Exciting news! Mid-day is now on WhatsApp Channels

Subscribe today by clicking the link and stay updated with the latest news!"
Click here!