You would have thought that Instagram took lehenga shopping online, and the pandemic killed the on-ground bridal expo. But the OG idea of bridal trousseau shopping in India is thriving like never before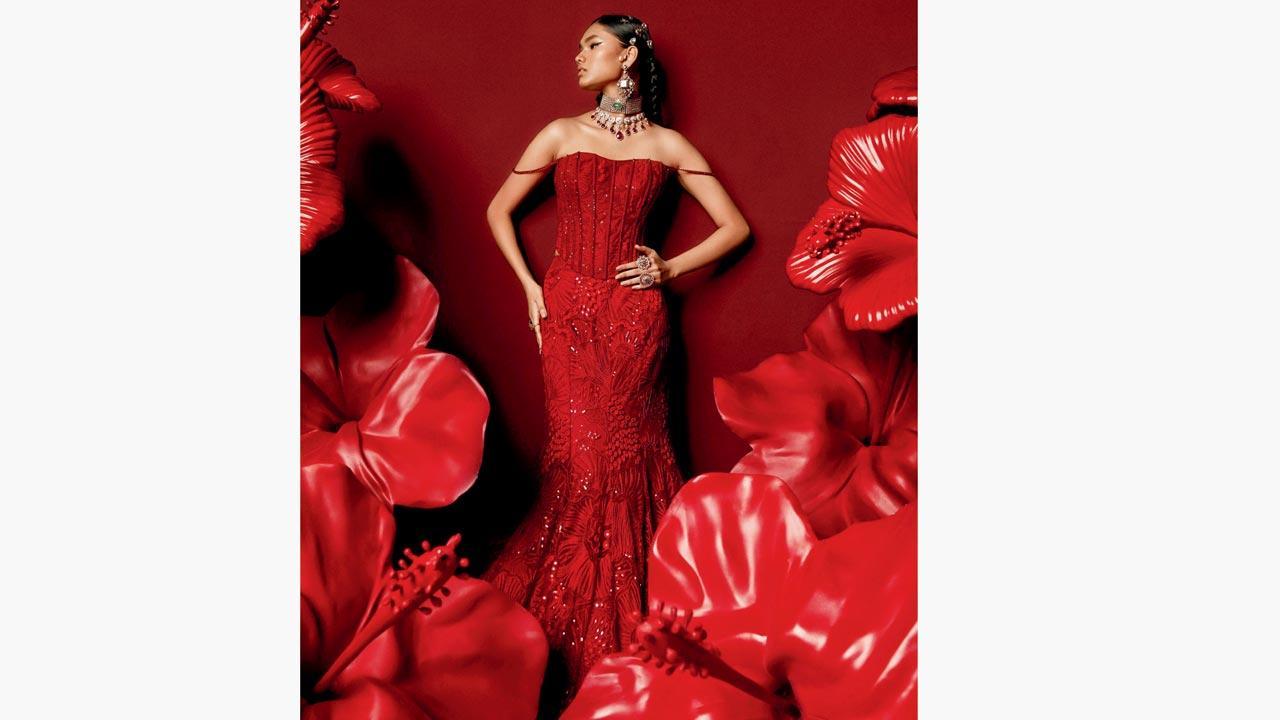 Bridal Asia's publicity campaign featuring the occasion wear brand, Mishru by Swapna Anumolu. "We are not a fashion week. We are our own identity; a bridal couture exhibition," says the event's founder, Divya Gurwara. Pic Courtesy/Bridal Asia

Two years before launching the wedding trousseau exhibition, Bridal Asia (formerly Bridal 99), Divya Gurwara personally visited designers, jewellery makers and wedding planners across India, Pakistan, Bangladesh and Sri Lanka. The idea of an event dedicated to couples-to-be was unheard-of in the 1990s. But what was clear was a gap in the Indian market for a curated bridal fashion and jewellery service.
With a background in gemology, Gurwara introduced the idea of presenting bridal wear in a centralised format of a six-day event; three days of fashion shows and another three for an exhibition. This was 1999 and the city was New Delhi. "Bridal Asia was born with 44 exhibitors. Today, the number has gone up to 90, and we see a footfall of 20,000 in Delhi," she says. The latest autumn/winter edition wrapped up in Mumbai last week. In a span of over two decades, the event continues to be a sort of launchpad for up-and-coming fashion and accessories design talent, including names like Payal Singhal, who is today known for her lighter, effortless lehengas.
ADVERTISEMENT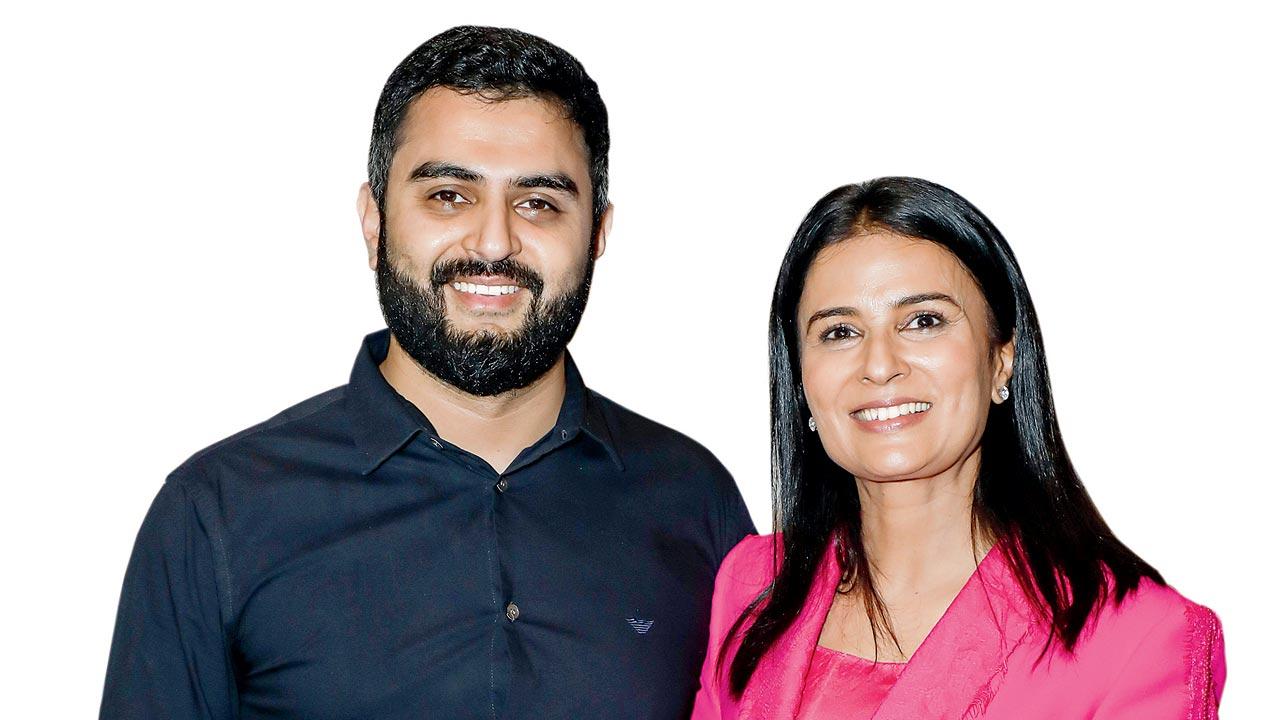 Dhruv Gurwara and Divya  Gurwara 
Nine years after Gurwara's event launched, the Fashion Design Council of India (FDCI) introduced India Couture Week in 2008, and has since organised annual shows featuring collections by top-tier bridal wear and jewellery brands in New Delhi. "But when we started, there were no catwalk shows focused on bridal couture [in India]. I remember getting perplexed stares from people wondering, does she know what she's doing?" laughs Gurwara. Sometime in the mid-2000s, she discontinued the fashion show leg to focus on exhibitions and campaigns. "People need to see clothes close-up instead of watching them worn by models. To evolve with the times and cater to everyone from brides and grooms to attendees too, has proved to be a fail-proof strategy." 
Also read: Rajasthan: Spring-loaded fans now a must in Kota hostel rooms
In 2010, Gurwara's son and creative director Dhruv decided that the event needed an online presence. "For us, Instagram [716K followers] is an important communication tool; we don't use it for online orders though" she clarifies. He expanded the offline event to Mumbai and Ludhiana, with a high-value jewellery show in Hyderabad. "We do two seasons in Mumbai and Delhi respectively but we are not a fashion week!" she asserts. "We don't need to do fashion shows. We are our own identity; a bridal couture exhibition."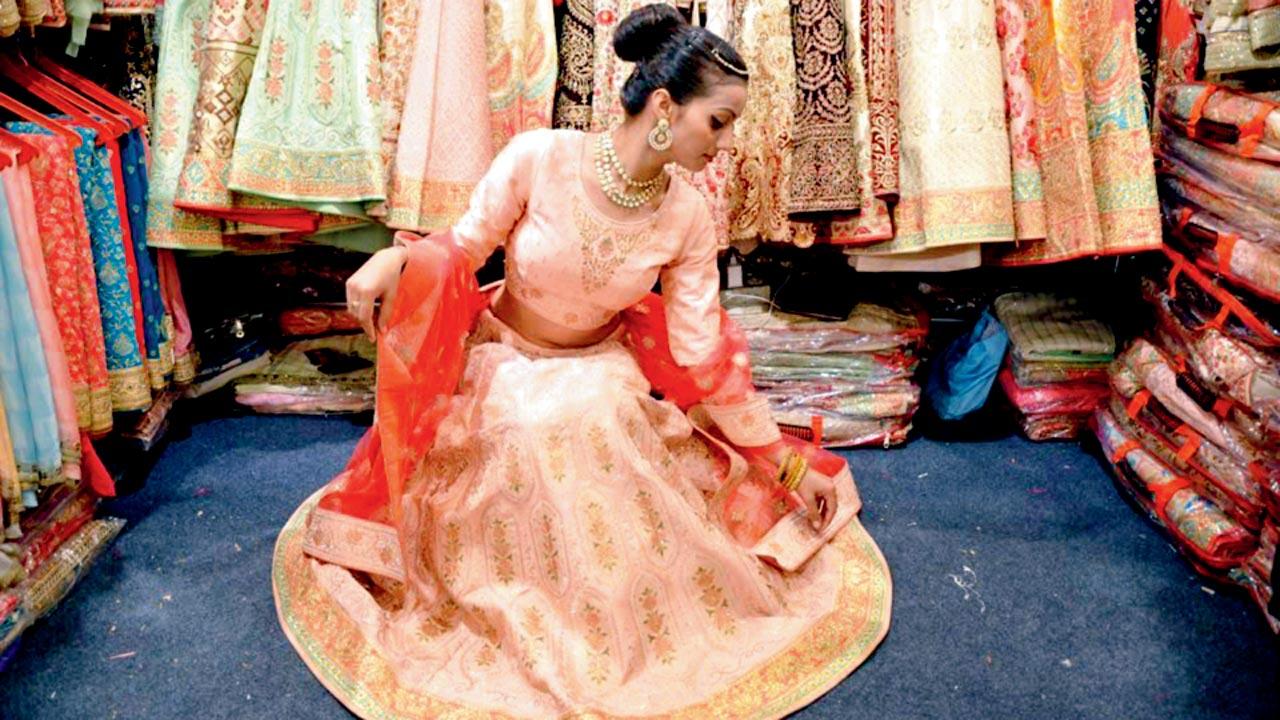 "It's true that Instagram has changed the game for bridal fashion. We use it to promote our exhibitions, trigger conversations and create a community that will drive footfall to our on-ground events," says Aby Dominic, MD-CEO, Hi Life Exhibitions that runs Design Library
How have wedding expos managed to survive the pandemic and continue to thrive in a time when entire weddings could potentially be booked and created from sources found online?
According to a report by the Confederation of All India Traders (CAIT), over 32 lakh weddings were most likely solemnised between November and December of 2022, generating trade worth of R3.75 lakh crore—a 200 per cent growth in two years after the pandemic-induced lockdown. 
Aby Dominic
Before the pandemic, wedding expos were a rite of passage for most privileged, urban brides and grooms. The pandemic's economic fallout triggered a string of events, including shopping to move online. Social platforms serve all-things visual, and unlike e-commerce sites, Instagram has become a place for customers to browse, covet and discover. All this elevates the importance of brands' digital marketing strategies to push not just their products, but lifestyles.
Gurwara values online channels, but it is the convenience and accessibility of an on-ground wedding expo that continues to draw in thousands. "Bridal wear brands might have outreach programmes on WhatsApp or Instagram, but online buying means multiple follow-ups. Compare half an hour at an exhibition with time-consuming calls with brands," she argues.
"In the last 16 years, we have witnessed the rise of weddings from the 'Big Fat Punjabi Weddings' to the 'Big Fat North-Indian Weddings' to the 'Big Fat Indian Weddings'," says Wedding Asia founder, Maninder Sethi
The wedding expo ecosystem now includes smaller, intimate events that see an audience of a few hundreds and a focus on local businesses. Or, they could be mammoth logistical exercises catering to thousands with over 20 vendors and brands. The venue can be indoor, at a hotel, or on open turf. Regardless of size and location, expo organisers agree that little has changed in terms of the variety of vendors: photographers, videographers, choreographers, mithai and cake makers, designers, florists, décor specialists, henna experts, hair-makeup artists and DJs. All in one place, and with freebies and discounts to boot.     
Aby Dominic launched Hi Life Brides and Hi Life Jewellery after the pandemic. He says it's intended for the "social media-influenced bride, her family and friends". "Born in an omni-channel world, it is positioned to leverage the reach and engagement of social media while offering the experience and strengths of the offline space. The best of both worlds, I call it," says the CEO and MD about this direct-to-customer strategy.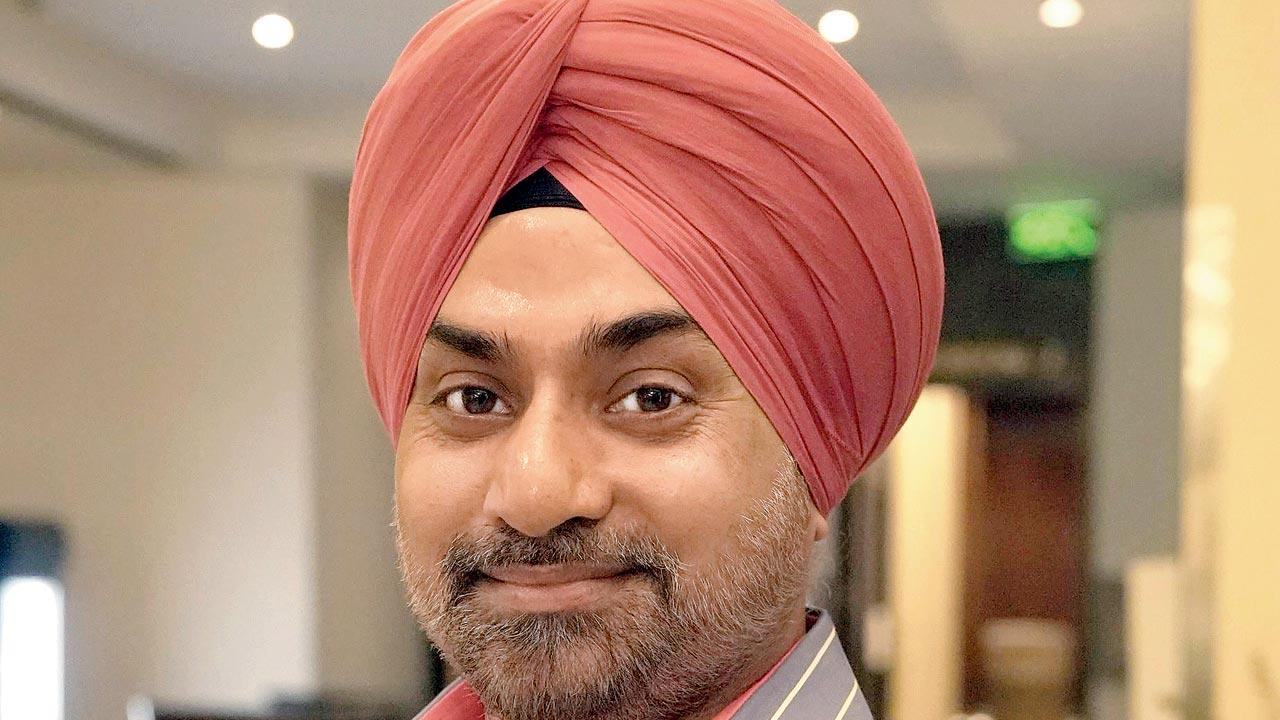 Maninder Sethi
Bridal fashion as a category benefits from the 'ROPO' effect [Research Online and Purchase Offline], creating a unique occasion to corner the customer and associate a targeted message. Dominic's exhibitions operate using the mix of Instagram (198K followers) and offline experiences held at hotels chains across the metros, and Ahmedabad, Surat, Cochin, Mysore, Pune and Bhubaneswar. "Even as online clothing sales are high, brides still want to see and feel their wedding trousseau before making a purchase. They could do without the hassle of returning products, via a courier."
The answer to how the expos have endured, explains Maninder Sethi of Wedding Asia, lies in the cultural significance of weddings in India. "Online can't reproduce the physical interaction between your customer and the product," he thinks. "We don't celebrate anything with as much enthusiasm as we plan a wedding in India. It's a family affair."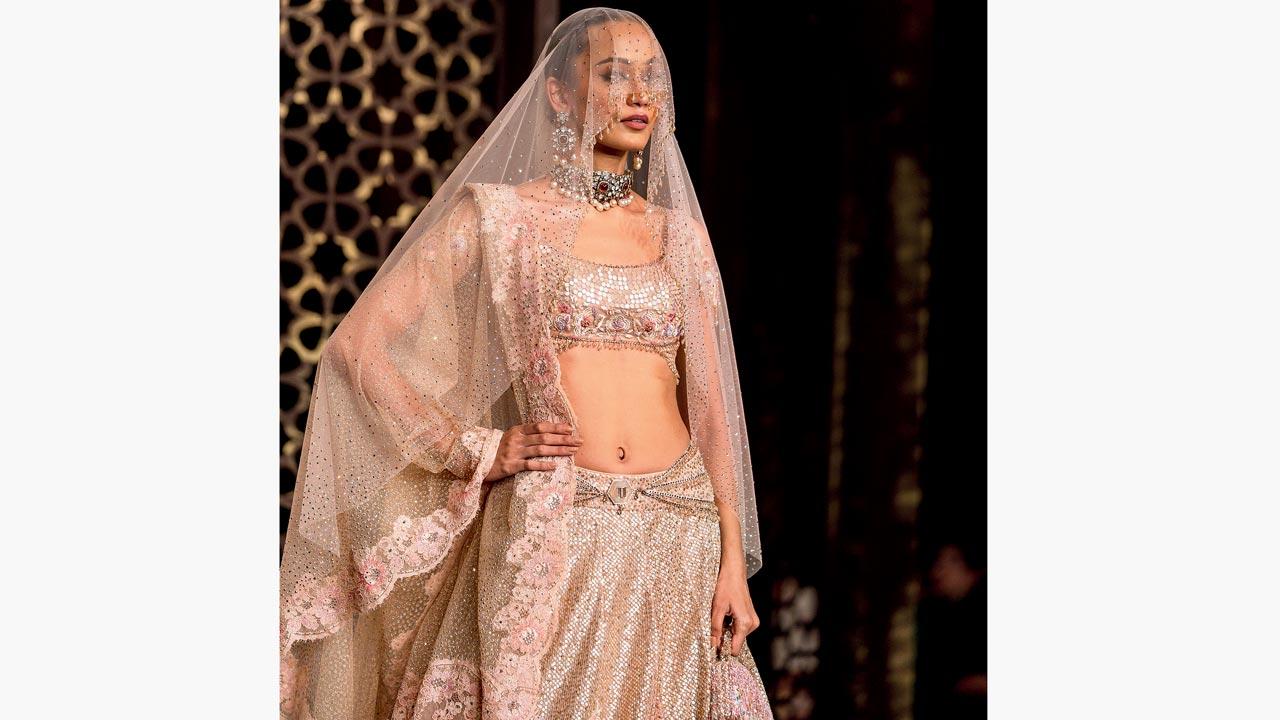 A model wears a bridal ensemble by veteran couturier Tarun Tahiliani at Indian Couture Week 2023
In 2006, Sethi launched his business in Ludhiana with 55 designers. "It was the Nokia [phone] era. There was no trace of social media, and by the time the latest fashion reached Punjab, the metros had moved on to the next new thing. We wanted to create an opportunity for brides in Punjab to have instant access to the latest trends." Sethi's exhibition travels annually to Mumbai, Hyderabad, Bengaluru and New Delhi, with shows in Dubai and Bangkok thrown in. He is looking at expanding into the UAE and UK market and launching multi-designer brick-and-mortar stores as well.  
A focus on social media (116K followers] and tier-2 cities like Kolhapur, Raipur and Ludhiana remains constant. "They [tier-2 cities] have the aspiration and spending power to chase it. But they struggle with access and that's where we come in," says Sethi, who claims to have dressed 12,000 brides to date.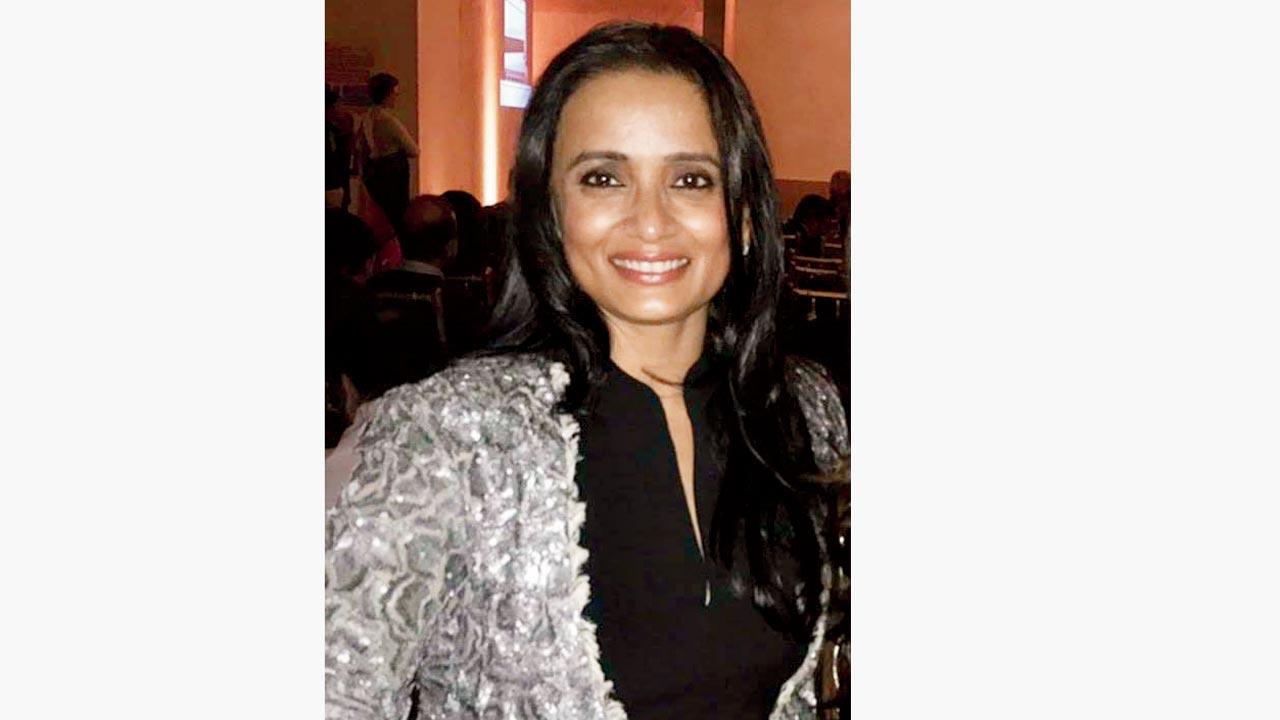 Rashi Bhimani
"Brides are fussy and demanding, and now more informed thanks to Instagram," says Rashi Bhimani, trousseau consultant and wedding stylist. The days of flipping through a bridal magazine for inspiration are gone. Today's bride is image-aware and digitally engaged, and she spends generous hours scrolling through social media for the latest fashion, creating her own Pinterest board. It's as much about what the bride and groom will wear, as about the entire entourage—led by mothers and mother-in-laws. "They are also on Instagram," laughs Bhimani recalling an incident when the mother of a bride insisted on an "Ellie Saab ka gown". "With astronomical budgets, they are ready to travel across cities and countries like the UK, Beirut and Lebanon to shop at the drop of the hat."
Bhimani began her career in advertising and went on to team up with Kiran Uttam Ghosh, Dev R Nil and Anupama, as publicist. She had a long-term collaboration with Bridal Asia, and presently works as an independent trousseau consultant and wedding stylist. "Five years ago, if a bride had an unfriendly experience at a designer store, she didn't have a platform to share her views. She does now. Which means that brands can no longer get away from negative feedback." The upside? "Designers have become cooperative and willing to work around the bride's timelines."
Gitana Singh, 31, a New Delhi based chocolatier and singer, flew down to Mumbai last week to check out the Bridal Asia expo. Her wedding is set to take place at the end of the year, and so she was attending the event to "gather ideas and create my own vision board and see what's out there". "It's [expo] like experiencing a live fashion catalogue almost. I could try out different ensembles and meet the designers too; that's not an opportunity we always get. I've shortlisted a few outfits, but since my parents and fiancé reside in different cities, I will share the photographs with them before I make my decision," she says.
With Market Study of Online Matrimony and Marriage Services in India valuing the size of the largely unorganised Indian wedding market at R3.60 trillion, according to a 2016 KPMG report, this market continues to show signs of strength. This season's India Couture Week was followed by the launch of the FDCI Wedding Weekend, an invite-only, two-day extravaganza featuring bridal wear designers and jewellery labels. "They have arrived too late to the party. 
What happens at ICW has nothing to do with the bridal industry," thinks Bhimani. 
Meet India's original wedding planner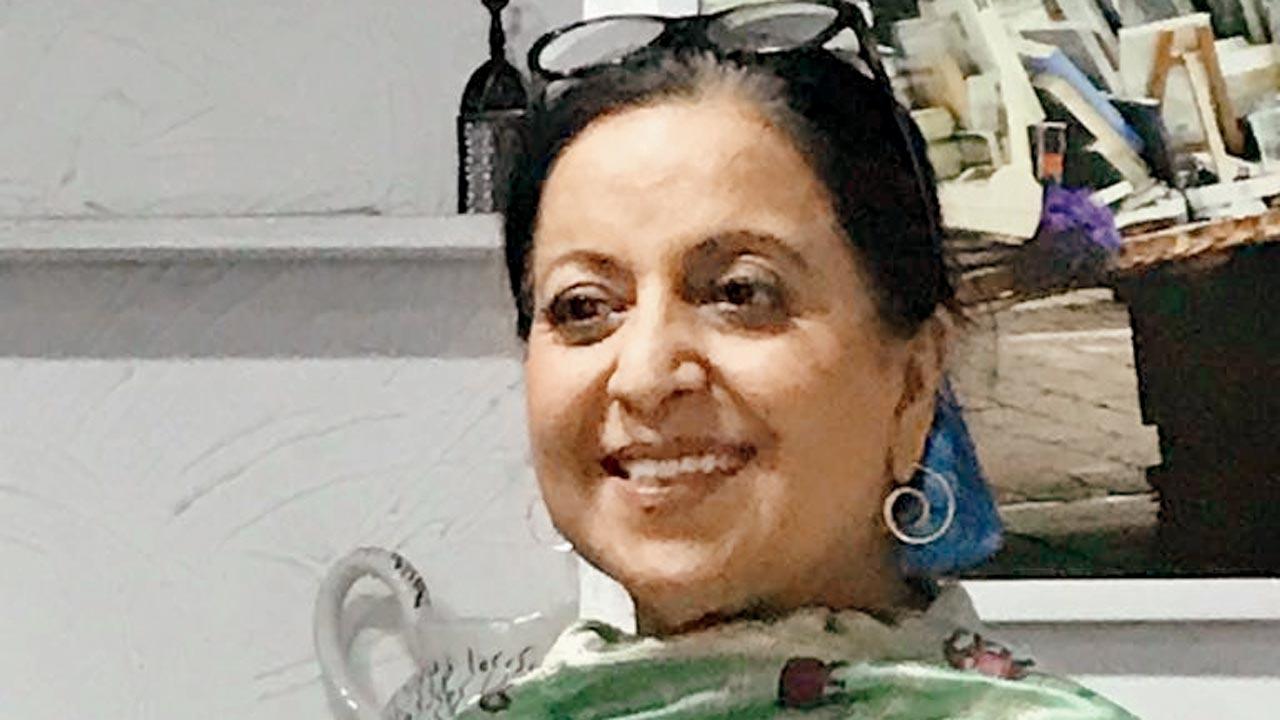 Neeta Raheja was 30 when she launched her wedding planning company, Very Truly Yours, in 1993 after meeting a Spanish wedding planner in New Jersey and taking a course in wedding management at Columbia University. Wedding expos and bridal stylists have since become a well-established industry. "The concept of a wedding planner didn't exist, neither did Google, when I started. I had to rely on research and meet families to educate them about the role of a planner," says Raheja, who co-authored How to Arrange a Wedding: The Complete Marriage Manual in 1995. "This compact book offered a bird's eye view of organising and conducting different types of community weddings. The pre- and post-wedding rituals for a Punjabi wedding are different from that of a North Indian Jain couple, for example," she says. Gradually, NRI weddings became her forte. She recalls clients demanding a full selection of single malts from Ireland, or freshly-baked cakes flown in from Paris.
Raheja also contributed to various publications as a wedding columnist. Ninety per cent of brides during that time wore sarees "from Nalli mostly", with a few opting for ensembles by Tarun Tahiliani, Abu Jani Sandeep Khosla, Rohit Bal and Ritu Kumar— who was also Raheja's first client. 
In 2010, she decided to step back from wedding planning and focus on her event and PR firm. "It's tough to be a bride today; the options available are unbelievable," laughs Raheja. What sets the modern bride apart is the copious research she conducts, both online and by visiting wedding expos, to compare prices, variety and discounts. 
"For this reason, technology can never replace the real shared experiences of an on-ground marketplace."
"Exciting news! Mid-day is now on WhatsApp Channels

Subscribe today by clicking the link and stay updated with the latest news!"
Click here! Do you think there has been a recent rise in cold-blooded murders?