Rajamouli's direction is compelling, with terrific mise-en-scene and many paisa vasool moments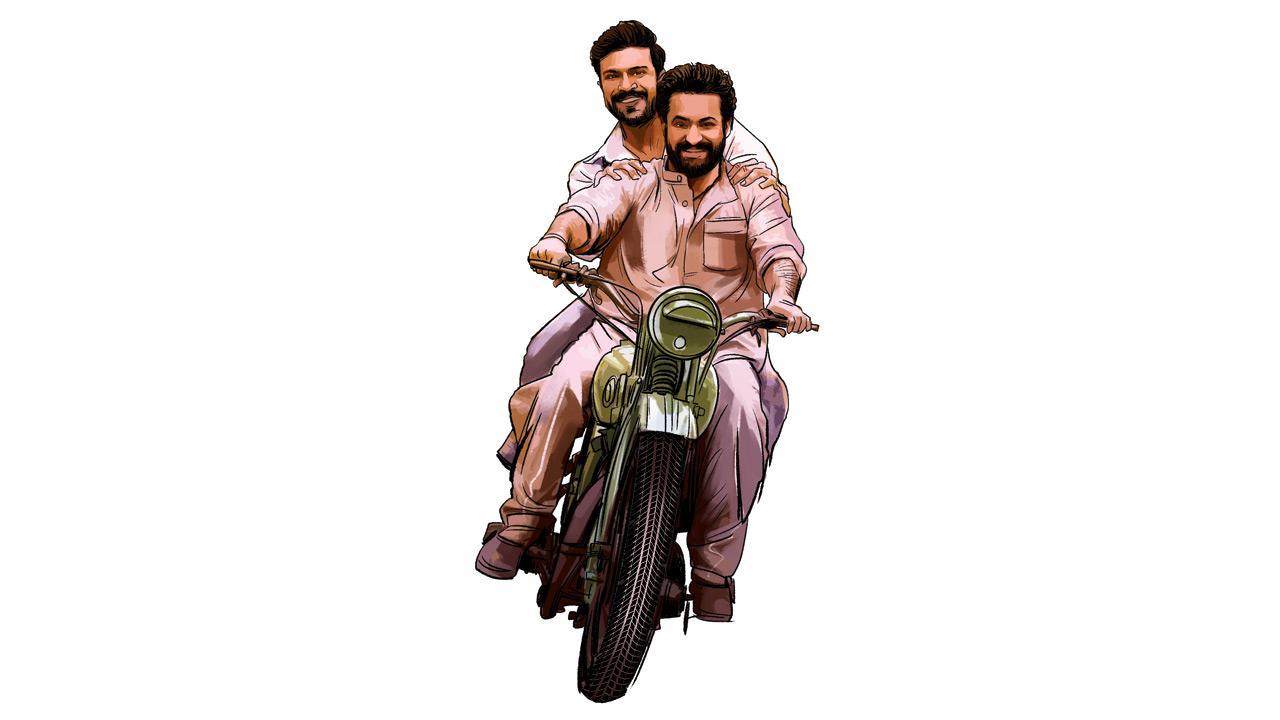 Illustration/Uday Mohite
It's not really my game to predict if a film will be a big hit, but SS Rajamouli's RRR (Rise, Roar, Revolt) looks ripe for it, with its spectacular, inclusive all-India appeal, that makes Bollywood's Right-wing, political agenda-driven films like Kashmir Files and Uri look modest. It celebrates a fictionalised, nationalist freedom fighter story, based on two real-life Andhra Pradesh political activists, Komaram Bheem (played by Jr NT Rama Rao 'Tarak') and Alluri Sitarama Raju (Ram Charan), set in 1920s India, with an explicitly glorifying right-wing tone. Yet, it is a cleverly inclusive film that also celebrates Muslims, a pretty Christian and tribals—but ends up with muddled religious and political signals—and SS Rajamouli is a self-declared agnostic, ha ha.
The British ruling India kidnap a Gond girl in Adilabad, Telangana, for a few coins, and take her to Delhi, apparently for a mehndi applying job (don't ask). Komaram Bheem, a Gond leader, goes to Delhi to rescue her, and embarks on a wild adventure with Alluri Sitarama Raju 'Ram', a police officer in British India, who is loyal to the Crown. They have a Sholay-style bromance as buddies-turn foes-turn buddies. Then somewhere it becomes a Ramayana story with Ram and Sita, but finally ends with an energetic Sholay dance. The film is a wildly entertaining ride, a masala of spectacular action, romance, politics, song and dance, the works.
Rajamouli, who earlier directed the spectacular Magadheera, Eega, Baahubali The Beginning and Baahubali 2: The Conclusion, showed with the last two, that he could coolly conquer international markets, including all-Indian cinema. Bollywood was keen to be part of this big show from the South. In RRR, he widens the all-India appeal of big Telugu stars Ram Charan and Jr NTR, with relatively small roles for actors from other languages, including Bollywood's Alia Bhatt (Sita) and Ajay Devgn, Tamil cinema's Samuthirakani and gora actors Olivia Morris (Jenny), among others. The film, in Telugu, has been dubbed in Hindi, Tamil, Malayalam and Kannada.
Rajamouli's screenplay even has an inclusive narrative: it has shades of the Ramayana (Ram and Sita), Mahabharata (Bheem), and seems to draw from the anti-colonial musical Lagaan, Mani Ratnam's Raavan (which honoured a tribal with a key role in his version of the Ramayana), Gadar (a one-man army), and even Crouching Tiger Hidden Dragon with glorious 'wire-fu' (kung fu with wires/VFX, scaling walls). Bheem, the most interesting character, is also tutti frutti, with shades of Bhima from the Mahabharat; he is Hanuman from the Ramayana who reunites Rama and Sita; his name draws on Dr Bhimrao Ambedkar's name; he is inspired by a real life Telangana Gond tribal activist, but he out-roars a tiger nose to nose; he is also, when convenient, Akhtar the good Muslim, and the Sholay-wala jigri dost.
The film certainly glorifies the Right-wing—Ram the cop wears a janve (sacred thread); transformed into Lord Rama he wears a saffron dhoti; people wave nationalist Vande Mataram flags with BJP-style lotus buds. Yet it dares to be inclusive: its hero Bheem also plays Akhtar, a good, brave, loyal Muslim in a white skullcap: when did you last see a Muslim hero like that in a mainstream all-India film? And while Bheem carries Ram aloft on his shoulders (the Brahmin riding above the tribal), it is also Bheem, a tribal/Muslim, who reunites Rama and Sita. Yet, by a  clever masterstroke, Akhtar is not actually Muslim, but only pretending to be one. The 'Sholay' dance song, a high protein, end credit song, tributes the more militant, all-India political leaders, including Subhash Chandra Bose, Vallabhbhai Patel, Bhagat Singh and Shivaji. The film is a call to arms, so no Mahatma Gandhi here, for sure. But there's lots of mixed signals: Bheem the Gond, pretends to be Akhtar the Muslim, who prays at a Shiva temple while making a jadi booti snakebite cure for Ram—howzzat for check-all-boxes inclusivity? This is V Vijayendra Prasad's story; he earlier wrote the pacifist Bajrangi Bhaijaan, remember? The unnamed elephant in the room remains Dr Ambedkar, not shown or mentioned, but with a pervasive presence—in the film's title (taking off from Ambedkar's Educate, Agitate, Organise) and the hero Bheem's name. I expect about 20 PhDs to emerge from this film.
Rajamouli's direction is compelling, with terrific mise-en-scene and many paisa vasool moments. The Telugu actors display a range of skills with verve—action, romance, dance: this and the VFX may widen their appeal beyond their state. KK Senthil Kumar's cinematography is jaw-dropping. Editor Sreekar Prasad keeps the multiple strands engaging. MM Kreem's music is upbeat and infectious. The choreography, including the Naatu naatu dance, production design (Sabu Cyril), visual effects (VFX supervisor V Srinivas Mohan), stunts (King Solomon) are superb to breathtaking. The film is presented by Dr Jayantilal Gada and produced by DVV Danayya. The women's contribution includes Rama Rajamouli's costume design and Riya Mukherjee's Hindi dialogue.
Meenakshi Shedde is India and South Asia Delegate to the Berlin International Film Festival, National Award-winning critic, curator to festivals worldwide and journalist. 
Reach her at meenakshi.shedde@mid-day.com