The recent vandalism of a memorial stone at the historic Vasai fort is an uncomfortable reminder of how our heritage monuments and sites are under constant threat from irresponsible citizens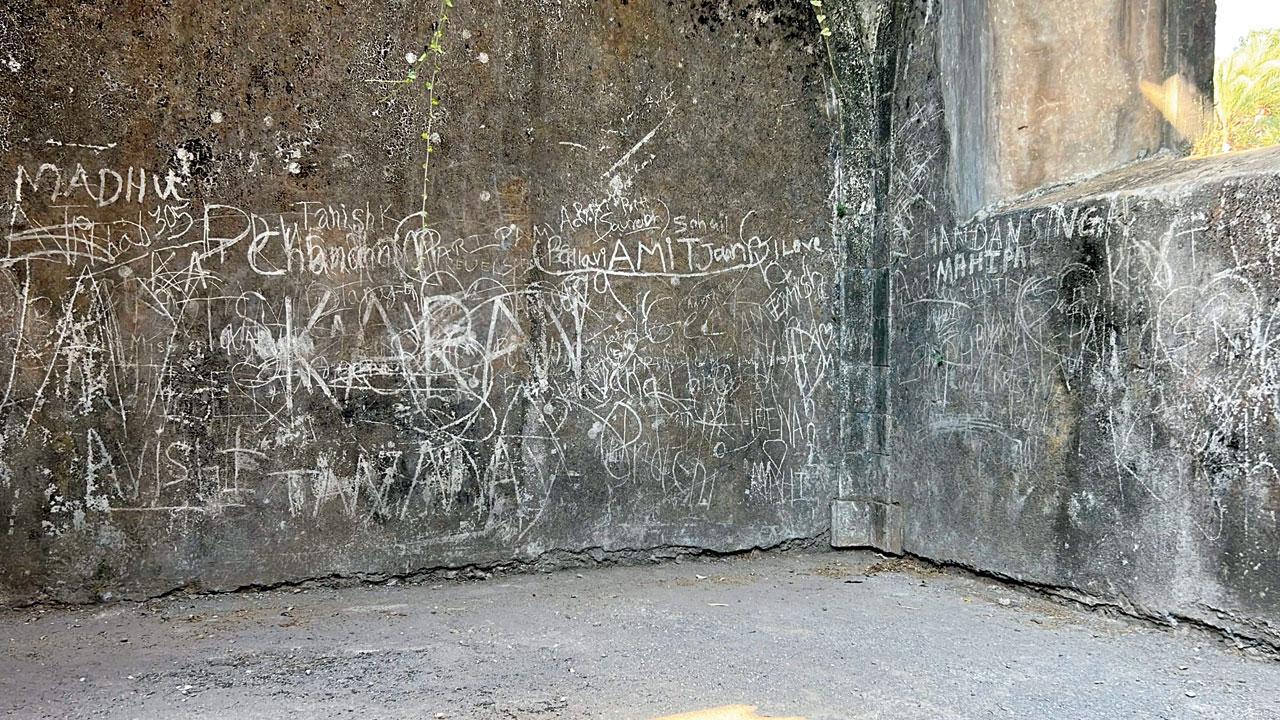 Defaced walls of the Vasai Fort. Pic/Hanif Patel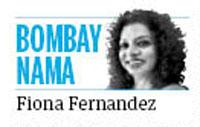 This is an act of vandalism," my Std IX teacher sighed, as she pointed out an indecipherable scrawl that included a heart-shaped icon (but of course). We were on our school picnic to Vasai fort—the much-discussed-about site in our history textbooks. Sadly, what we saw was a letdown, compared to the grand imagery that had been built up about this 17th century marvel. Luckily, and I use this word for a reason, there weren't any heritage experts to lead the group; I suspect that they, in their frustration at the sight, would have probably made us feel worse about the state of affairs. That moment was also the first time when I understood the exact interpretation of the word 'vandalism'. There were several examples as we moved across the fort. My teacher tried her best to recreate the aura of its past glory to a bunch of mostly uninterested teens. For me, it was a memorable visit to Bassein (earlier name for Vasai). On my bus ride back home I wondered what it must have been like for its residents to mingle with citizens from other parts of the world, since the sea base had trading links with some of the earliest and most prosperous civilisations. All credit to that teacher for taking the effort to focus on the fort's history despite the unhappy turn of events. It remains etched in my mind to this day such that I can draw from that visit to contextualise this column.
Late last month, this newspaper ran detailed reports of a vandal who had set fire to one of the memorial stones inside the fort that falls under the control of the Archaeological Survey of India. He created a video with a catchy song in the background. I presume this 'fiery' video would have generated considerable interest online. A few days later, he was arrested. City historians have been vocal about this forgotten jewel, and in the past have raised alarms about the lack of adequate security leading to neglect caused by vandals as well as the need for urgent expertise-driven restoration to conserve this 'protected' monument.
ADVERTISEMENT
Over the decades, I've watched this fort fall into neglect, from personal visits as well as information passed on by others who've reported similar unfortunate news. The site, despite being a protected monument under the ASI, remains at the mercy of unforgiving weather [being near the sea] while the endless band of nuisance-makers add to its fate. Then, there is garbage strewn across its façades and memorial stones [over a hundred remain], and you have a crumbling case study.
A local historian, who added context to the recent news story, voiced several concerns, from inadequate security and hence being a suitable adda for couples and vandals, as well as an alarming detail—that in the absence of restrooms onsite, visitors have reduced it to an open-air toilet. That is the absolute low that can become of a historic monument's fate. I'm reminded of similar [unpleasant] instances that I have witnessed at Elephanta Caves during several visits to this UNESCO World Heritage Site. Despite washrooms near the entry point to the cave site, visitors care a damn when nature calls, and we aren't referring to being inspired by the natural beauty of the island.
Will this episode shake the gods to take action of the strictest kind? Only time will tell. Given that the script hasn't changed much for the better in the past few decades, my expectations aren't high. It also brings in the argument of intent and sustained effort from the powers that be. To cite an example, the extensive ruins of Mandu, an ASI site in Madhya Pradesh, paints a refreshingly positive picture in contrast. It is spotlessly clean and impeccably maintained with sufficient staff and security at all vantage points to ensure the space respects its historicity. There is not as much as a scrawl or a discarded plastic bottle in sight. I recall one moment during that unforgettable visit where I spotted two designated helpers removing moss from the stone steps to ensure it doesn't get out of hand so incoming tourists don't take a tumble due to the slippery surface!
It is all very well to announce glitzy tour packages to our forts, or drum up noise about its relevance that is conveniently timed near a festival or a global event. But ground zero presents a grim picture that reduces these shout-outs to gimmicks. The Vasai fort episode is just one reminder; there could be countless other such acts that go unreported each day. Agreed, a lot has to do with citizens' respect for their surroundings, including our monuments. But the sounding bell must come from authorities, especially when such nutcases are on the prowl at every corner. Miscreants need to be made accountable, hefty fines need to be implemented. Such reminders of our past cannot be subject to continuous neglect. This is our history that we are dealing with. Eventually, it is we who stand to lose from such (in)action.
mid-day's Features Editor Fiona Fernandez relishes the city's sights, sounds, smells and stones...wherever the ink and the inclination takes her. She tweets @bombayana
Send your feedback to mailbag@mid-day.com
"Exciting news! Mid-day is now on WhatsApp Channels

Subscribe today by clicking the link and stay updated with the latest news!"
Click here! Do you practice ecotourism?