At least 20 churches and 86 houses of Christians were burnt down by the mob in Pakistan's Punjab province and a total of 145 suspects have been taken into custody, police said in a preliminary report submitted to the government on Friday on the unprecedented attack on the minority community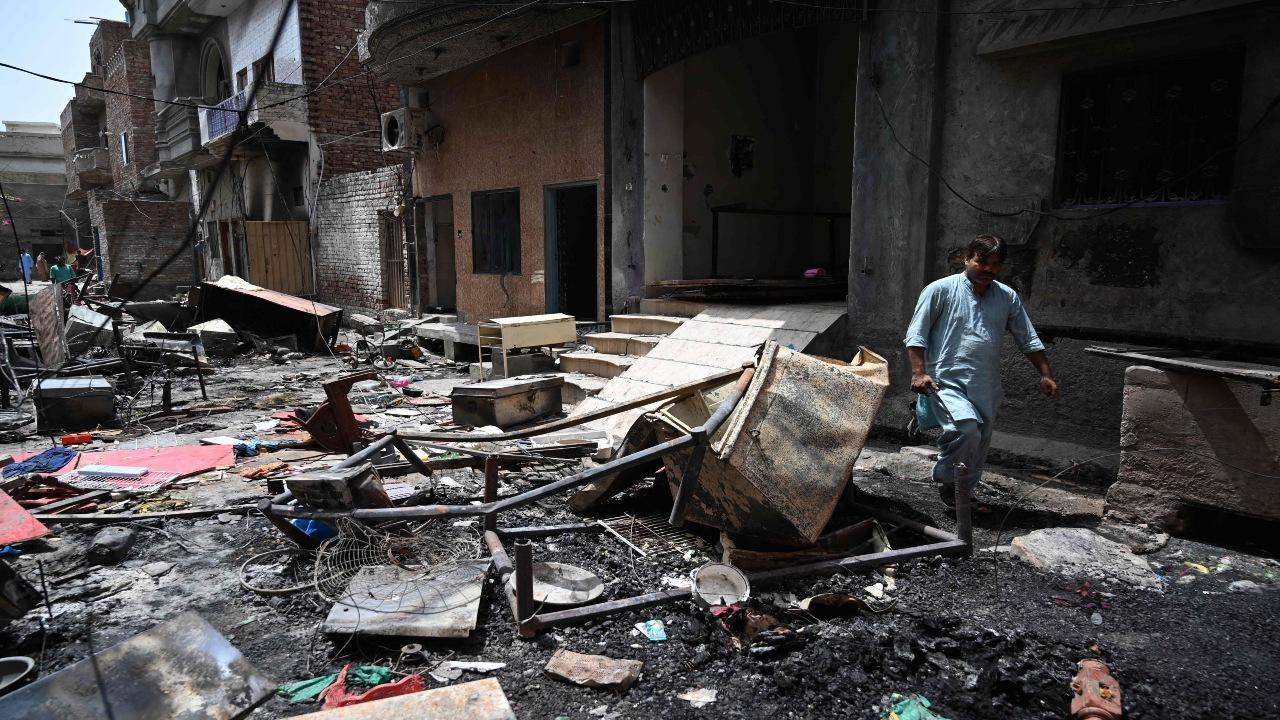 A man walks amid debris of houses torched along a street near Saint John Church in Jaranwala on the outskirts of Faisalabad on August 17, 2023. Photo by Aamir Qureshi / AFP
At least 20 churches and 86 houses of Christians were burnt down by the mob in Pakistan's Punjab province and a total of 145 suspects have been taken into custody, police said in a preliminary report submitted to the government on Friday on the unprecedented attack on the minority community.
The report also hinted at the presence of radical Islamist Tehreek-i-Labbaik Pakistan (TLP) elements that spearheaded the mob that unleashed the attack in Jaranwala tehsil of Faisalabad district, some 130 km from Lahore on Wednesday. The mob was enraged over reports that two Christians had desecrated the Quran.
ADVERTISEMENT
"At least 20 churches and 86 houses of Christians were burnt down by the mob in Jaranwala. Two Christians who were accused of desecrating the Quran have also been arrested. Besides, a cleric who made announcements from five mosques inciting people to attack Christian homes and churches is among 145 suspects arrested so far," says the Punjab Police report submitted to the government.
Earlier in the day, the police produced 127 suspects before an anti-terrorism court in Faisalabad and obtained their two-day physical remand.
Pakistani police have also arrested two prime suspects involved in the attacks, Punjab caretaker Chief Minister Mohsin Naqvi said.
"Major breakthrough in the Jaranwala Incident; both main accused now in CTD Custody. Appreciation for Chief Secretary Punjab and IG Punjab for their relentless efforts...," Naqvi posted on social media platform X, formerly known as Twitter.
Meanwhile, the Christian families started returning to their houses only to find their dwellings in ruin. They blamed the government for failing to provide security to their lives and properties in the face of radical Islamists' onslaught.
All educational institutions, markets and business establishments remained closed in Jaranwala on the second day Friday as well.
Naqvi said on Friday that the government would restore all churches in Jaranwala by next Tuesday and give compensation money to the Christian families whose homes had been damaged.
"More arrests are underway and every culprit will be brought to justice," he said at a press conference.
The caretaker chief minister said the violent attacks on churches and homes of the Christians were a planned conspiracy to sabotage peace in the country.
The district administration has already imposed section 144 for seven days, prohibiting all kinds of assembly, except for events organised by the government in Jaranwala.
Archbishop Sebastian Francis Shaw said the Christians might get compensation but what about the fear instilled in them by this ghastly incident?
He said the government will have to take practical steps for the protection of the minority community. He disclosed that radical Islamists made four attempts on the life of Christian Assistant Commissioner Shaukat Masih of Jaranwala but he luckily survived.
Pakistan Centre for Law and Justice Napoleon Qayyum said although peace has been restored in the area due to the heavy deployment of police, Christians fear that Islamists might strike again
Currently, 3,500 policemen and 180 Rangers personnel are deployed at Christian areas in Jaranwala.
Blasphemy is a sensitive issue in Pakistan, where anyone deemed to have insulted Islam or Islamic figures can face the death penalty. Often an accusation can cause riots and incite mobs to violence, lynching and killings.
According to the Centre for Social Justice (CSJ), till August 16 this year, around 198 persons have been accused of blasphemy, 85 per cent of them Muslims, 9 per cent Ahmadis and 4.4 per cent Christians.
It said the Punjab province recorded over 75 per cent of the abuse of blasphemy laws cases in the past 36 years.
Minorities, including Christians and Hindus, have been frequently subjected to blasphemy allegations and some tried and even sentenced under blasphemy in Pakistan.
"Exciting news! Mid-day is now on WhatsApp Channels

Subscribe today by clicking the link and stay updated with the latest news!"
Click here! Do you wear your contact lenses while sleeping?