Angry passengers on board a PIA flight stopped former interior minister Rehman Malik and a Hindu lawmaker of the ruling PML-N from boarding the plane, accusing them of causing over two hours of delay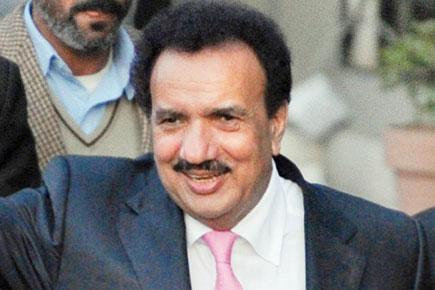 Rehman Malik
Karachi: Angry passengers on board a PIA flight stopped former interior minister Rehman Malik and a Hindu lawmaker of the ruling PML-N from boarding the plane, accusing them of causing over two hours of delay.
The Islamabad-bound Pakistan International Airlines flight PK-370 from Karachi was delayed by two and a half hours
yesterday as it kept waiting for the arrival of Pakistan People's Party (PPP) senator Malik and National Assembly
member Dr Ramesh Kumar Wakwani.

Pakistan's former interior minister Rehman Malik
When they finally came, the passengers stopped them from boarding the aircraft. According to a video clip repeatedly shown by the local media, passengers were shouting at Malik who was filmed going back hurriedly when confronted by the passengers.
"Malik sahab, sorry. You should go back. You should apologise to these passengers. You should be ashamed of
yourself...250 passengers have suffered because of you. It is your fault, sir," a passenger was heard saying in the clip. "Malik sahab, you are not a minister any more. And even if you are, we don't care...anymore," he said.
The clip, which has gone viral online, showed passengers booing and ridiculing the lawmakers as the crew also joined
them. Kumar was not shown in the video but Dawn reported that he was also not allowed to board the plane. PIA spokesperson Mashood Tajwar speaking to Dawn said that the delay in the flight was due to a technical issue and
not because of Malik.
"PIA does not promote VIP culture...but this flight was delayed an hour and 30 minutes due to a technical reason,"
Tajwar said. "The delay had been conveyed to passengers via SMS. Some passengers who had given the contact details of their travel agent may not have been conveyed the message by their agents," Tajwar said.
He said the plane took off at 8:55 pm last night. "The flight was not delayed because of Rehman Malik. We are looking into what actually happened but after the delay, the flight departed when it was meant to," he added.