Support from both parties will be needed to win congressional approval next week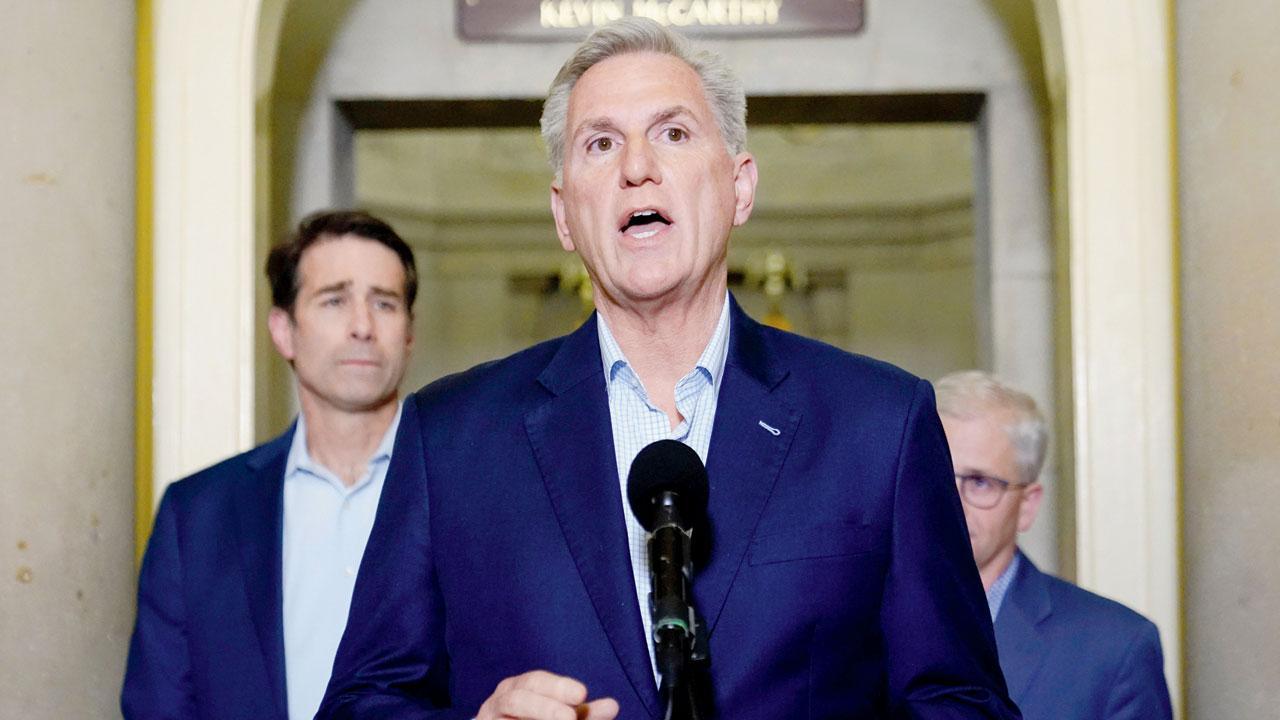 House Speaker Kevin McCarthy of Calif., speaks at a news conference after President Joe Biden and he reached an "agreement in principle" to resolve the looming debt crisis Saturday. Pic/AP
US President Joe Biden and House Speaker Kevin McCarthy reached an "agreement in principle" to raise the nation's legal debt ceiling late Saturday as they raced to strike a deal to limit federal spending and avert a potentially disastrous US default. However, the agreement risks angering both Democratic and Republican sides with the concessions made to reach it. Negotiators agreed to some Republican demands for increased work requirements for recipients of food stamps that had sparked an uproar from House Democrats as a nonstarter.
Support from both parties will be needed to win congressional approval next week before a June 5 deadline. The Democratic president and Republican speaker reached the agreement after the two spoke earlier Saturday evening by phone, said McCarthy. The country and the world have been watching and waiting for a resolution to a political standoff that threatened the U.S. and global economies.
ADVERTISEMENT
"The agreement represents a compromise, which means not everyone gets what they want," Biden said in a statement late Saturday night. "That's the responsibility of governing," he said. Joe Biden called the agreement "good news for the American people, because it prevents what could have been a catastrophic default and would have led to an economic recession, retirement accounts devastated, and millions of jobs lost."
McCarthy in brief remarks at the Capitol, said that "we still have a lot of work to do." But the Republican speaker said, "I believe this is an agreement in principle that's worthy of the American people." With the outlines of a deal in place, the legislative package could be drafted and shared with lawmakers in time for votes early next week in the House and later in the Senate.
Central to the package is a two-year budget deal that would hold spending flat for 2024 and impose limits for 2025 in exchange for raising the debt limit for two years, pushing the volatile political issue past the next presidential election. The agreement would limit food stamp eligibility for able-bodied adults up to age 54, but Biden was able to secure waivers for veterans and the homeless.
This story has been sourced from a third party syndicated feed, agencies. Mid-day accepts no responsibility or liability for its dependability, trustworthiness, reliability and data of the text. Mid-day management/mid-day.com reserves the sole right to alter, delete or remove (without notice) the content in its absolute discretion for any reason whatsoever