In the second Republican presidential debate for the 2024 election cycle, Indian-American presidential aspirant Vivek Ramaswamy has voiced support for ending birthright citizenship for children born in the United States to undocumented immigrants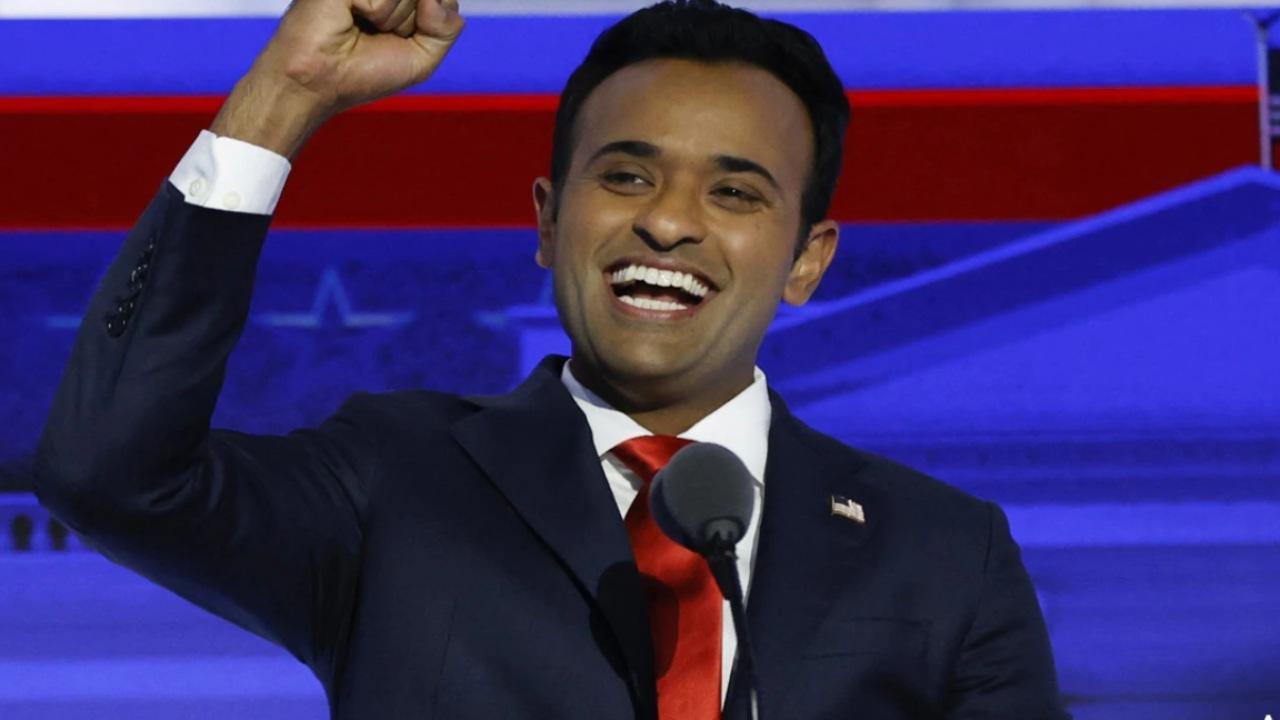 File Photo/AFP
Listen to this article
Indian-American presidential aspirant Ramaswamy advocates ending birthright citizenship in US
x
In the second Republican presidential debate for the 2024 election cycle, Indian-American presidential aspirant Vivek Ramaswamy has voiced support for ending birthright citizenship for children born in the United States to undocumented immigrants.
The debate, held at the Ronald Reagan Presidential Library and Museum in Simi Valley, California, featured Ramaswamy alongside six other candidates, including Florida Governor Ron DeSantis and former United Nations Ambassador Nikki Haley.
ADVERTISEMENT
When questioned about the legal basis for expelling undocumented immigrants and their American-born children, Ramaswamy, the son of Indian immigrants, resurrected a 2015 proposal from then-candidate Donald Trump to end birthright citizenship, according to a report by the Washington Post.
The first section of the citizenship clause in the US Constitution's 14th Amendment states, "All persons born or naturalized in the United States, and subject to the jurisdiction thereof, are citizens of the United States and of the State wherein they reside."
While the longstanding tradition is that this clause grants citizenship to those born on US soil, some legal scholars argue that the phrase "subject to the jurisdiction thereof" may provide leeway for the government to restrict this right, much like other constitutional principles can be limited.
Ramaswamy argued that children born in the United States to undocumented immigrants should not be granted citizenship because their parents "broke the law" to be in the country.
Also read: Maha: 20-year-old goes missing after entering river during Ganesh idol immersion
The 38-year-old, a second-generation Indian-American, had previously criticized the H-1B visa program, calling for a shift from the current "lottery" system to a meritocratic, skill-based immigration scheme that aligns with US needs.
The H-1B visa, highly sought after by Indian IT professionals, permits US companies to employ foreign workers in speciality occupations requiring theoretical or technical expertise.
Ramaswamy's stance on H-1B visas bears resemblance to the 2016 Trump campaign, during which then-candidate Donald Trump, despite employing foreign workers under H-1B visas for his businesses, initially adopted a tough stance on these foreign workers before later softening his rhetoric.
It's noteworthy that Ramaswamy himself has utilized the H-1B visa program on 29 occasions. According to Politico, from 2018 through 2023, US Citizenship and Immigration Services approved 29 applications for Ramaswamy's former company, Roivant Sciences, to hire employees under H-1B visas.
Ramaswamy, whom Time Magazine referred to as "Trump's heir apparent," has garnered significant attention following his debut in the Republican presidential primary debate on August 23. The first post-debate poll indicated that 28 per cent of 504 respondents believed Ramaswamy performed the best.
"Exciting news! Mid-day is now on WhatsApp Channels

Subscribe today by clicking the link and stay updated with the latest news!"
Click here! Do you like reading film magazines?