Tornadoes that tore through the state on Friday night saw hail the size of golf balls, destroyed buildings and knocked out power for more than 49,000 residents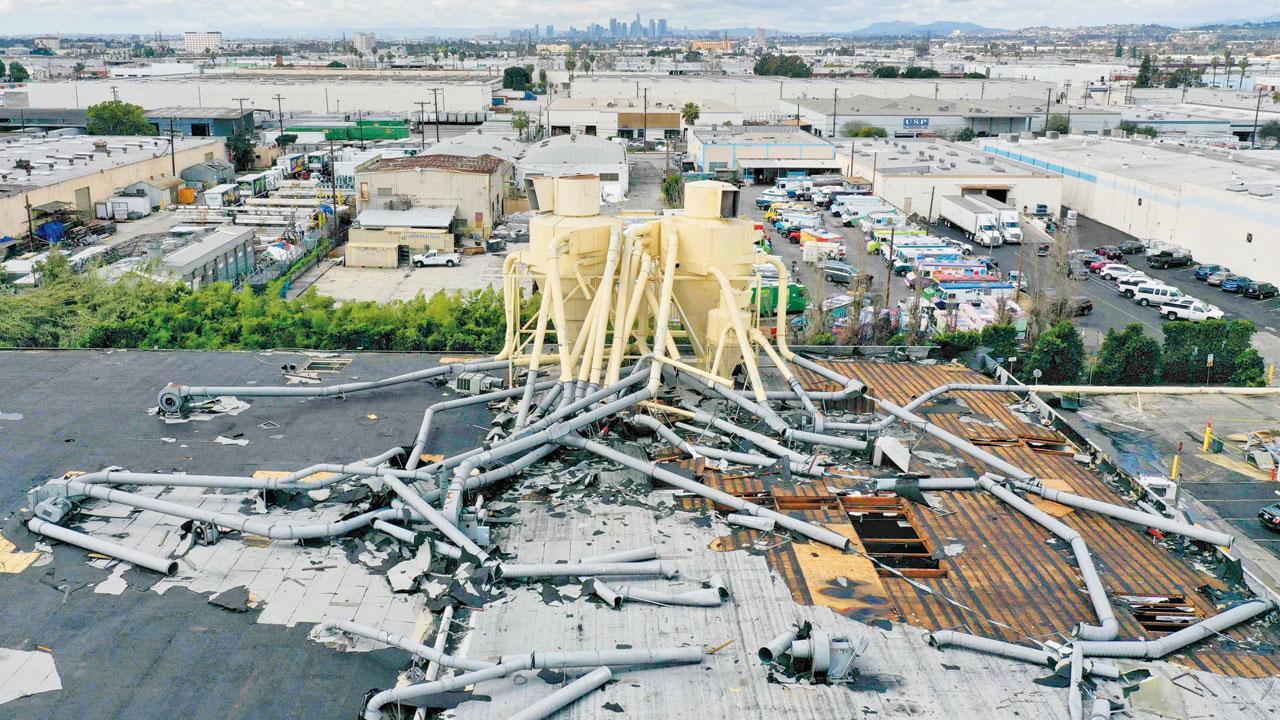 An aerial image shows damage to the roof of an industrial building after a tornado hit during a winter storm in Montebello. Pic/AFP
Emergency officials in Mississippi said 23 people have been killed as of 6.20 am on Saturday by tornadoes that tore through the state on Friday night, destroying buildings and knocking out power as severe weather that produced hail the size of golf balls moved through several southern states.
The Mississippi Emergency Management Agency confirmed dozens of injuries and four people missing throughout the state. The agency said in a Twitter post that search and rescue teams from numerous local and state agencies were deployed along with personnel to assist those impacted by the tornadoes. The National Weather Service confirmed a tornado caused damage about 96 kilometres northeast of Jackson, Mississippi. The rural towns of Silver City and Rolling Fork reported destruction as the tornado swept northeast at 113 kph without weakening, racing towards Alabama into the night. 
ADVERTISEMENT
Also Read: Webb telescope spots swirling, gritty clouds on remote planet
The National Weather Service issued an alert as the storm was hitting that didn't mince words: "To protect your life, TAKE COVER NOW!" "You are in a life-threatening situation," it warned. "Flying debris may be deadly to those caught without shelter. Mobile homes will be destroyed. Considerable damage to homes, businesses, and vehicles is likely and complete destruction is possible." Cornel Knight told media that he, his wife and their three-year-old daughter were at a relative's home in Rolling Fork when the tornado struck. He said the sky was dark but "you could see the direction from every transformer that blew." He said it was "eerily quiet" as that happened. 
Rolling Fork mayor Eldridge Walker said that he was unable to get out of his damaged home soon after the tornado hit because power lines were down. He said emergency responders were trying to take injured people to hospitals. He did not immediately know how many people had been hurt. Mississippi Gov. Tate Reeves said in a Twitter post that search and rescue teams were active and that officials were sending more ambulances and emergency assets to those affected. More than 49,000 customers had lost power in Arkansas, Mississippi and Tennessee as of Friday night, according to poweroutage.us.
This story has been sourced from a third party syndicated feed, agencies. Mid-day accepts no responsibility or liability for its dependability, trustworthiness, reliability and data of the text. Mid-day management/mid-day.com reserves the sole right to alter, delete or remove (without notice) the content in its absolute discretion for any reason whatsoever