Kremlin said Medvedev's remarks were in full accordance with Moscow's nuclear doctrine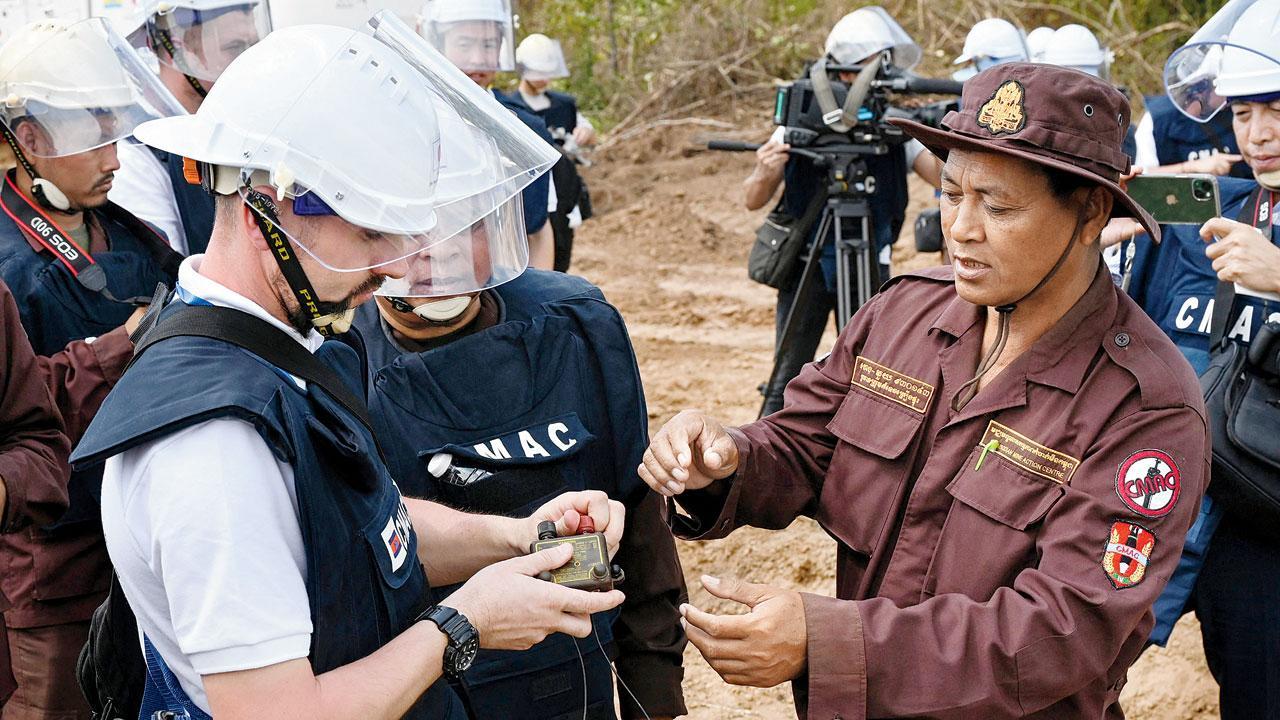 A Ukraine deminer (in white) and a Cambodian deminer prepare to explode mines during a technical training session on demining technologies in Battambang province, Wednesday. Pic/AFP
Former Russian President Dmitry Medvedev, an ally of Kremlin chief Vladimir Putin, warned the North Atlantic Treaty Organization (NATO) on Thursday that the defeat of Russia in Ukraine could trigger a nuclear war.
"The defeat of a nuclear power in a conventional war may trigger a nuclear war," Medvedev, who is deputy chairman of Putin's powerful security council, said in a post on Telegram. "Nuclear powers have never lost major conflicts on which their fate depends," said Medvedev. He said NATO and other defence leaders, due to meet at Ramstein Air Base in Germany on Friday to talk about strategy and support for the West's attempt to defeat Russia in Ukraine, should think about the risks of their policy.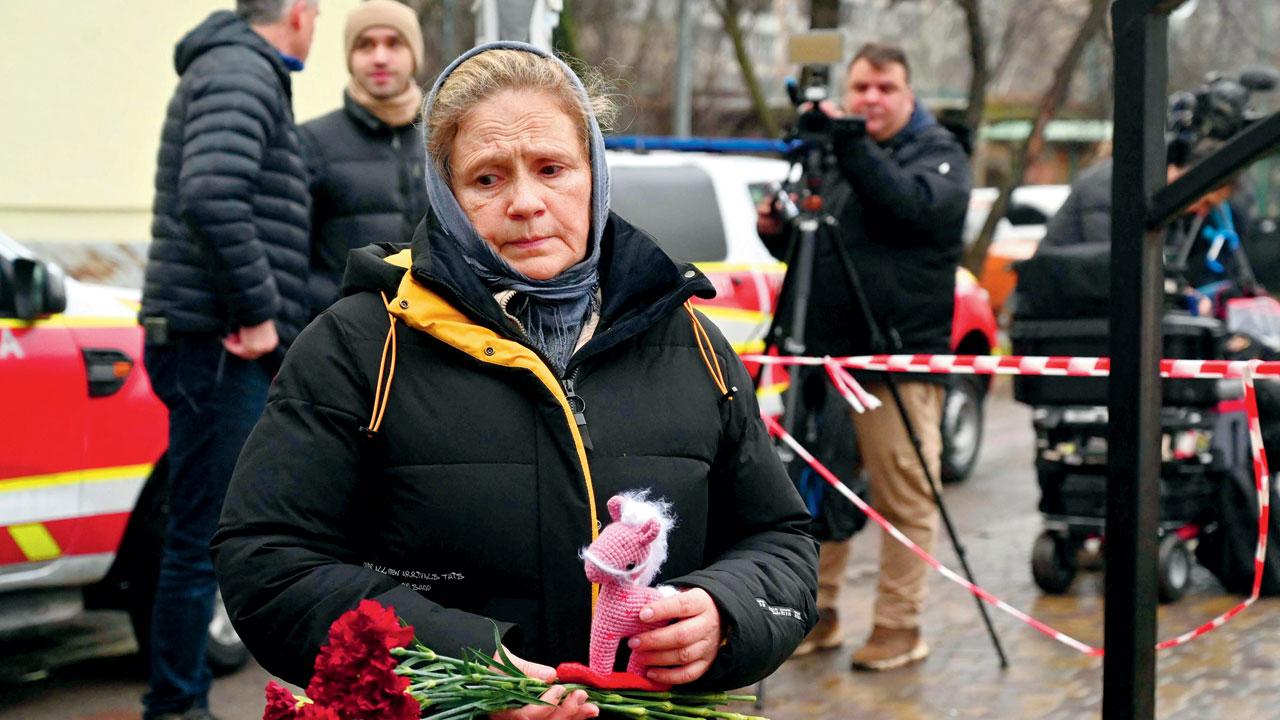 A woman brings flowers at the site where a helicopter crashed near a kindergarten in Brovary, outside the capital Kyiv killing 16 people Wednesday. Pic/AFP
Russia and the United States, by far the largest nuclear powers, hold around 90% of the world's nuclear warheads. Putin is the ultimate decision maker on the use of nuclear weapons. While NATO has conventional military superiority over Russia, when it comes to nuclear weapons, Russia has nuclear superiority over the alliance in Europe. Kremlin said Medvedev's remarks were in full accordance with Moscow's nuclear doctrine.
Also Read: Ukraine's interior minister, 17 others die in helicopter crash
Ukrainians learn to clear mines from Cambodians
Cambodian experts, whose country has the dubious distinction of being one of the world's most contaminated by landmines, are training a group of Ukrainian soldiers, hoping their decades of experience would help the Europeans in their own efforts to remove Russian mines at home. The 15 Ukrainians were guided by trainers with the Cambodian Mine Action Center, a government agency that oversees the clearing of land mines and unexploded ordnance. Cambodia is still littered with mines after three decades of war and internal conflicts that ended in 1998, with an estimated 4 to 6 million unexploded devices still uncleared. The NGO Landmine Monitor in its 2022 report listed both Cambodia and Ukraine among nine countries with "massive" mine contamination - they had more than 100 sq km (38.6 square miles) of uncleared fields.
This story has been sourced from a third party syndicated feed, agencies. Mid-day accepts no responsibility or liability for its dependability, trustworthiness, reliability and data of the text. Mid-day management/mid-day.com reserves the sole right to alter, delete or remove (without notice) the content in its absolute discretion for any reason whatsoever