'God Save the King' was sung for Charles III for the first time since his crowning, as Britain's first coronation service in seven decades moved towards its conclusion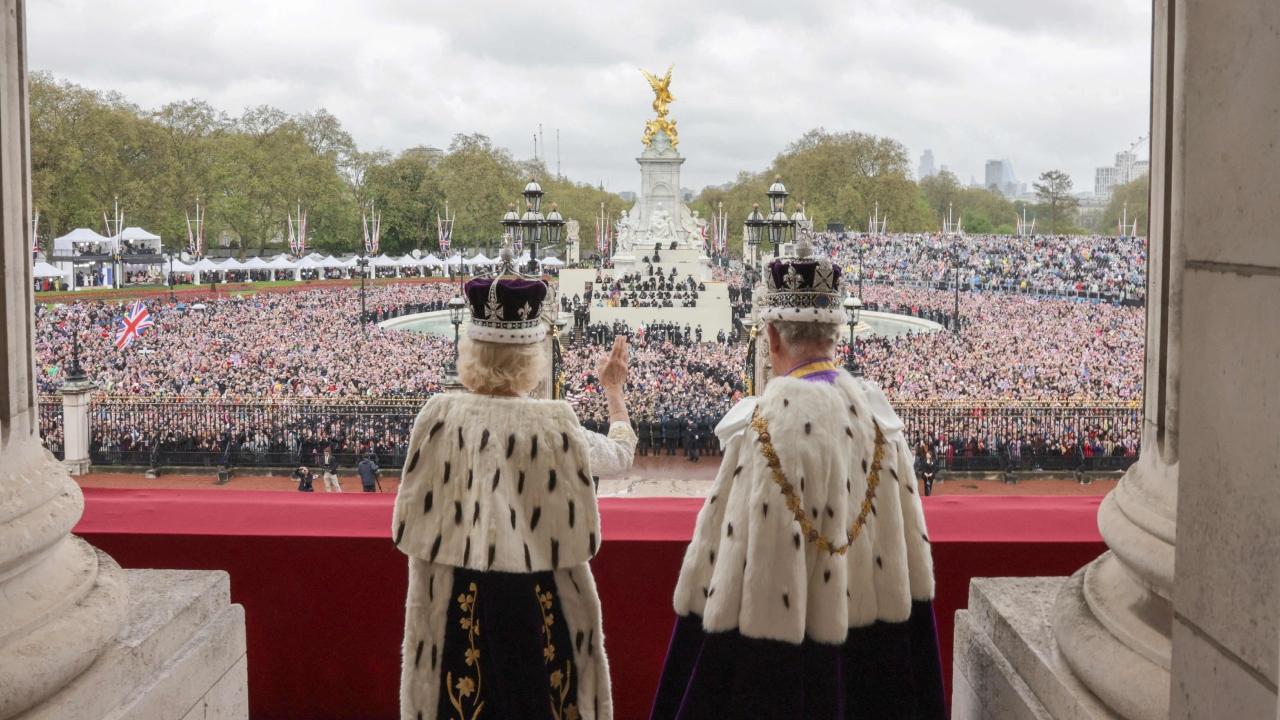 Britain's Queen Camilla and Britain's King Charles III standing on the balcony of Buckingham Palace. Pic/AFP
Newly-crowned King Charles III left Westminster Abbey after the coronation and entered the Gold State Coach, which took him back to Buckingham Palace, CNN reported on Saturday.
The coach has been used in every coronation since that of William IV in 1831, providing a powerful connection to previous elaborate ceremonies. It is drawn by eight Windsor Grey horses.
ADVERTISEMENT
This coronation procession followed the same route but was much larger in scale than the one preceding the coronation service. It featured "Armed Forces from across the Commonwealth and the British Overseas Territories, and all Services of the Armed Forces of the United Kingdom, alongside The Sovereign's Bodyguard and Royal Watermen," according to the royal household, CNN reported.
"God Save the King" was sung for Charles III for the first time since his crowning, as Britain's first coronation service in seven decades moved towards its conclusion.
It was the same arrangement of the anthem that was sung for Charles' mother, Queen Elizabeth II, at her coronation in 1953.
Soon, the procession of the King and Queen began, CNN reported.
Also Read: Premier League teams mark coronation of King Charles III
Holy Communion, or the taking of consecrated bread and wine, is an act of worship integral to Christianity -- the "ultimate act of remembering Jesus," as the Church of England says in its official liturgy.
The King acknowledged the gifts of bread and wine as they were taken to the High Altar before the Archbishop of Canterbury said two prayers - the Prayer Over the Gifts and the Eucharistic Prayer.
The first of these was used at Queen Elizabeth II's coronation and found in the Liber Regalis (The King's Book), one of the oldest and most important sources for the coronation service. The second draws from many different sources.
The beginning of the Eucharistic Prayer echoed words used at the Queen's 1953 coronation and adds words from the Bible. The prayer's central section draws from Jesus' words when he served bread and wine to his disciples at the Last Supper before he died, according to the liturgy, CNN reported.
Then, Sanctus was sung. The text dates from the fifth century and possibly earlier. It's set to music is a new commission for this service by the British composer Roxanna Panufnik.
The Eucharistic Prayer continued, followed by the Lord's Prayer. The King and Queen received Holy Communion as the choir sang the Agnus Dei, another traditional text for the mass, set to new music by Tarik O'Regan.
This story has been sourced from a third party syndicated feed, agencies. Mid-day accepts no responsibility or liability for its dependability, trustworthiness, reliability and data of the text. Mid-day management/mid-day.com reserves the sole right to alter, delete or remove (without notice) the content in its absolute discretion for any reason whatsoever