Zelenskyy's high-profile pursuit of more Western military aid came as evidence mounted that Russia's anticipated offensive around the anniversary of the invasion is starting to take shape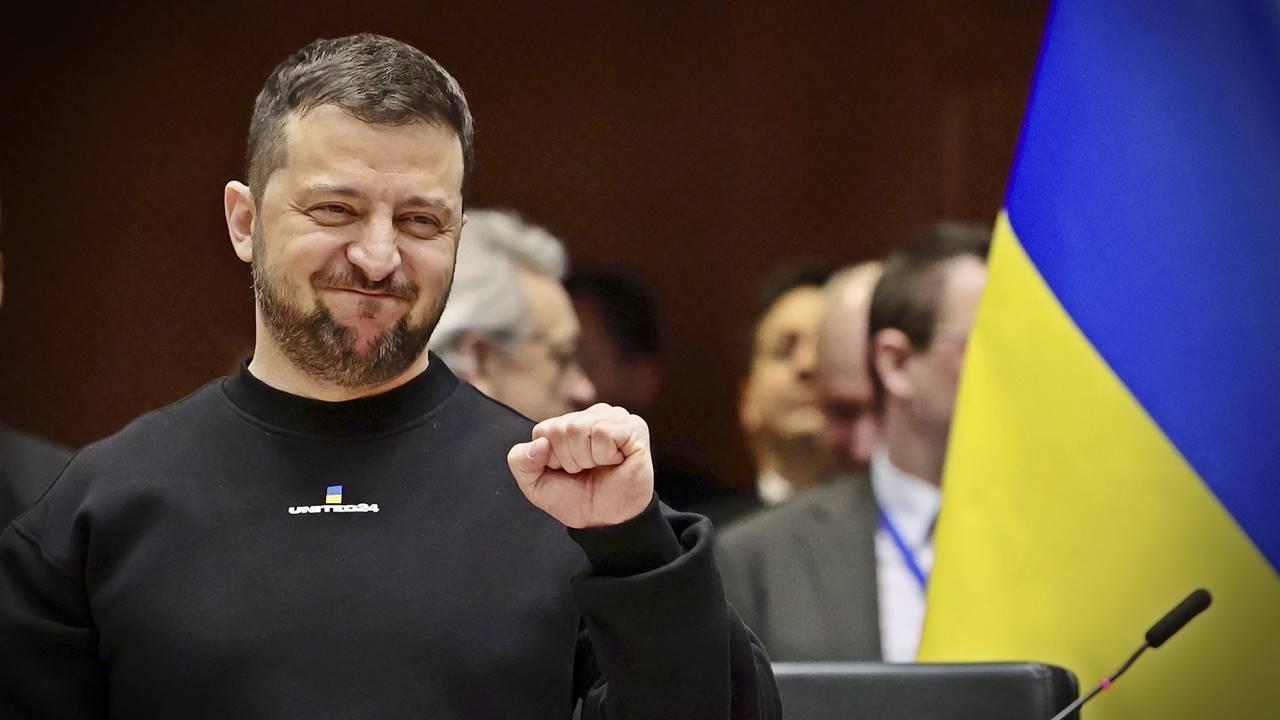 Ukraine's President Volodymyr Zelenskyy gestures during an EU summit at the European Parliament in Brussels, Belgium. Pic/AP/PTI
Ukrainian President Volodymr Zelenskyy on Thursday addressed the European Parliament as he seeks more military aid, saying Ukraine and the European Union are fighting together against Russia, in his words "the most anti-European force" in the world.
Zelenskyy received standing ovations before, during and after his speech to European lawmakers. He held up an EU flag after his address and the entire legislature stood in sombre silence as the Ukrainian national anthem and then European anthem "Ode to Joy" were played. "Europe will always be, and remain Europe as long as we are together and as long as we take care of our Europe, as we take care of the European way of life," he said. Zelenskyy added that Russia wants to destroy the European way of life, but "we will not allow that."
ADVERTISEMENT
Before Zelenskyy spoke, European Parliament President Roberta Metsola said allies should consider "quickly, as a next step, providing long range systems" and fighter jets to Ukraine. Metsola said the response to Russian President Vladimir Putin's war against Ukraine "must be proportional to the threat, and the threat is existential."
Zelenskyy's high-profile pursuit of more Western military aid came as evidence mounted that Russia's anticipated offensive around the anniversary of the invasion is starting to take shape.
The Kremlin's forces "have regained the initiative in Ukraine and have begun their next major offensive" in the eastern Luhansk region, most of which is occupied by Russia, the Institute for the Study of War, said in its latest assessment. "Russian forces are gradually beginning an offensive, but its success is not inherent or predetermined," the US-based think tank said.
Zelenskyy is wrapping up a whirlwind tour of his major European backers, already heading home with heaps of goodwill, promises of more military aid and, as hardware goes, France's highest medal of honour. Zelenskyy arrived at the European Union's legislature in Brussels on Thursday. The Ukrainian anthem was played at the protocol entrance, followed by the European anthem.
The bloc's 27 leaders were hoping to impress on the president that the powerful bloc is steadfast in its support of embattled Ukraine as Russia is feared to be making moves for a new offensive around the February 24 one-year anniversary of the war.
Flying in from Paris with President Emmanuel Macron, who honoured him with the Grand Cross of France's Legion of Honor, Zelenskyy will be stepping up from a half-dozen video addresses to the EU leaders over the past year to use his impressive aura and oratory skills in person to make sure that nothing stalls in Europe's unwavering backing.
Also read: Volodymyr Zelensky visits London seeking more arms against Russia
"The European Union will stand by Ukraine with steadfast support for as long as it takes," said the latest draft of the summit conclusions seen by The Associated Press.
German Chancellor Olaf Scholz said the bloc will send Zelenskyy "this signal of unity and solidarity, and can show that we will continue our support for Ukraine in defending its independence and integrity for as long as this is necessary."
Estonian Prime Minister Kaja Kallas said that "it is my plea that everyone will do what they can. The price will go up with every delay." That need was especially pressing Thursday. A US-based think tank reported that the Russian forces "have regained the initiative in Ukraine and have begun their next major offensive' in the eastern, largely occupied, Luhansk region.
"Russian sources are widely reporting that conventional Russian troops are attacking Ukrainian defensive lines and making marginal advances," the Institute for the Study of War said in its most recent report.
Zelenskyy will be using the dais of the European Parliament to make his point in a plenary session, hoping to match Wednesday's speech to Britain's legislature when he thanked the nation for its unrelenting support. That same support has come from the EU. The bloc and its member states have already backed Kyiv with some 50 billion euros in aid, provided military hardware and imposed nine packages of sanctions on the Kremlin.
After the solemn words at parliament, Zelenskyy will move to the urn-shaped Europa building for a working session with the 27 leaders. Macron's office has already confirmed the bloc "will reiterate Europeans' unwavering support to Ukraine and the Ukrainian people." Few would expect anything less.
The EU is in the midst of brokering a new sanctions package worth some 10 billion euros ahead of the February 24 one-year anniversary of the war. And there is still plenty of scope for exporting more military hardware to Ukraine as a Russian spring offensive is expected.
One topic that was not on the agenda in Britain but will be in Brussels is Ukraine's desire to become a member of the European Union as soon as possible. A high-profile visit to EU headquarters can only add to the goodwill to help his country on to the road of accession talks. Ukraine is talking about joining the EU in a matter of years, while practice has shown it can take decades before aspiring members are considered fit to join.
Zelenskyy well knows that the EU sometimes moves at a snail's pace while he himself had to be lightning fast to stave off an early Russian victory and set up a defense of his vast nation that very few would have deemed possible a year ago.
Now, after initial hesitation, EU nations have finally started to step up their military contributions as well.
Germany, Denmark and the Netherlands announced Tuesday that they plan to provide Ukraine with at least 100 refurbished German-made Leopard 1 battle tanks in the coming months. The announcement followed Germany agreeing last month to allow deliveries of the more modern Leopard 2 tanks to Ukraine.
Beyond EU top officials like summit host Charles Michel and Commission President Ursula von der Leyen, Zelenskyy should find time for bilateral meetings with leaders to press for more hardware, ranging from ammunition to warplanes ¿ something the bloc as a whole does not possess but individual countries do.
This story has been sourced from a third party syndicated feed, agencies. Mid-day accepts no responsibility or liability for its dependability, trustworthiness, reliability and data of the text. Mid-day management/mid-day.com reserves the sole right to alter, delete or remove (without notice) the content in its absolute discretion for any reason whatsoever.
"Exciting news! Mid-day is now on WhatsApp Channels

Subscribe today by clicking the link and stay updated with the latest news!"
Click here! Do you practice ecotourism?