Storm breaches river's levee; the breach is about 30.48 metres wide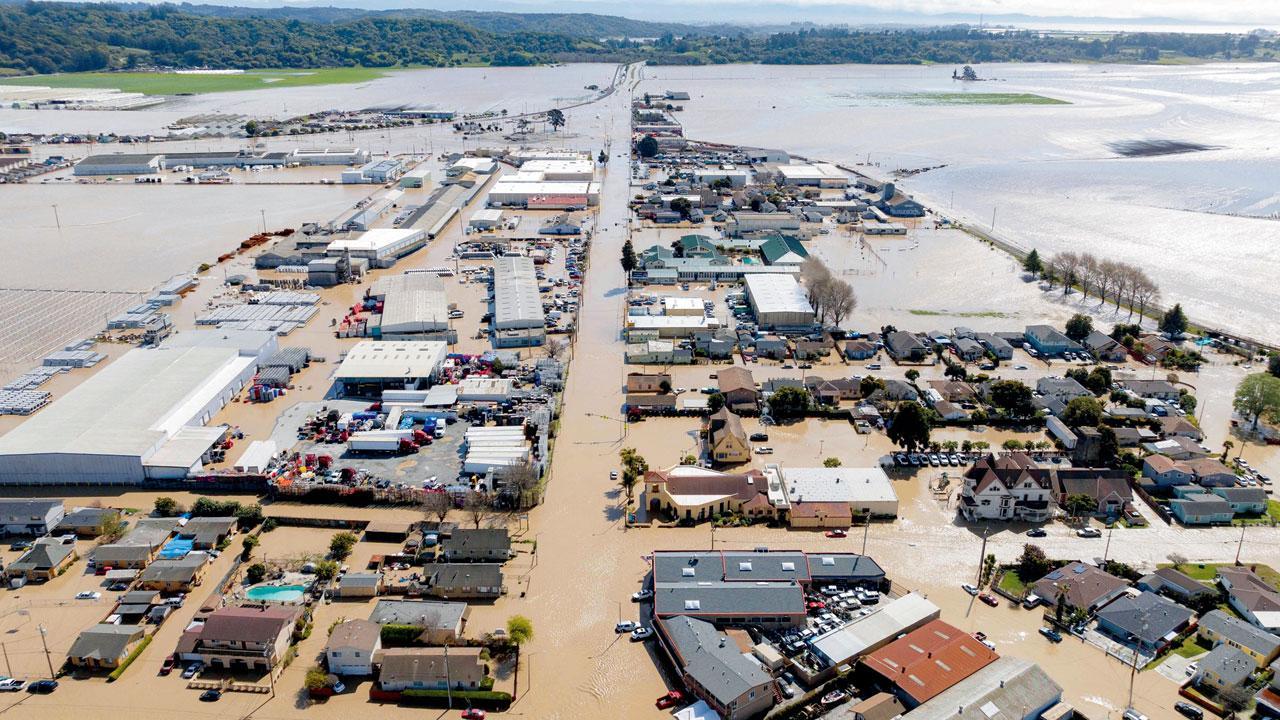 A flooded neighbourhood in the unincorporated community of Pajaro in Watsonville, California Saturday. Pic/AFP
A Northern California agricultural community famous for its strawberry crop was forced to evacuate early Saturday after the Pajaro River's levee was breached by flooding from a new atmospheric river that pummeled the state.
Across the Central Coast's Monterey County, more than 8,500 people were under evacuation orders and warnings Saturday, including roughly 1,700 residents - many of them Latino farmworkers - from the unincorporated community of Pajaro. Officials said the Pajaro River's levee breach is about 100 feet (30.48 meters) wide. Crews had gone door to door Friday afternoon to urge residents to leave before the rains came but some stayed and had to be pulled from floodwaters early Saturday.
ADVERTISEMENT
First responders and the California National Guard rescued more than 50 people overnight. One video showed a member of the Guard helping a driver out of a car trapped by water up to their waists. "We were hoping to avoid and prevent this situation, but the worst case scenario has arrived with the Pajaro River overtopping and levee breaching at about midnight," wrote Luis Alejo, chair of the Monterey County Board of Supervisors, on Twitter.
Also Read: Indian-origin Sikh leader arrested for plotting to burn down prominent Gurdwara in California
Alejo called the flooding "massive," saying the damage will take months to repair. Floodwaters that got into the region's wells might be contaminated with chemicals, officials said, and residents were told not to drink or cook with tap water for fear of illness. Officials had been working along the levee in the hopes of shoring it up when it was breached around midnight Friday into Saturday. Crews began working to fix the levee around daybreak Saturday as residents slept in evacuation centers.
Oliver Gonzalez, 12, told The Associated Press that he, his mother and his aunt were rescued around 5 a.m. Saturday in Parajo. He grabbed his laptop, cellphone and some important documents but so much was left behind in their rush to leave.  "I'm kinda scared," he said several hours later from an evacuation center in nearby Watsonville. "My mom's car was left in the water."
Anais Rodriguez, 37, said first responders knocked on her home's door shortly after midnight. Her family packed about four days' clothing and drove out to safety. She and her two children, her husband and her parents — along with their dog, Mila — arrived at the shelter about an hour later. Gov. Gavin Newsom's office on Saturday said it was monitoring the situation in Pajaro.
8,500
No of people under evacuation orders