Kentucky was the worst-hit by far in a swarm of twisters across several states, remarkable because they came at a time of year when cold weather normally limits tornadoes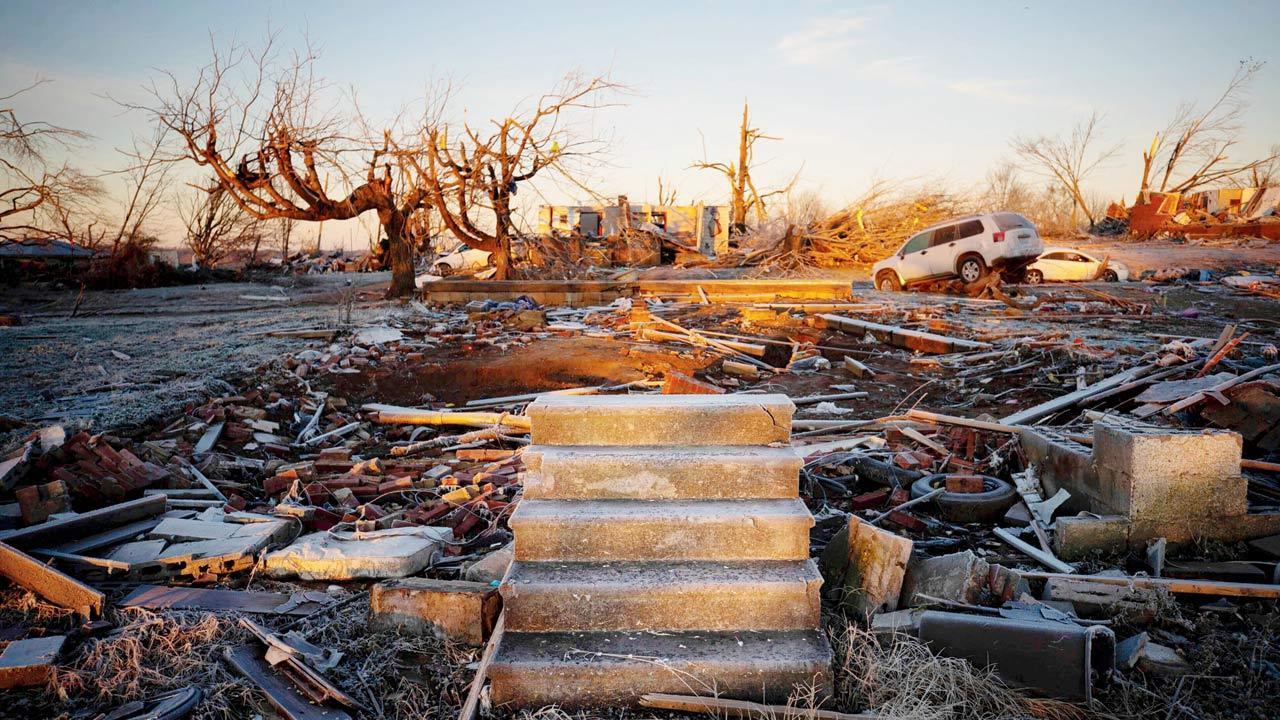 The front steps of a house are all that remains after a tornado in Dawson Springs, Kentucky. Pic/AP
Rescuers were forced to crawl over the dead to get to the living at a Kentucky candle factory walloped by a tornado, part of an unusual cluster that killed dozens in the Midwest and South and flattened whole towns.
By the time churchgoers gathered Sunday morning to pray for the lost, more than 24 hours had elapsed since anyone had been found alive. Instead, crews recovered pieces of peoples' lives — a backpack, a pair of shoes and a cellphone with 27 missed messages were among the items. Still, a definitive death toll remained elusive, though it was expected to be lower than initially feared.
ADVERTISEMENT
Kentucky was the worst-hit by far in a swarm of twisters across several states, remarkable because they came at a time of year when cold weather normally limits tornadoes. They left at least eight people dead at the state's Mayfield Consumer Products candle factory and another 12 were reported killed in and around Bowling Green. At least another 14 people died in Illinois, Tennessee, Arkansas and Missouri.
Authorities are still trying to determine the total number of dead amid confusion over how many were able to escape the factory and the difficulties of searching other hard-hit areas. The twisters made door-to-door searches impossible in some places. "There are no doors," said Kentucky Gov. Andy Beshear. "We're going to have over 1,000 homes that are gone, just gone," he said. 
This story has been sourced from a third party syndicated feed, agencies. Mid-day accepts no responsibility or liability for its dependability, trustworthiness, reliability and data of the text. Mid-day management/mid-day.com reserves the sole right to alter, delete or remove (without notice) the content in its absolute discretion for any reason whatsoever