Television images Tuesday showed thick black smoke rising from burning containers at Iskenderun Port on the Mediterranean Sea, in the city of Iskenderun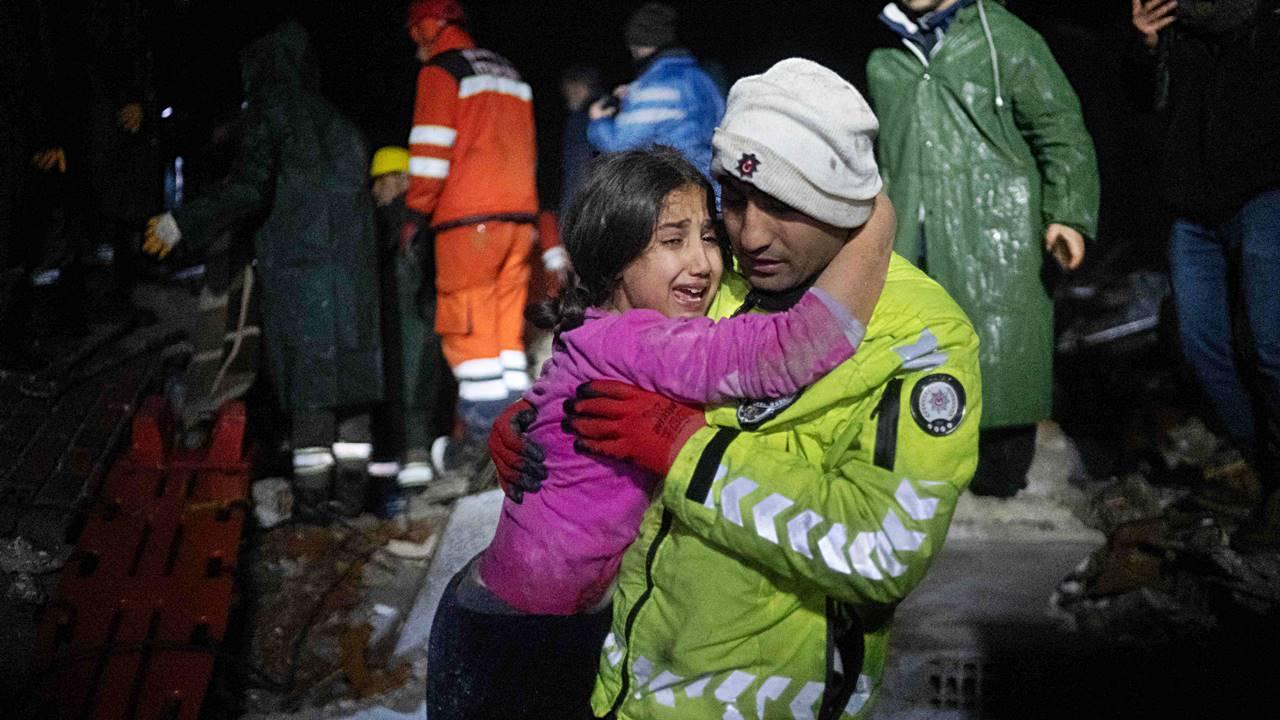 Police officer Zekeriya Yildiz hugs his daughter after they saved her from the rubble in Hatay on February 6, 2023, after a 7.8-magnitude earthquake struck the country's south-east. Pic/AFP
A frantic race was underway on Tuesday to find more survivors and help the injured as the death toll from the devastating earthquake that struck Turkey and Syria the previous day reached 4,600.
According to Aljazeera, Orhan Tatar, an official with Turkey's Disaster and Emergency Management Authority (AFAD), said that the number of dead in the Tureky at 3,381 on Tuesday morning.
ADVERTISEMENT
The toll is likely to climb as freezing weather and multiple aftershocks are hurting the rescue efforts, despite massive international assistance. A large fire that broke out at a section of a port in an earthquake-stricken city in southeast Turkey is raging for a second day.
Television images Tuesday showed thick black smoke rising from burning containers at Iskenderun Port on the Mediterranean Sea, in the city of Iskenderun. Reports said the fire was caused by containers that toppled over during the powerful earthquake that struck southeast Turkey on Monday.
Also read: Earthquake of 7.8 magnitude shakes central Turkey
Turkey's state-run Anadolu Agency said a Turkish Coast Guard vessel was assisting efforts to extinguish the fire.
Meanwhile, the first Indian Air Force plane carrying disaster relief material and rescue team to support search and rescue efforts in Turkey has reached Adana in the earthquake-hit country, India's external affairs minister S Jaishankar said on Tuesday.
The C17 flight with over 50 personnel from the National Disaster Response Force (NDRF) and a specially trained dog squad along with necessary equipment, including medical supplies, drilling machines and other equipment equired for the aid efforts had departed for Turkey early this morning.
(With inputs from news agencies -- PTI and ANI) Do you practice ecotourism?