The drug, known as molnupiravir, is intended to be taken twice a day for five days by people at home with mild to moderate Covid-19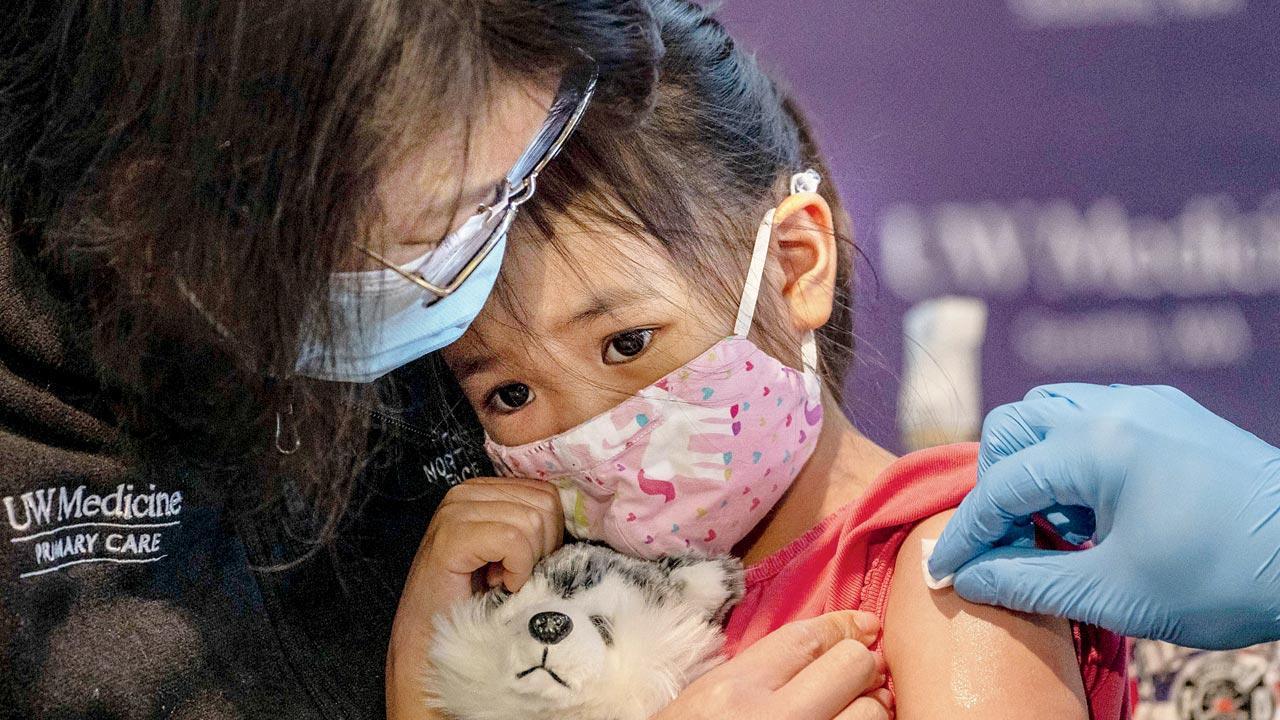 Meanwhile, a child sits in the lap of her mother as she prepares to receive a Pfizer-BioNtech COVID vaccine in Washington. Pic/AFP
Britain has granted a conditional authorisation to Merck's Coronavirus anti-viral, the first pill shown to successfully treat Covid-19. It is the first country to OK the treatment, although it was not immediately clear how quickly the pill would be available. 
The pill was licensed for adults 18 and older who have tested positive for Covid-19 and have at least one risk factor for developing severe disease. The drug, known as molnupiravir, is intended to be taken twice a day for five days by people at home with mild to moderate Covid-19. 
An antiviral pill that reduces symptoms and speeds recovery could prove ground-breaking, easing caseloads on hospitals and helping to curb outbreaks in poorer countries with fragile health systems. It would also bolster the two-pronged approach to the pandemic: treatment, by way of medication, and prevention, primarily through vaccinations. Molnupiravir is also pending review at regulators in the US, Europe and elsewhere. 
The US Food and Drug Administration announced last month it would convene a panel of independent experts to scrutinise the pill's safety and effectiveness in late November. Initial supplies will be limited. Merck has said it can produce 10 million treatment courses through the end of the year, but much of that supply has already been purchased by governments worldwide. In October, UK officials announced they secured 480,000 courses of molnupiravir and expected thousands of vulnerable Britons to have access to the treatment this winter via a national study. 
"Today is a historic day for our country, as the UK is now the first country in the world to approve an antiviral that can be taken at home for Covid-19," said Britain's health secretary, Sajid Javid. "We are working at pace across the government and with the NHS to set out plans to deploy molnupiravir to patients through a national study as soon as possible," he said in a statement. 
S'pore officers might face unpaid leave
Singapore, concerned with a high-level of daily Covid-19 cases and deaths, has warned that unvaccinated public officers will be placed on unpaid leave if they avoided the nationwide vaccination exercise despite being eligible. The city-state on Wednesday reported 3,635 new cases of Covid-19, including 409 residents from the dormitories for migrant workers, and 12 deaths due to complications from the disease.
Germany sees highest daily cases since outbreak
Germany's disease control agency on Thursday reported the highest number of new Coronavirus infections since the outbreak of the pandemic. The Robert Koch Institute, or RKI, said 33,949 new cases had been registered in the last 24 hours, up from 28,037 daily cases a week ago. The previous record was 33,777 new cases on December 18, 2020. The all-time high comes as federal Health Minister Jens Spahn is set to meet with the 16 state health ministers to discuss how to limit the spread.
This story has been sourced from a third party syndicated feed, agencies. Mid-day accepts no responsibility or liability for its dependability, trustworthiness, reliability and data of the text. Mid-day management/mid-day.com reserves the sole right to alter, delete or remove (without notice) the content in its absolute discretion for any reason whatsoever