Opposition to Netanyahu plan to overhaul judiciary mounts; thousands of protesters gather outside the parliament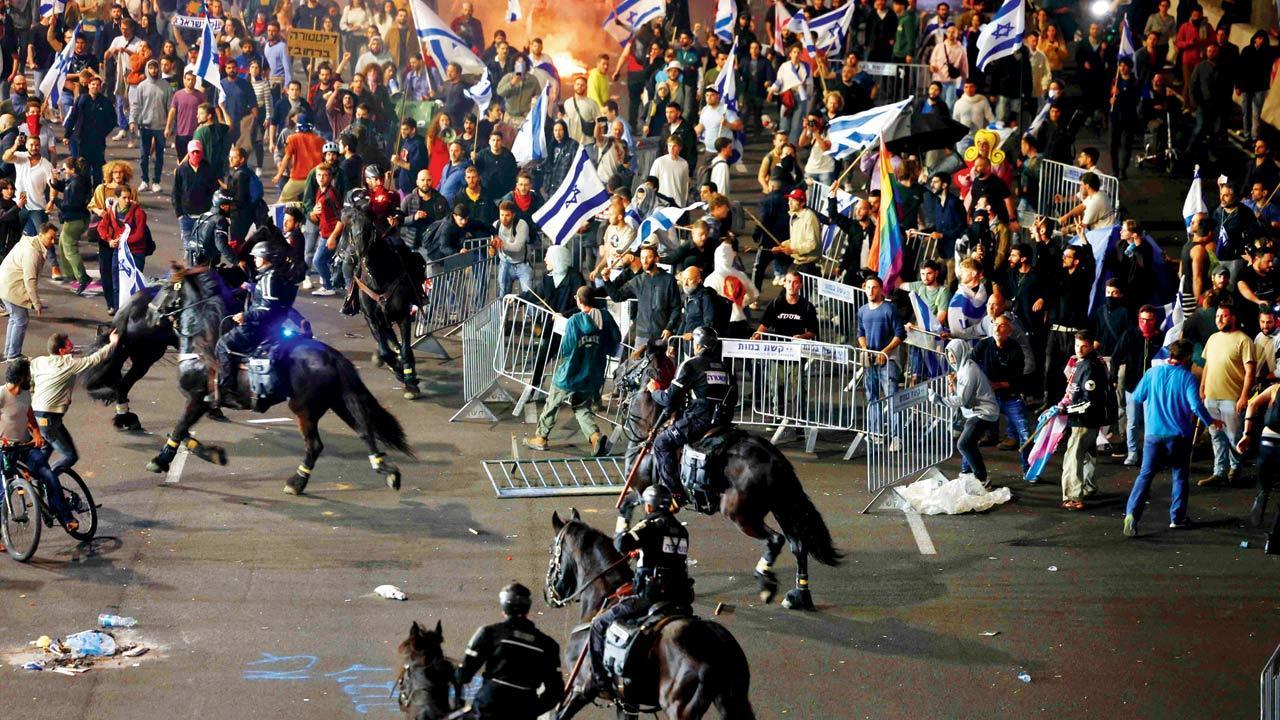 Protesters clash with the police during a rally against the Israeli government's judicial reform in Tel Aviv Monday. Pic/AFP
Israel's largest trade union group launched a strike across a broad swath of sectors Monday, joining a surging protest movement against Prime Minister Benjamin Netanyahu's plan to overhaul the judiciary — a plan that is facing unprecedented opposition.
The strike by the Histadrut umbrella group, which represents nearly 8,00,000 workers in health, transit and banking, among many other fields, could paralyze large parts of Israel's economy, which is already on shaky ground, ratcheting up the pressure on Netanyahu to suspend the overhaul.
ADVERTISEMENT
Departing flights out of the main international airport were grounded in protest, affecting thousands of travelers. Local governments and a main doctors union said they would walk out.
"Where are we leading our beloved Israel? To the abyss," Arnon Bar-David, the union group head, said in a rousing speech to applause. "Today we are stopping everyone's descent toward the abyss."
Also Read: Flights from main Israel airport grounded as strike called
The growing resistance to the plan came hours after tens of thousands of people burst into the streets around the country in a spontaneous show of anger at Netanyahu's decision to fire his defense minister after he called for a pause to the overhaul. Chanting "the country is on fire," they lit bonfires on Tel Aviv's main highway, closing it and many others for hours. Thousands of protesters were gathering Monday outside the Knesset, or parliament, to ramp up pressure on the government.
The overhaul, driven by Netanyahu, who is on trial for corruption, and his allies in Israel's most right-wing government ever, has plunged Israel into one of its worst domestic crises. It has sparked a sustained and intensifying protest that has spread to nearly all sectors of society, including its military, where reservists have increasingly come out publicly to say they will not serve a country veering toward autocracy. Netanyahu's government pledged to forge ahead with a parliamentary vote this week on a centerpiece of the overhaul — a law that would give the governing coalition the final say over all judicial appointments. A parliamentary committee approved the legislation on Monday for a final vote.
8,00,000
No. of workers the union represents
This story has been sourced from a third party syndicated feed, agencies. Mid-day accepts no responsibility or liability for its dependability, trustworthiness, reliability and data of the text. Mid-day management/mid-day.com reserves the sole right to alter, delete or remove (without notice) the content in its absolute discretion for any reason whatsoever