On Tuesday, Austin and his South Korean counterpart vowed to expand military drills and deploy more "strategic assets," such as aircraft carriers and long-range bombers, to counter N Korea's weapons development and prevent a war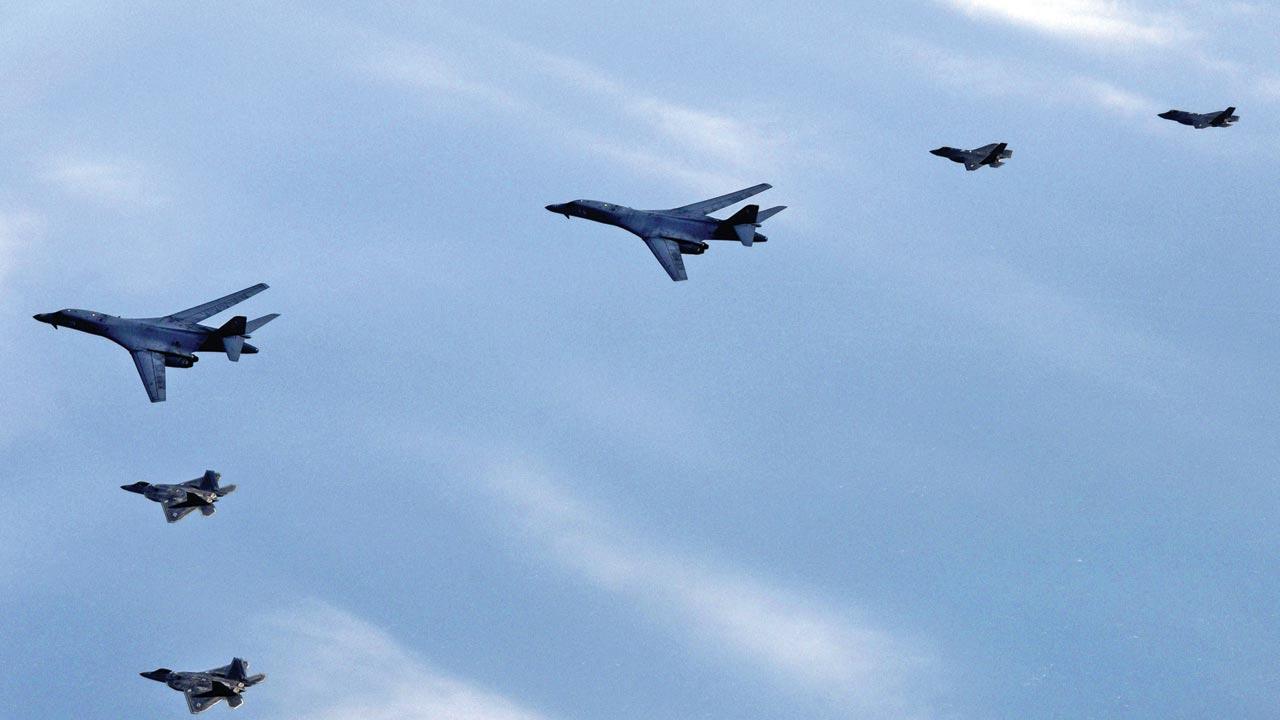 Two US Air Force B-1B strategic bombers (centre), South Korean Air Force F-35 fighter jets (right) and US Air Force F-22 stealth fighter jets fly over the Yellow Sea, during a joint air drill. Pic/AFP
North Korea said on Thursday that drills by the United States and its allies have reached an "extreme red-line" and threaten to turn the peninsula into a "huge war arsenal and a more critical war zone." The Foreign Ministry statement said Pyongyang was not interested in dialogue as long as Washington pursues hostile policies. 
"The military and political situation on the Korean peninsula and in the region has reached an extreme red-line due to the reckless military confrontational manoeuvres and hostile acts of the U.S. and its vassal forces," an unnamed ministry spokesperson said in the statement. It cited a visit to Seoul this week by U.S. Defense Secretary Lloyd Austin. On Tuesday, Austin and his South Korean counterpart vowed to expand military drills and deploy more "strategic assets," such as aircraft carriers and long-range bombers, to counter N Korea's weapons development and prevent a war.
Also Read: Very bullish on India: Apple CEO Tim Cook
"This is a vivid expression of the U.S. dangerous scenario which will result in turning the Korean peninsula into a huge war arsenal and a more critical war zone," the N Korean statement said. Asked about the tensions with N Korea, Austin said U.S. goal was to promote greater security and stability and it remained committed to defending South Korea. "We will continue to work alongside our allies and train and ensure that we maintain credible and ready forces," he said. N Korea said it would respond to any military moves by United States, and had strong counteraction strategies, including "the most overwhelming nuclear force" if necessary. 
This story has been sourced from a third party syndicated feed, agencies. Mid-day accepts no responsibility or liability for its dependability, trustworthiness, reliability and data of the text. Mid-day management/mid-day.com reserves the sole right to alter, delete or remove (without notice) the content in its absolute discretion for any reason whatsoever