In the biggest expansion of Russian territory in at least half a century, Putin signed laws admitting the Donetsk People's Republic (DPR), the Luhansk People's Republic (LNR), Kherson region and Zaporizhzhia region into Russia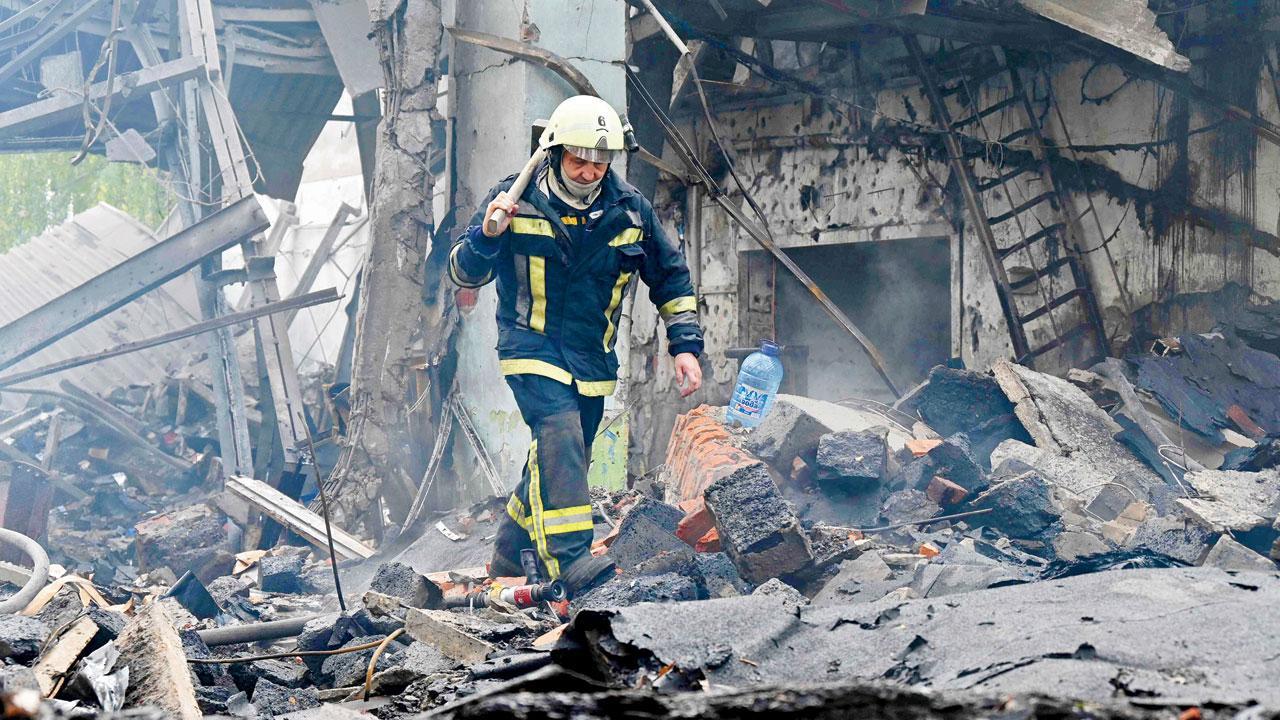 A firefighter walks among the ruins of a electrical products plant in Kharkiv, on October 4. Pic/AFP
President Vladimir Putin completed the formal annexation of more than 15 per cent of Ukraine on Wednesday just as Russian forces battled to halt Ukrainian counter-offensives across swathes of the territory. In the biggest expansion of Russian territory in at least half a century, Putin signed laws admitting the Donetsk People's Republic (DPR), the Luhansk People's Republic (LNR), Kherson region and Zaporizhzhia region into Russia. "President Vladimir Putin has signed four federal constitutional laws on the entry of the Donetsk and Luhansk People's Republics, Zaporizhzhia and Kherson regions into the Russian Federation," the lower house of parliament said. "He also signed the relevant laws on ratification," the Duma said.
Also Read: Volodymyr Zelensky decree rules out Ukraine talks with Vladimir Putin
Ukraine on the offensive
The Ukrainian armed forces have advanced up to 20 km (12 miles) beyond the Oskil river in the northeastern Kharkiv region into Russia's defensive zone towards the town of Svatove in Luhansk region, Britain said on Wednesday. "Politically, Russian leaders will highly likely be concerned that leading Ukrainian units are now approaching the borders of Luhansk Oblast, which Russia claimed to have formally annexed last Friday," the British Ministry of Defence said in a bulletin.
Save my pet jaguar, panther: Indian doc
An orthopaedic doctor from Andhra Pradesh, who was based in Ukraine when the conflict broke out with Russia, has appealed to the Indian government to help rescue his pet jaguar and panther left behind when he was forced out of the war zone. Dr Gidikumar Patil, known as Jaguar Kumar after his unusual pets, says his topmost priority is to save the life of Yasha, the jaguar, and Sabrina, the panther. He has left the big cats with a local farmer.