Kremlin says its 'special military operation' will not end if Kyiv rules out talks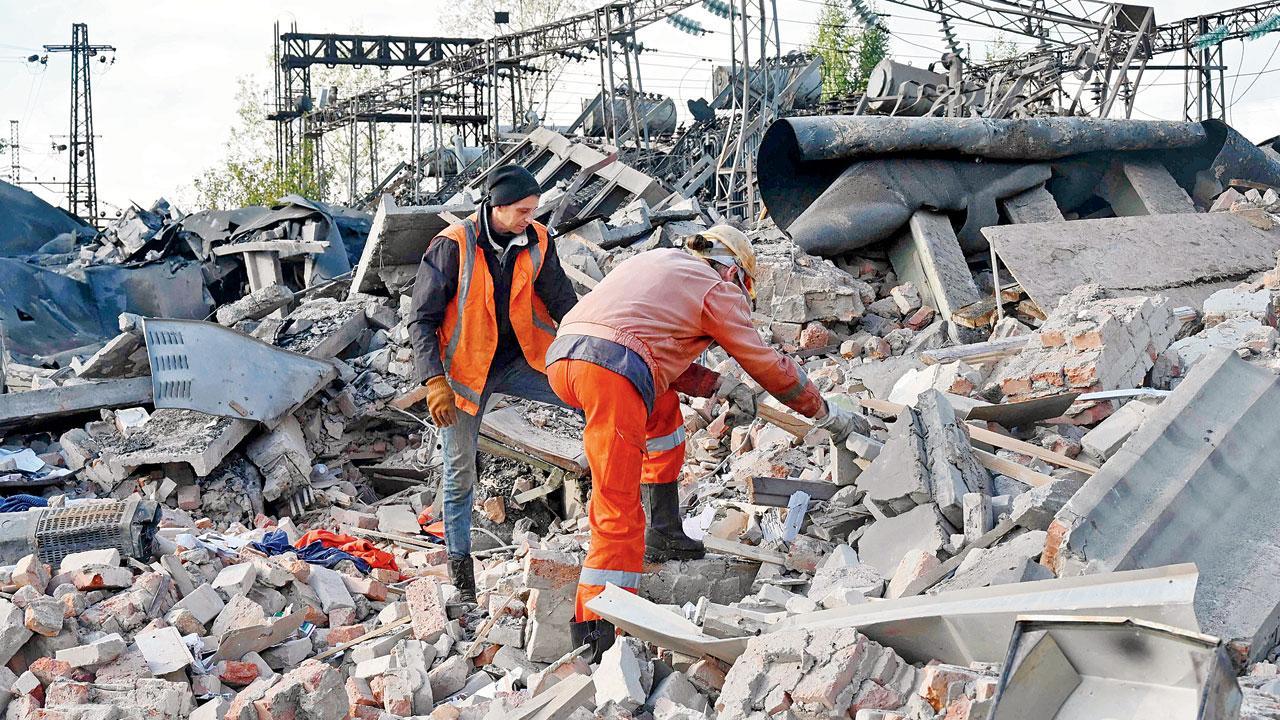 Employees of an energy company inspect an electrical transformer substation destroyed by Russian missiles strike on the outskirts of Kharkiv Tuesday. Pic/AFP
President Volodymyr Zelensky signed a decree on Tuesday formally declaring the prospect of any Ukrainian talks with Kremlin leader Vladimir Putin "impossible", but leaving the door open to talks with Russia. The decree formalised comments made by Zelensky on Friday after the Russian president proclaimed four occupied regions of Ukraine to be part of Russia, in what Kyiv and the West said was an illegitimate farce. 
"He (Putin) does not know what dignity and honesty are. Therefore, we are ready for a dialogue with Russia, but with another president of Russia," Zelensky said on Friday. Ukrainian forces have broken through Russian defences in the south of the country and expanded a rapid offensive in the east, seizing back territory in areas annexed by Russia, which invaded Ukraine in February. The Kremlin said on Tuesday that its "special military operation" in Ukraine will not end if Kyiv rules out talks, adding that it "takes two sides to negotiate".
"We will either wait for the current president to change his position or wait for the next president to change his position in the interests of the Ukrainian people," Kremlin spokesman Dmitry Peskov told reporters.
Also Read: Russian-installed official confirms Ukrainian breakthroughs in Kherson
Lawyers overwhelmed
Swamped by panic-stricken requests for help to avoid being drafted, Russian lawyers say they are working flat out to offer advice to those at risk of being sent to fight in Ukraine. Lawyers and civil society groups say they have been overwhelmed by demands for support since President Putin announced on Sept. 21 that 3,00,000 people would be mobilised to boost Russia's flagging war effort. Thousands have fled to countries such as Kazakhstan, Georgia and Finland. 
"We are working round the clock," said Sergei Krivenko, who runs a group of around 10 lawyers called Citizen. Army. Law. "People are being torn from their normal lives," he said. "This is a mobilisation without time limit during a war. It could last months or years. People may not return ... Leaving the army is pretty much impossible. The only way is death, injury or prison for disobeying orders."
Russian rapper kills himself
A 27-year-old Russian rapper has died by suicide in order to avoid being conscripted into the war his country is fighting against Ukraine. New York Post translated the news published on a Russian news portal that said Ivan Vitalievich Petunin, was found dead on Friday after he jumped from a high-rise in Krasnodar. Ivan used to perform under the stage name 'Walkie'. New York Post quoted a local media report that suggested the rapper recorded a heart-wrenching video message on Telegram before taking his life. "I can't take the sin of murder on my soul and I don't want to. I am not ready to kill for any ideals. To murder someone in war or otherwise is something I cannot do," the rapper said in the video. He called Putin a "maniac" and said, "It seems to me that partial mobilization will become full in a few days." "Forgive me, my loved ones, but sometimes you have to die for your principles," he concluded.
This story has been sourced from a third party syndicated feed, agencies. Mid-day accepts no responsibility or liability for its dependability, trustworthiness, reliability and data of the text. Mid-day management/mid-day.com reserves the sole right to alter, delete or remove (without notice) the content in its absolute discretion for any reason whatsoever