Opener Shubman Gill cherishes mammoth knock of 208 v NZ after failing to go big against Lanka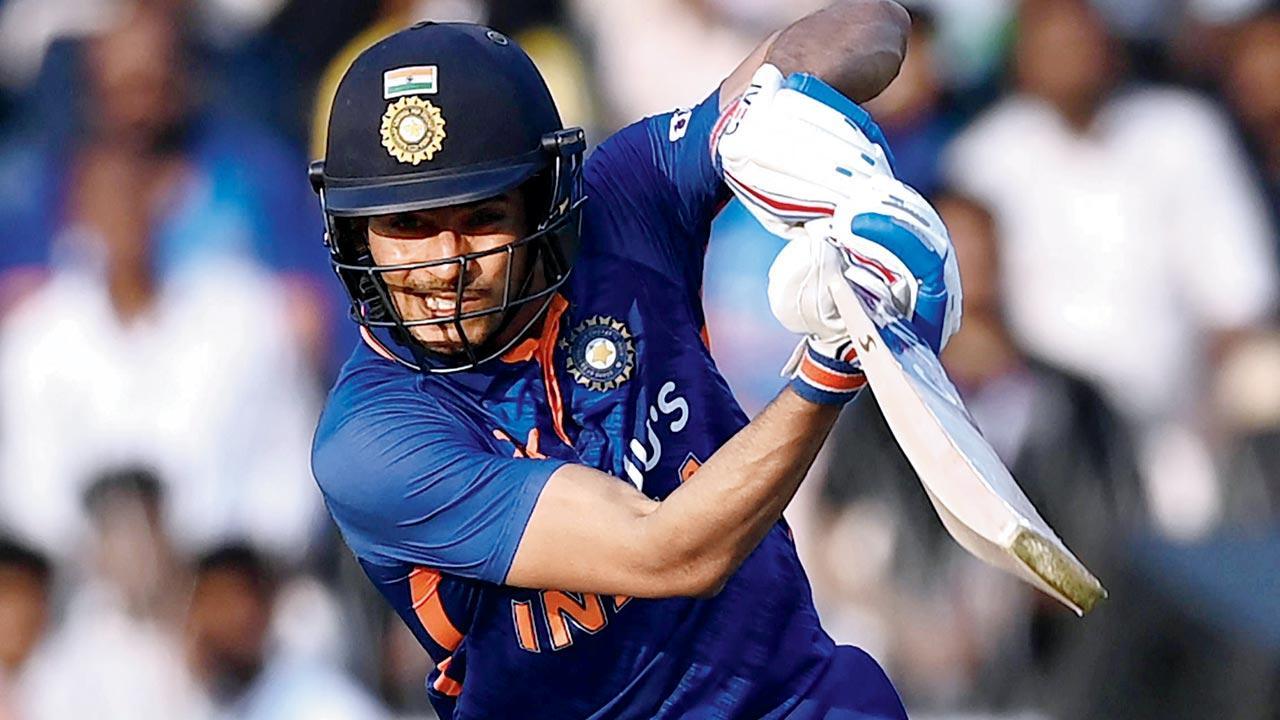 India's Shubman Gill en route his 208 against New Zealand in the first one-day International at Hyderabad on Wednesday. Pic/AFP
January has already been an extraordinary month for Shubman Gill. A poor start to 2023, with knocks of 7 and 5 in the first two Twenty20 Internationals against Sri Lanka, has been offset by a string of scores that have fetched him 461 runs in his last five knocks for India. The sequence reads 46, 70, 21, 116 and the monstrous 208 against New Zealand in the first one-day International on Wednesday, during which the 23-year-old became the youngest double-centurion in ODIs and the quickest Indian to 1,000 ODI runs, in just his 19th innings.
Gill's exploits at the Rajiv Gandhi International Cricket Stadium, when he also went from 182 to 200 with a hat-trick of sixes off Lockie Ferguson, have sent the cricketing world into raptures, with paeans to his artistry and elegance pouring in from all quarters. Of particular satisfaction to Gill was Yuvraj Singh's tweet of appreciation. "Yuvi paa is my mentor, he is like my big brother. To make him and my father, who is my primary coach, proud is very satisfying," the composed young man was to say later in the night, looking untouched by all the hype and attention.
ADVERTISEMENT
Unfinished business
It was clear that Gill felt he had unfinished business to attend to despite making 70 and 116 in the first and third ODIs respectively against Sri Lanka earlier this month. "This [the double-hundred] means a lot to me, obviously," he acknowledged. "In the first ODI against Sri Lanka and in the third ODI, I was set and looking to get a big score, but unfortunately, that didn't happen for me. Once I was set [today], the main focus for me was to be there for the team and score as many runs as possible. And it feels good when it pays off."
Even as he kept losing partners—Rohit Sharma's 34 was the next highest score in India's tally of 349 for eight—Gill continued to remain positive at the crease. "When wickets were falling, my main focus was to show some intent to the bowler because it becomes very easy for the bowler to bowl dot balls if the batsman is not going to show any intent that he's going to hit any boundaries," Gill pointed out. "That was my intent even when wickets were falling—to show the bowler that I will hit you if you're going to bowl bad balls."
Also Read: Even when wickets were falling, my intent was to punish the bad balls: Shubman Gill
Indians leading the charts
Following Gill's heroics, Indians now account for seven of the ten 200-plus scores in men's One-Day Internationals. Wednesday's playing XI alone can boast three double-centurions—Gill, Rohit (thrice) and Ishan Kishan. Talk about an embarrassment of riches.