Chirag Gandhi, who scored an unbeaten 55 despite three stitches on his right hand and consistent opener Priyank Panchal's 73 gave Gujarat the edge over Rest of India on Day Three of the Irani Cup at Brabourne Stadium yesterday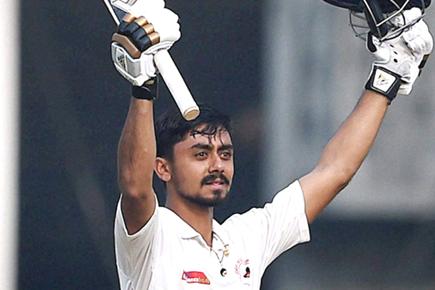 Chirag Gandhi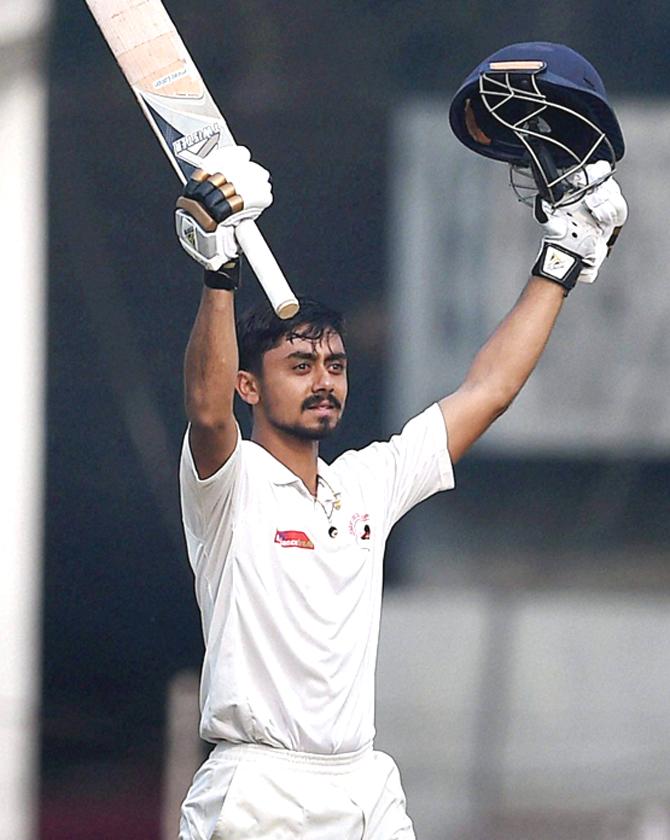 Gujarat's Chirag Gandhi celebrates his century during the Irani Cup match against Rest of India at Brabourne Stadium in Mumbai on Friday. Pic/PTI
Chirag Gandhi, who scored an unbeaten 55 despite three stitches on his right hand and consistent opener Priyank Panchal's 73 gave Gujarat the edge over Rest of India on Day Three of the Irani Cup at Brabourne Stadium yesterday.
At stumps, Gujarat were 227 for eight wickets, enjoying an overall lead of 359. Gandhi, who scored 169 in the first innings, got injured while practicing slip catching yesterday morning, but faced 96 deliveries fearlessly and had seven hits to the fence.
Panchal was on the way to his sixth century of the season, but a pull shot off pacer Siddharth Kaul ended up with Wriddhiman Saha taking a good diving catch. Panchal slammed nine boundaries during his 135-ball knock.
Left-arm spinner Shahbaz Nadeem was Rest of India's most successful with four for 23. Parthiv Patel was unfortunate to be given out caught by Akhil Herwadkar off Shahbaz Nadeem for 32 yesterday.
He played left-arm spinner Nadeem's flighted delivery defensively, but failed to middle it and ball went off his pads towards leg gully where Herwadkar took a good catch.
The confident appeal compelled umpire Virender Sharma to raise his finger, but there was no contact between bat and ball. Parthiv was livid and was heard telling umpire Sharma, "Umpring karte kyu." (Why do you umpiring?). "I can't say anything on the decision, but everyone saw it," Parthiv told the media later.