The world of cricket has witnessed several record-breaking moments courtesy of the former all-format Indian captain, be it in Test cricket, One Day Internationals (ODIs) or Twenty20 Internationals (T20s)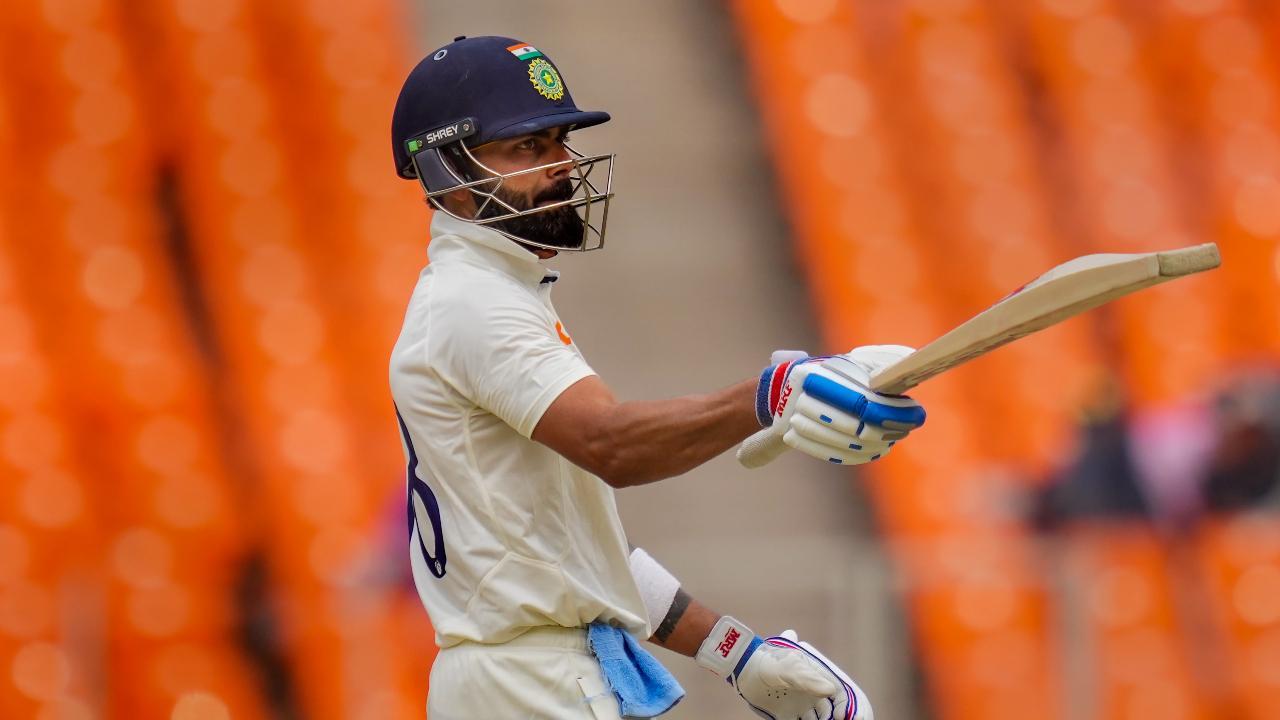 Virat Kohli (Pic Courtesy: PTI)
Over the years, Virat Kohli has established himself as a go-getter in the world of international cricket. His career stats aren't only praiseworthy but also revolutionary. The world of cricket has witnessed several record-breaking moments courtesy of the former all-format Indian captain, be it in Test cricket, One Day Internationals (ODIs) or Twenty20 Internationals (T20s). Kohli has proved his mettle with dominant performances in all formats of the game.
This year began on a special note for Kohli with his brilliantly controlled innings of 166 runs off 110 balls in the final match of the three-match ODI series between India and Sri Lanka. Having scored his 21st century, Kohli broke two records held by the legendary Sachin Tendulkar, for scoring most ODI centuries at home and against a single team. The year 2023 also saw him overtake Sri Lankan batting maestro Mahela Jayawardene to occupy the fifth spot on the list of batsmen scoring most ODI runs. Only Sachin Tendulkar, Kumar Sangakkara, Ricky Ponting and Sanath Jayasuriya have more runs than Kohli now.
ADVERTISEMENT
Also Read: Virat Kohli has Ravi Shastri to thank!
Putting an end to his Test century drought on Day 4 of the fourth and final Test match against Australia, Kohli led India's batting onslaught, top-scoring for the side as the hosts toppled Australia's mammoth 1st innings total. India, riding on his blistering knock, posted a colossal total of 571 in the first session at Ahmedabad, forging a 91-run lead.  
The 34-year-old put on a batting masterclass to notch up a cracking century in 241 balls against Australia. His 75th international century was the second-slowest ton in his iconic career. In the similar vein, here is a look at the list of his international centuries to date. 
Complete list of Virat Kohli's 75 international centuries
107 (114) vs SL in Kolkata, 2009 - ODI
102* (95) vs BAN in Mirpur, 2010 - ODI
118 (121) vs AUS in Visakhapatnam, 2010 - ODI
105 (104) vs NZ in Guwahati, 2010 - ODI
100* (83) vs BAN in Mirpur, 2011 - ODI
107 (93) vs ENG in Cardiff, 2011 - ODI
112* (98) vs ENG in Delhi, 2011 - ODI
117 (123) vs WI in Visakhapatnam, 2011 - ODI
116 (213) vs AUS in Adelaide, 2012 - Test
133* (86) vs SL in Hobart, 2012 - ODI
108 (120) vs SL in Mirpur, 2012 - ODI
183 (148) vs PAK in Mirpur, 2012 - ODI
106 (113) vs SL in Hambantota, 2012 - ODI
128* (119) vs SL in Colombo(RPS), 2012 - ODI
103 (193) vs NZ in Bengaluru, 2012 - Test
103 (295) vs ENG in Nagpur, 2012 - Test
107 (206) vs AUS in Chennai, 2013 - Test
102 (83) vs WI in Port of Spain, 2013 - ODI
115 (108) vs ZIM in Harare, 2013 - ODI
100* (52) vs AUS in Jaipur, 2013 - ODI
115* (66) vs AUS in Nagpur, 2013 - ODI
119 (181) vs SA in Johannesburg, 2013 - Test
123 (111) vs NZ in Napier, 2014 - ODI
105* (135) vs NZ in Wellington, 2014 - Test
136 (122) vs BAN in Fatullah, 2014 - ODI
127 (114) vs WI in Dharamsala, 2014 - ODI
139* (126) vs SL in Ranchi, 2014 - ODI
115 (184) vs AUS in Adelaide, 2014 - Test
141 (175) vs AUS in Adelaide, 2014 - Test
169 (272) vs AUS in Melbourne, 2014 - Test
147 (230) vs AUS in Sydney, 2015 - Test
107 (126) vs PAK in Adelaide, 2015 - ODI
103 (191) vs SL in Galle, 2015 - Test
138 (140) vs SA in Chennai, 2015 - ODI
117 (117) vs AUS in Melbourne, 2016 - ODI
106 (92) vs AUS in Canberra, 2016 - ODI
200 (283) vs WI in North Sound, 2016 - Test
211 (366) vs NZ in Indore, 2016 - Test
154* (134) vs NZ in Mohali, 2016 - ODI
167 (267) vs ENG in Visakhapatnam, 2016 - Test
235 (340) vs ENG in Mumbai-WS, 2016 - Test
122 (105) vs ENG in Pune, 2017 - ODI
204 (246) vs BAN in Hyderabad, 2017 - Test
111* (115) vs WI in Kingston, 2017 - ODI
103* (136) vs SL in Galle, 2017 - Test
131 (96) vs SL in Colombo(RPS), 2017 - ODI
110* (116) vs SL in Colombo(RPS), 2017 - ODI
121 (125) vs NZ in Mumbai(WS), 2017 - ODI
113 (106) vs NZ in Kanpur, 2017 - ODI
104* (119) vs SL in Kolkata, 2017 - Test
213 (267) vs SL in Nagpur, 2017 - Test
243 (287) vs SL in Delhi, 2017 - Test
153 (217) vs SA in Centurion, 2018 - Test
112 (119) vs SA in Durban, 2018 - ODI
160* (159) vs SA in Cape Town, 2018 - ODI
129* (96) vs SA in Centurion, 2018 - ODI
149 (225) vs ENG in Birmingham, 2018 - Test
103 (197) vs ENG in Nottingham, 2018 - Test
139 (230) vs WI in Rajkot, 2018 - Test
140 (107) vs WI in Guwahati, 2018 - ODI
157* (129) vs WI in Visakhapatnam, 2018 - ODI
107 (119) vs WI in Pune, 2018 - ODI
123 (257) vs AUS in Perth, 2018 - Test
104 (112) vs AUS in Adelaide, 2019 - ODI
116 (120) vs AUS in Nagpur, 2019 - ODI
123 (95) vs AUS in Ranchi, 2019 - ODI
120 (125) vs WI in Port of Spain, 2019 - ODI
114* (99) vs WI in Port of Spain, 2019 - ODI
254* (336) vs SA in Ranchi, 2019 - Test
136 (194) vs BAN in Kolkata, 2019 - Test
122* (61) vs AFG in Dubai, 2022- T20I
113 (91) vs BAN in Chattogram, 2022 - ODI
113 (87) vs SL in Guwahati, 2023 - ODI
116* (110) vs SL in Thiruvananthapuram, 2023 -ODI
186 (364) vs AUS in Ahmedabad, 2023 - Test