The big conundrum ahead of skipper Rohit and coach Dravid is whether to persist with opener KL Rahul or pick Gill, who can build on his phenomenal form of December and January, when he scored hundreds in all three formats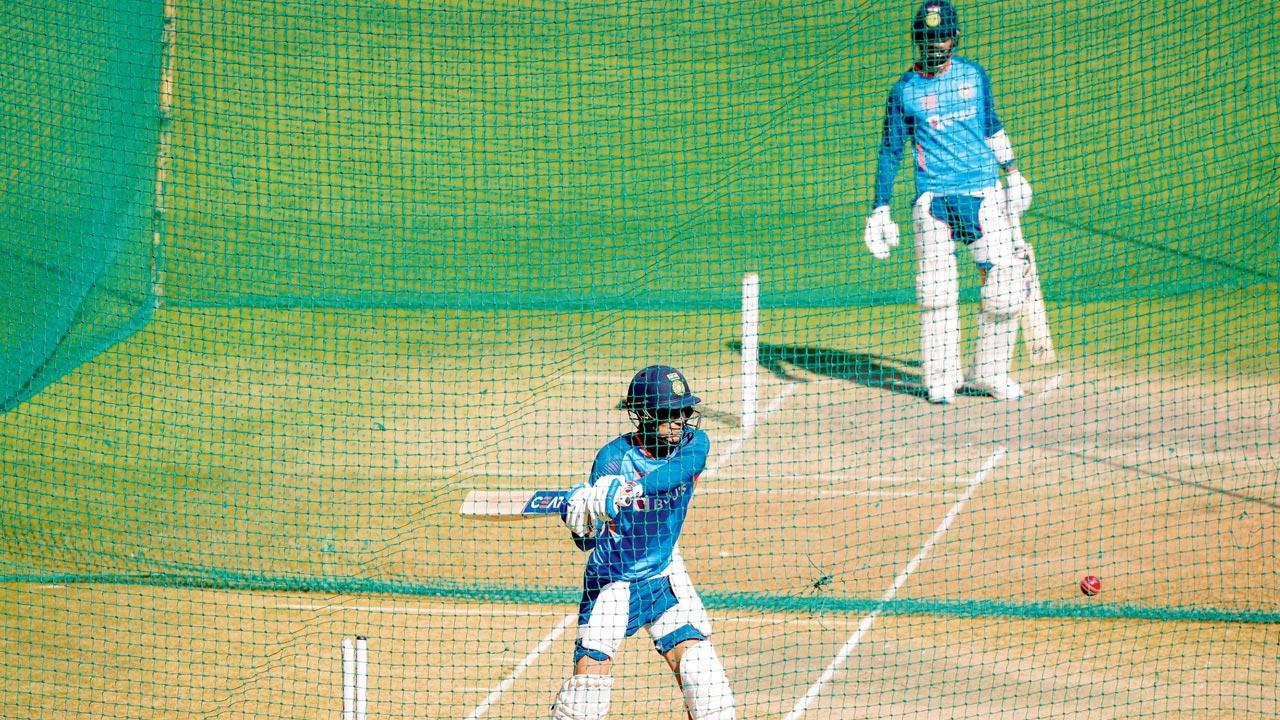 Shubman Gill (left) slams one while KL Rahul looks on from the adjacent net during a practice session at the Holkar Stadium in Indore on Monday. Pics/PTI
It's been a series dominated as much by talk about the nature of the playing surfaces as Australia's shocking single-session meltdowns in the second innings of both Tests thus far. Remarkably, Rohit Sharma didn't have to field a single question at Tuesday's pre-game presser about the pitch at the Holkar Stadium, the venue for India's third Border-Gavaskar Trophy Test against Australia, beginning on Wednesday.
At first glance, there's very little different about this track from the ones that greeted the sides in Nagpur and New Delhi—dry patches at the business end on both sides bookending a grassy middle. It's what India believe should be their staunchest ally in their bid to qualify for the final of the World Test Championship, which they will if they open up a 3-0 lead at any stage over the next five days.
ADVERTISEMENT
Refreshed after a few extra days at home following the three-day finish at the Arun Jaitley Stadium, India have been hard at work over the last three days at a venue that will be hosting only its third Test. Indore was a late replacement for Dharamsala, a patchy and grassless outfield, denying the HPCA Stadium the opportunity to reprise a tense and exciting faceoff between the same sides in the only Test at that ground, six years back.
Also read: Border-Gavaskar Trophy: I feel like I'm pretty much at full tilt despite some levels of discomfort, says Mitchell Starc
The big conundrum ahead of Rohit and Rahul Dravid is whether to persist with KL Rahul, recently stripped of the Test vice-captaincy, or finally bring back Shubman Gill. For all the public backing from the captain and the head coach after twin failures in the national capital, it's time to allow Gill to build on his phenomenal form of December and January, when he made international hundreds in all three formats and topped it off with an ODI double-hundred in Hyderabad.
India will target more runs from their top order where, with the honourable exception of Rohit, they have found little cause for cheer. Perhaps, a return to the ground where he made 211 against New Zealand six-and-a-half years back will reinvigorate Virat Kohli, who seemed to have rediscovered his mojo during a measured first-innings 44 at his home ground, but failed to kick on.
Australia have undergone a massive personnel shake-up since the last Test with skipper Pat Cummins, David Warner, Josh Hazlewood and Ashton Agar returning home for different reasons. In Cummins's absence, the captaincy will return to Steve Smith, who was in charge during Australia's last visit to India in 2017. Mitchell Starc and Cameron Green, fully recovered from respective finger injuries, will walk back into the XI and Australia will be hoping their freshness, eagerness and quality will trigger the turnaround that they have threatened only in brief spells thus far.