A lot of attention will centre around bowlers performing in death overs and fielding as World No.1 India look to emerge triumphant against T20 World Cup champions Australia in series decider tonight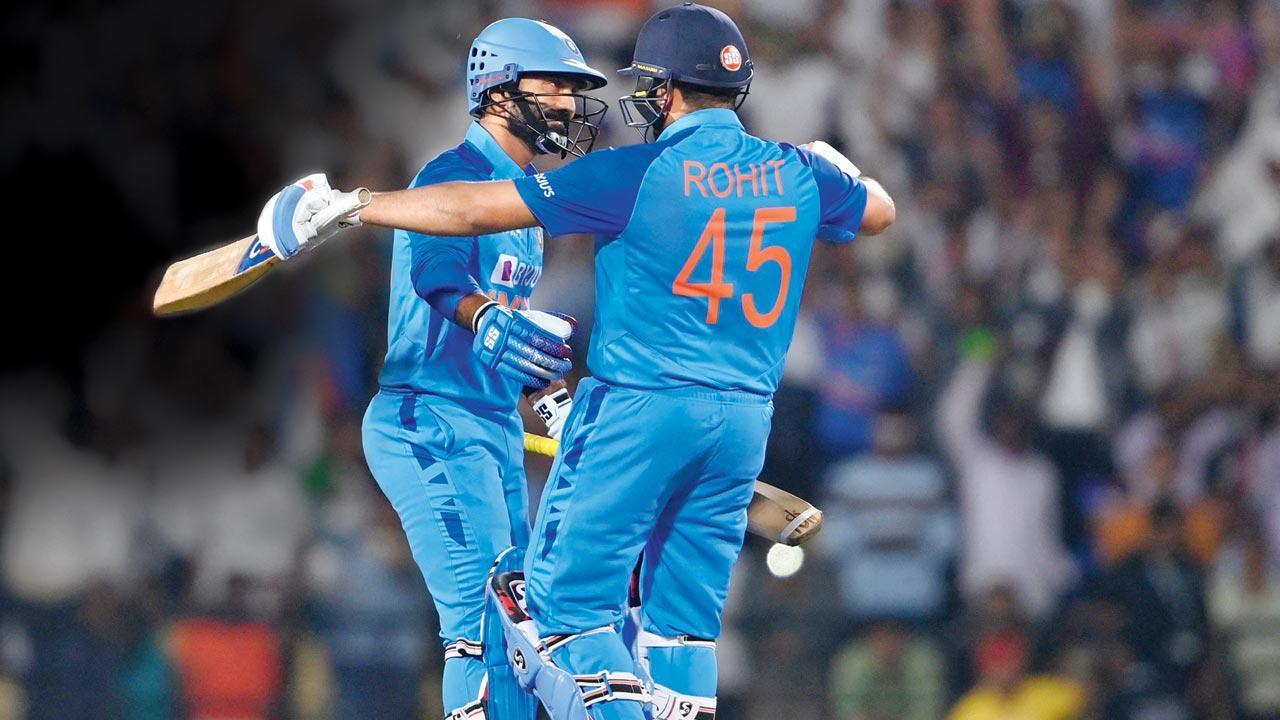 India skipper Rohit Sharma (right) about to hug Dinesh Karthik after their win over Australia in the second T20I at Nagpur on Friday. Pic/AFP
A heady climax is in store when the No.1-ranked team in the world takes on the World Cup winners in the decider of the three-match Twenty20 International series here on Sunday.
Friday's six-wicket win in a rain-shortened eight-overs-a-side shootout in Nagpur has left India primed to script a come-from-behind triumph, but Australia haven't lost a T20I series in this country since 2017. The irresistible force will come face to face with the immovable object at the Rajiv Gandhi International Cricket Stadium, hosting its first international game in nearly three years.
Australia haven't looked, or played, like a side without several first-choice players, the strength in their depth manifesting itself admirably thus far. 
Also Read: 1st IND vs AUS T20I: We did not bowl well, 200 was a good score to defend, says Rohit Sharma
Wonderful Wade 
Matthew Wade has been the standout batsman with punishing knocks in both games, though even he must have been pleasantly surprised at how frequently India's bowlers fed him on his strength, the pull, of which he is a ferocious practitioner.
It's around how well India pull up their bowling and fielding socks that a lot of the attention will be centred. Less than a month back, it seemed as if India's bowling was reasonably sorted and the bigger cause for concern was the batting, especially at the top of the order. But with skipper Rohit Sharma, his deputy KL Rahul and Virat Kohli all playing themselves back among attractive, fast-paced runs, where one issue has been addressed, a new one has cropped up.
India have been particularly lax at the death, leaking runs by the bushel in an indictment of both planning and execution. Far too many freebies were served up by Bhuvneshwar Kumar, both to Pakistan and Sri Lanka, in successive matches of the Asia Cup in Dubai earlier in the month. The trend has continued here with Bhuvneshwar profligate in the first match in Nagpur and Harshal Patel struggling to rediscover rhythm in both games on his return from a lengthy injury-enforced layoff.
Bumrah is back
On the plus side, Jasprit Bumrah's comeback—which is but two overs young—has been full of promise, the pacer showing few ill-effects of the back injury that laid him low, while left-arm spinner Axar Patel has staked his claims as an excellent Powerplay option with his control and incisiveness. 
R Ashwin, the off-spinner rated highly by the team management, will continue to wonder what he must do to get a game, though with the series on the line and Yuzvendra Chahal blowing hot and cold, the Tamil Nadu virtuoso might be drafted back in to add bite to the attack.
Also Read: It is a definite option for us: India skipper Rohit Sharma on Virat Kohli opening in T20I World Cup
Rohit 'surprised' with his batting
India skipper Rohit Sharma said he is "quite surprised" with his power-hitting in the second T20I that the hosts won by six wickets against Australia here on Friday. In a truncated eight-overs-a-side match, Rohit Sharma slammed a 20-ball 46, while chasing Australia's 90-5. During the post-match presentation, Rohit said: "I was quite surprised as well. I didn't expect it to go as well as that. For the last eight-nine months, I have been playing like that so it didn't change much." What do you make of the new Team India jersey for the ICC T20 World Cup 2022?