Recent triumph in Shamrao Thosar Trophy and Kanga League qualification, a fine reward for Sanket More-led and Mobin Shaikh-coached club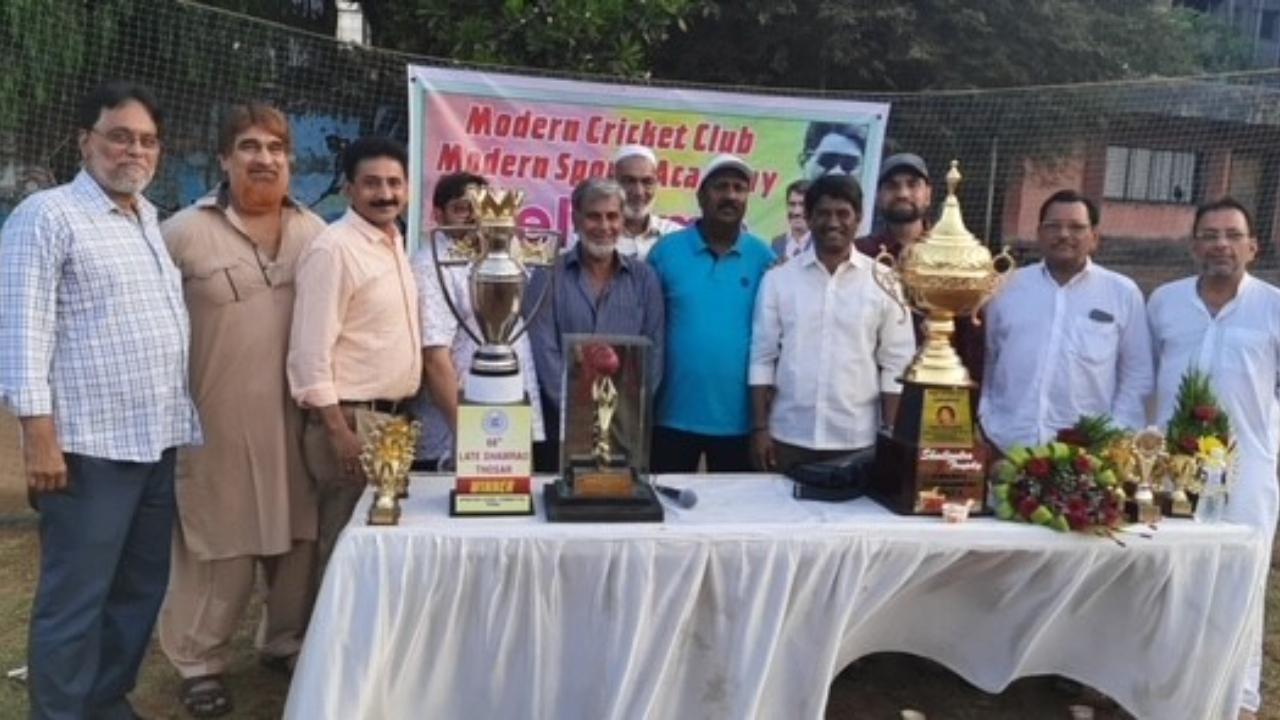 Coach Mobin Shaikh (blue jersey) and ex-Mumbai coach Sulakshan Kulkarni (to Shaikh's left) at the Subhash Nagar maidan in Kalyan with their former Modern CC teammates.
While Mumbai's Chennai Super Kings pacer Tushar Deshpande has made Kalyan residents proud of his cricketing deeds, 
Kalyan-based Modern Cricket Club is scoring high marks on the club scene.
ADVERTISEMENT
Skipper Sanket More and coach Mobin Shaikh guided Modern CC to clinch the Shamrao Thosar Trophy (by beating Jolly Gymkhana) and earned Kanga League qualification by beating Crown CC in the knockout phase of the prestigious tournament held recently.
Modern CC also witnessed a semi-final finish in the Salarjung Trophy with Souvenir CC being their last opponents.
Modern CC recently celebrated their success in the presence of former Mumbai cricketer and coach Sulakshan Kulkarni.
"Throughout our cricketing life we played in the Thosar Shield. It's a very tough tournament and in those days, its standard was very high.  Players like Sandeep Patil, Sachin Tendulkar, Zaheer Khan and several Ranji Trophy players used to play in this tournament.
"A club from Kalyan reaching the semi-finals of the Salarjung Trophy and winning the Kanga Knockout tournament is a very big achievement. I think the Kanga Knockout tournament is the most difficult one to win. I played a few seasons in this tournament, but we never managed to win it," Kulkarni said while addressing the Modern CC players.   
Also Read: Coach Sunderam backs CSK's Tushar Deshpande to turn things around in IPL's 'El Clasico'
The function was also a reunion of sorts as Shaikh and Kulkarni played a lot of matches at Subhash Nagar maidan in Kalyan. 
Kulkarni, 56, said: "We used to play at Subhash Nagar maidan in the famous Diwadkar Trophy. We had a very good bonding 40 years ago and even today, it is the same. There was healthy competition between Mobin and me, but despite that, we are still great friends.  
Meanwhile, Shaikh recalled how he sacrificed his wicketkeeping job for Kulkarni in his first Mumbai U-19 match against Saurashtra at Pune in 1982.   
"We were wicketkeepers and played for Mumbai in the U-19 semi-final at PYC Gymkhana in Pune. We batted first and scored around 250. As I was walking out to keep wickets, our coach Vilas Godbole sir asked me whether I would field instead.  I said yes and Sulu kept wickets in that match in which he scored a brilliant hundred in the second innings. 
I was dropped for the remaining games, but our friendship remained intact," Shaikh  remarked.
Shaikh was an accomplished 'keeper at the club level. He holds the record (202) for most dismissals behind the stumps in the Kanga League 'A' division while representing Rajasthan SC and Victory CC.