Dilip Vengsarkar is 67 today. Indeed, cricket continues to be central to his life. It's a good time to refresh memories of DBV for his followers and cricket enthusiasts in general around the globe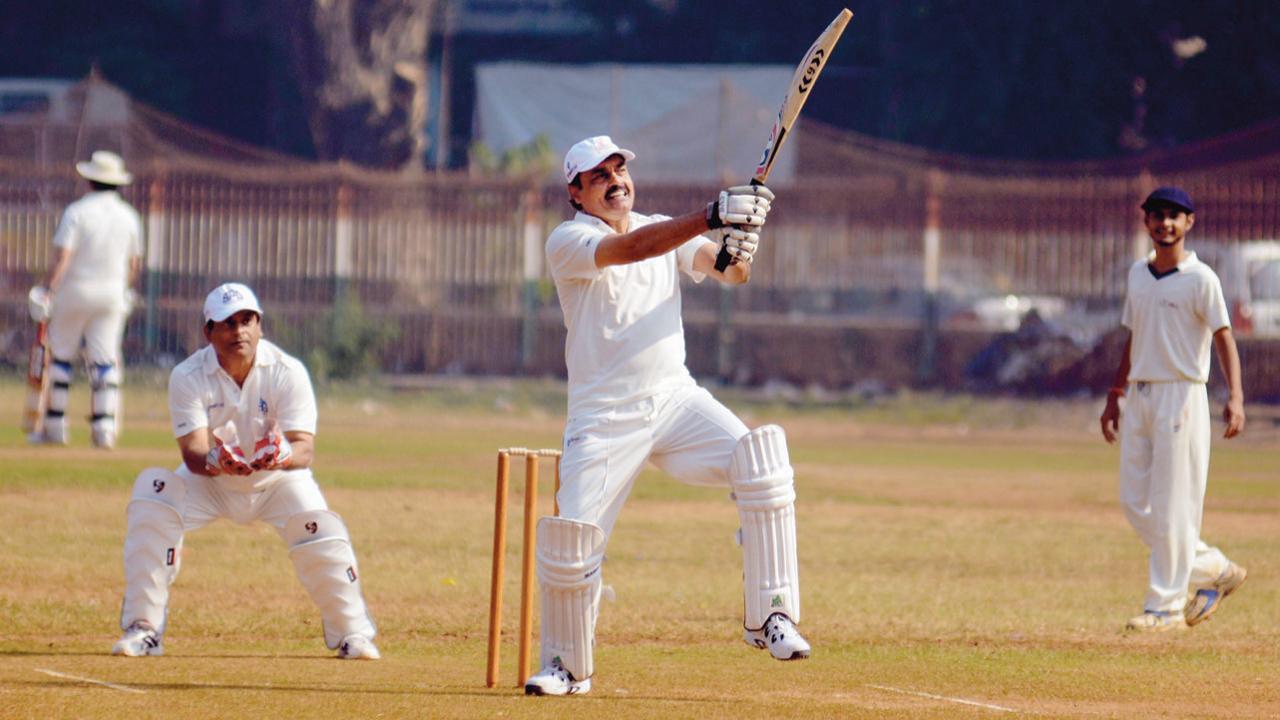 Dilip Vengsarkar in full cry during a festival match for Dadar Union Sporting Club against Shivaji Park Gymkhana at Dadkar Maidan in Matunga on December 25, 2014. PIC/ATUL KAMBLE
Dilip Vengsarkar is 67 today. Indeed, cricket continues to be central to his life. It's a good time to refresh memories of DBV for his followers and cricket enthusiasts in general around the globe.
He became a force to reckon with through his hurricane century for Bombay in the 1975-76 Irani Cup game at Nagpur. He was up against a Rest of India team, whose bowling attack included Bishan Singh Bedi and EAS Prasanna. Vengsarkar smashed the bowling for 113 which included seven sixes and 11 fours.
ADVERTISEMENT
Undoubtedly, his best-known feat outside India is his centuries at Lord's in 1979, 1982, 1986, rightly earning him the title, Lord of Lord's. He also scored a century at Leeds in 1986, a series that India won.
The Deloitte ratings placed Vengsarkar as the number one batsman in the world in the late 1980s, ahead of the likes of Viv Richards, Javed Miandad, Allan Border. He was also the 1987 Wisden Cricketer of the Year.
Tall and upright, Vengsarkar will always be remembered for his stance and sublime front foot drives.
Also Read: Throwback! When ex-India all-rounder Vinoo Mankad left a mark on young Dilip Vengsarkar
To top it all, he had a defiant, competitive spirit and a never-say-die attitude to boot.
Centuries flowed from his willow at famous Test grounds. The Feroz Shah Kotla in Delhi for one, witnessed four tons - three against the West Indies (1978-79, 1983-84 and 1987-88) and one against the Asif Iqbal-led Pakistan team in 1979-80.
His glorious knock of 139 not out for Mumbai against Haryana in the 1990-91 Ranji Trophy final at the Wankhede Stadium is etched in memory forever. Alas, Mumbai lost that final.
Every player has his jinx. For Vengsarkar, it was not scoring a Test hundred outside India and England.
Never one to make tall claims, Vengsarkar always spoke with his bat, the willow which scored 6,868 runs in 116 Tests for India.
After he retired in 1992, he walked the talk in terms of giving back to the game. He focused on development of cricket at the grass- roots level and helped produce world-class players.  Soon after he announced his retirement from international cricket, Vengsarkar met the Sports Minister of Maharashtra and requested him to allot a plot at the northern side of the Oval Maidan, Churchgate, to start a cricket academy, where talented young players of the city could practise and sharpen their skills under his guidance.
The Oval academy kicked off but the plot was in a pathetic condition previously. There was no fence around the ground. Moreover, Vengsarkar had to deal with the nuisance of encroachers who had infested the maidan. Nobody had the will to clean the mess before. Vengsarkar cleared the maidan with the help of Mumbai police. He also restored the northern side of the Oval Maidan and saved it from the clutches of anti-social elements. 
Vengsarkar went on to launch similar academies in Mahul, Chembur and at Chincwad, Pune too. He also served BCCI and the Mumbai Cricket Association (MCA) in different capacities. He was chairman of the national selection committee and chairman of the Talent Research Development Wing of BCCI. He also served as vice-president of the MCA. But for the restrictions imposed by the Lodha Committee recommendations, he could have been at the helm of affairs in Indian cricket.
His love for club cricket in Mumbai is manifest by the fact that he played Kanga League 'A' division for only one club - his beloved Dadar Union Sporting Club - which he revived a few years ago by building a club house and putting the pitches to use for matches, which was not the case for many years.
Apart from Dadar Union, Vengsarkar also served Tata Sports Club well. 
The Arjuna, Padma Shri and CK Nayudu Lifetime Achievement awards are honours that have come Vengsarkar's way most deservedly and the latest one - a stand named after him at Wankhede Stadium - is nothing short of a major honour. More recently the Governor of Maharashtra, Bhagat Singh Koshyari bestowed on him a lifetime achievement award for his outstanding contribution to sports.
Considering his contribution to the game, more accolades and honours cannot be ruled out.
Happy birthday, Dilip!