MCA president Amol Kole confirms the statue will be installed opposite to the MCA lounge and will be unveiled during the ICC Cricket World Cup 2023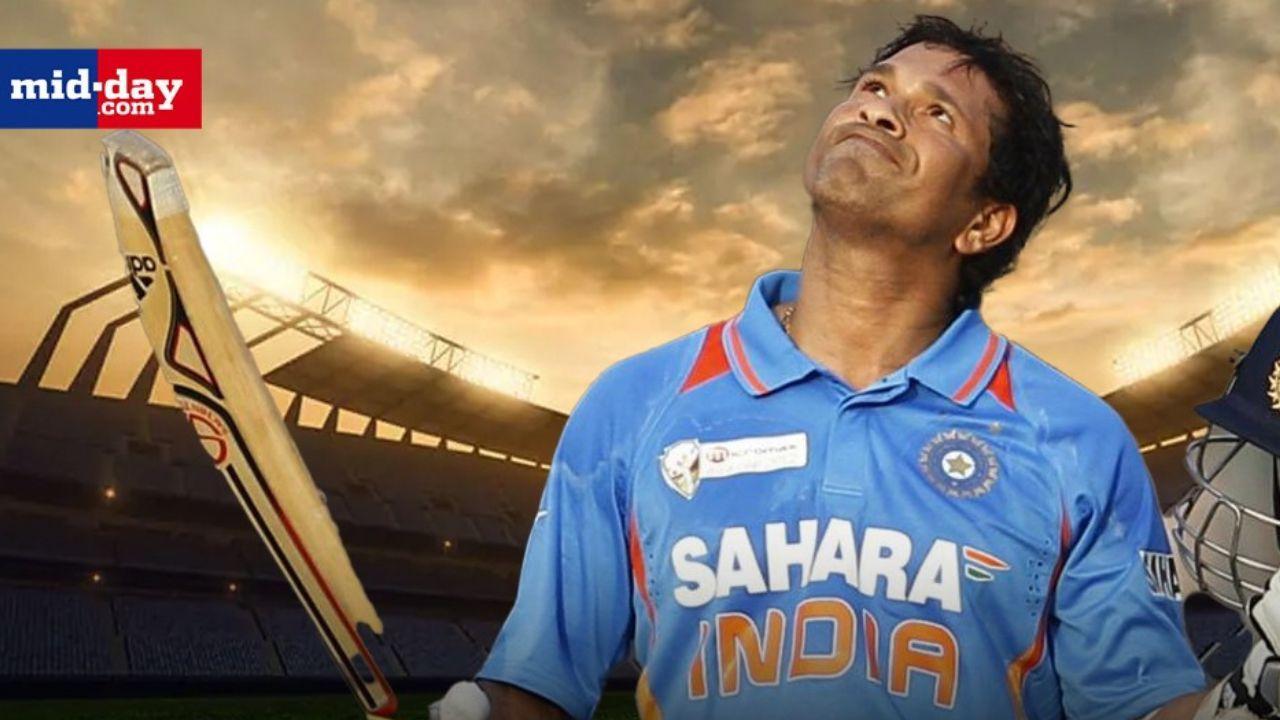 Sachin Tendulkar. File Pic
Mumbaikars will soon get to see a life-size statue of cricket legend Sachin Tendulkar at the Wankhede stadium. The 'Master Blaster' played his last game for the Indian cricket team at the same venue. 
Speaking exclusively to mid-day, the president of Mumbai Cricket Association (MCA) Amol Kale on Tuesday said that the process of creating the life-size statue will begin soon and it will be installed opposite to the MCA lounge.
ADVERTISEMENT
"It will take four to five months to complete the statue and will be unveiled during the 2023 ICC Cricket World Cup. This will be the first instance of a player's statue being installed at the iconic stadium," he said.
Also Read: Sachin Tendulkar felicitates U-19 World Cup-winning team
Tendulkar, also known as the little master, on Tuesday visited the Wankhede stadium. "We have received his consent. He visited the Wankhede stadium today. We finalised the spot where the life-size statue of the cricket legend will be built. The statue will be installed opposite to the MCA lounge," Kale said.
Tendulkar interacted with reporters after visiting Wankahde stadium today. He said that the decision to install a life-size statue is a pleasant surprise and it is a big moment for him.
"1998 is when it all started at the Wankhede. The journey started here for me. Played my first Ranji match here. Long ago, Achrekar sir reprimanded me here and from thereon I became a serious cricketer. I played my last match at this very venue. Life has come full circle for me here. I have wonderful memories of this place, some memorable and some not-so-good. It's a big moment for me," Sachin said.
He also reminisced about his memories of the Wankhede and said that it holds a special place in his heart.
"I am still a 25-year-old with 25 years of experience I would say. It's good and I would like to thank the MCA for this really great gesture. It's a very special place for me and a lot of things happened in my career because of the MCA. The amount of time that I have spent here is second to none and I have enjoyed being here and playing here. A special place for me," Tendulkar said.
Tendulkar already has a stand named after him at the Wankhede stadium. In cricket stadiums across the country, there are only a handful of life-size statues. Only statues of the former Indian captain Colonel CK Nayudu have been erected thus far. They are located at the Holkar Stadium in Indore, the Vidarbha Cricket Association (VCA) stadium in Nagpur, and the VDCA stadium in Andhra. 
Tendulkar has played 200 Tests, 463 ODIs, and one T20I for India, scoring 34,357 runs across all formats. The Master Blaster is the all-time highest run-scorer in both ODI and Test cricket with more than 18,426 runs and 15,921 runs respectively. He also holds the record for receiving the most number of man-of-the-match awards in international cricket.