Three Mumbai cricketers—Nilesh Kulkarni, Sameer Dighe and Sairaj Bahutule—who were part of the series-winning Chennai Test of the 2000-01 Border-Gavaskar Trophy, believe Team India will be grinners at the end of the forthcoming four-match Test battle, which opens in Nagpur on Thursday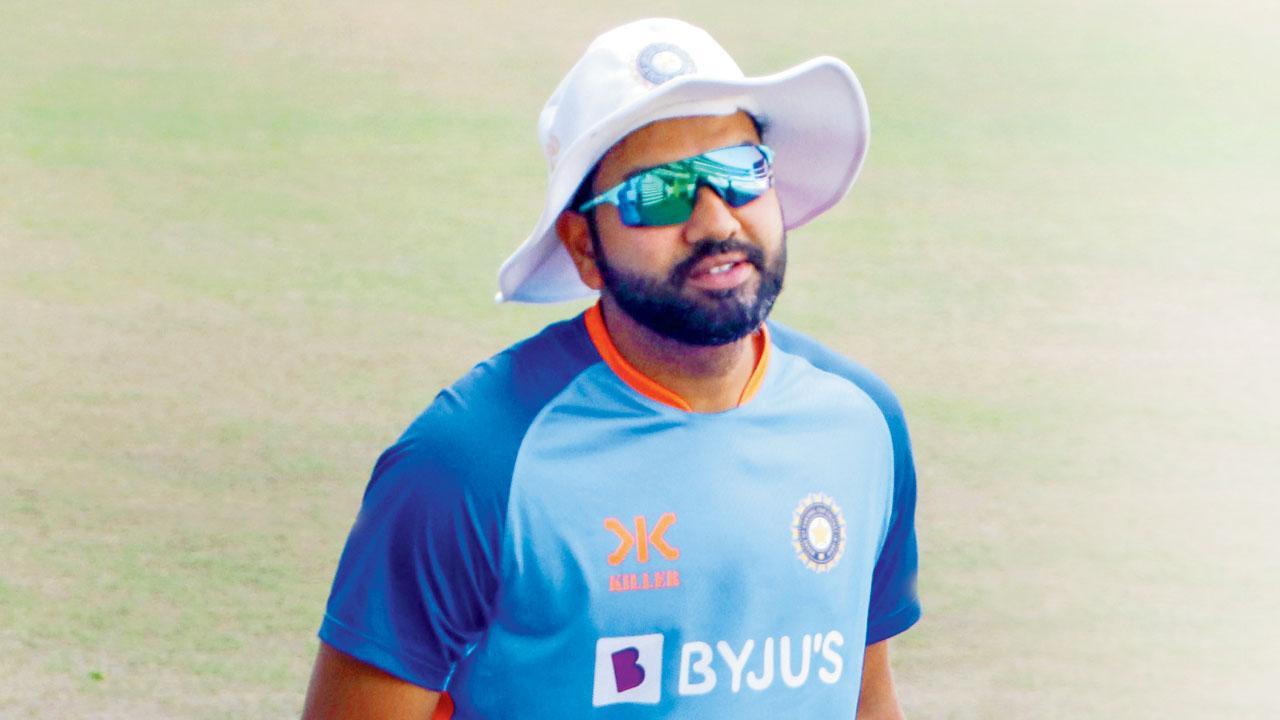 Skipper Rohit Sharma during India's training session at Nagpur yesterday. Pic/PTI
Australians are well known for playing mind games before the start of every important series. However, some experts reckon that this won't work this time as the Rohit Sharma-led Indian team are better than the visitors in physical as well as mental aspects.
Former India leg-spinner Sairaj Bahutule, 50, who is part of the Indian team's support staff in Nagpur, reckoned the hosts have ticked all boxes. "Australia have always been a good side who tend to prepare well. But over a period of time, the Indian players' mindset has got better and better. Obviously, we have been winning overseas Test matches and series. So, I think, more than them [Australia], I would say we are getting better and better in the mental as well as the overall cricketing aspect," Bahutule told mid-day on Monday.
'A different team altogether'
Bahutule, who made his Test debut against Steve Waugh's team in the third and final Test at Chennai during the epic 2000-01 series, reckoned the Aussies' mind games strategy is history now. "It's a different Indian team altogether with a lot of respect, a lot of character and a lot of skill. For me personally, the noise doesn't matter. It's important to just play the way the game has been played and focus on our strengths…nothing else. [India's chances] are very good. Our team are well equipped to win [the series]," Bahutule remarked.

Nilesh Kulkarni, Sameer Dighe and Sairaj Bahutule
Interestingly, the 2000-01 series in which India (led by Sourav Ganguly and coached by John Wright) triumphed 2-1, saw three different left-arm spinners in each Test. Rahul Sanghvi played the first Test in Mumbai. Venkatapathy Raju came in for the second Test at Kolkata and Mumbai's Nilesh Kulkarni figured in the last Test in Chennai.
Also read: Border-Gavaskar Trophy 2023: Ashwin 'biggest threat' for Australia, reckons Usman Khawaja
Kulkarni too felt India have the edge for this series, which opens in Nagpur on Thursday. "As Indians, we started giving it back to them by performance and body language and they could not handle that [in 2001]. It showed that Australians too cannot handle things when under pressure. Before a big series they always play some mind games and that is typical of Australian teams. But we are experienced enough and the Indian approach has changed too," said Kulkarni, who dismissed opener Matthew Hayden by bowling outside the off stump on the advice of his coach Frank Tyson, the England fast bowler-turned-coach.
'We should dominate'
Sameer Dighe was another Mumbai cricketer, who made his Test debut in the series-winning 2001 Chennai Test. Dighe, 54, too predicted India's dominance in the forthcoming series. "Our players have a lot of experience by playing in other countries. And because of the IPL, we know their [Australian] mindset. I think we should dominate this series. We have a tremendous batting line-up. We will have the upper hand," said Dighe, who got Ricky Ponting stumped for a duck off Harbhajan Singh's straighter one in the first innings at Chennai. He was also the first to appeal against Steve Waugh when he handled the ball in the first session of Day Two. And probably more importantly, Dighe gave Harbhajan Singh good company for the Turbanator to hit the winning runs that brought the curtains down on one of the most exciting of home series in Indian cricket history.
Meanwhile, Kulkarni, 49, who represented the country in three Tests and 10 ODIs, stressed that off-spinner Ravichandran Ashwin, left-arm spinners Ravindra Jadeja and Axar Patel will pose a big challenge to the Australian batters. "If all three spinners—Ashwin, Jadeja and Axar are fit—then the Australians will find it very difficult. I think it will be 2-1 in India's favour if not 3-0," he added.
Keen competition could well be the buzzword of the series even though Bahutule doesn't see Australia posing too many threats. "No threats as such. It's going to be a very competitive series, a test of skills. With bat and ball… each one has a match-up. They have all done so well in their careers and a cricketer would want to play a series like this," said Bahutule.