As Tanveer Sanga makes his international debut for Australia, we give you a list of cricketers of Indian origin who played for other nations. Here's a look at some of those cricketers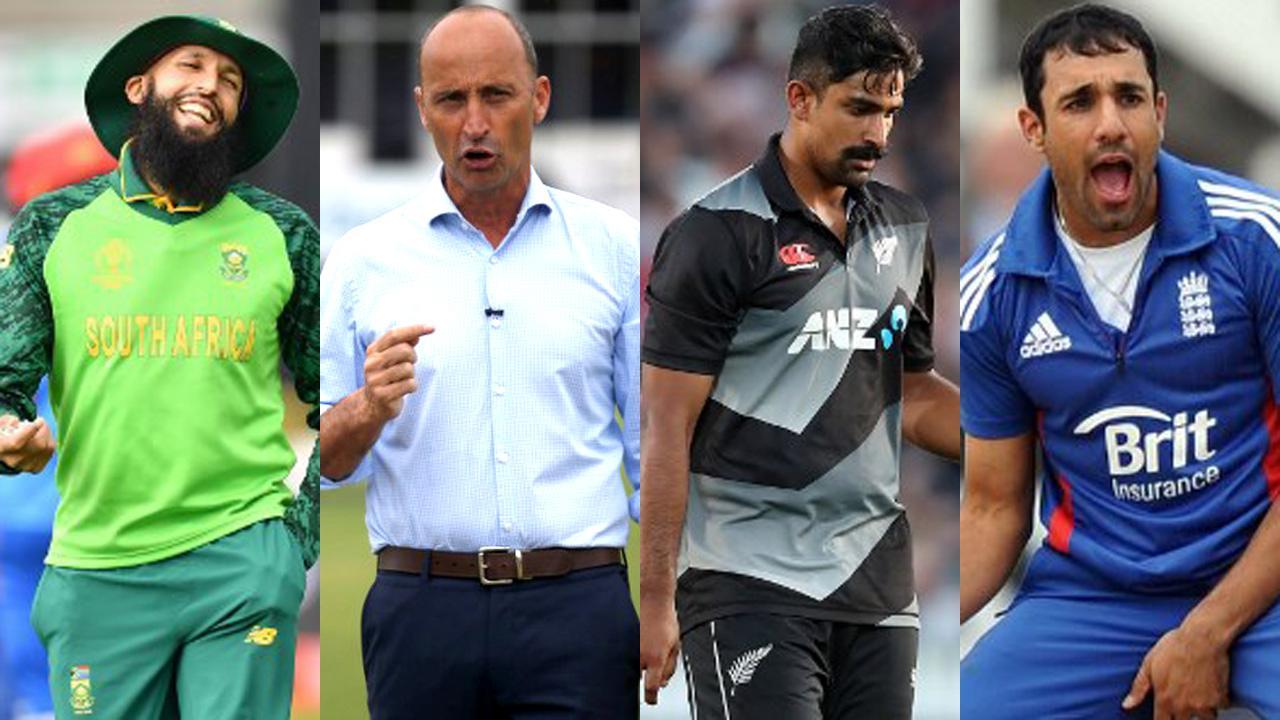 Hashim Amla, Nasser Hussain, Ish Sodhi and Ravi Bopara. Pictures/ AFP
Team Australia announced their squad for the T20I series against New Zealand which commences on February 27. The Aussies have included 19-year-old Tanveer Sangha of Indian-origin in the squad. The cricketer entered the record books as he became only the fourth cricketer of Indian origin to represent Australia. Over the years, cricketers of Indian origin have played for other nations and made a mark. Here's a look at some of those cricketers.
Stuart Clark, Australia
The former Australian bowler was born to Anglo-Indian parents. Clark's father Bruce Clark hailed from Chennai while his mother Mary was from the Kolar Gold Fields. He played 24 Tests and 39 ODIs for Australia taking 94 and 53 wickets respectively.
Nasser Hussain, England
The former England captain was born in Madras (now, Chennai) to Raza Jawad 'Joe' Hussain, a Tamil-speaking Muslim who was also a cricketer and field hockey player. Hussain is also the descendant of  Muhammad Ali Khan Wallajah who was the Nawab of Arcot State in the 18th century. Hussain played 96 Tests scoring 5,764 runs with 14 hundreds and 34 fifties. He also played 88 ODIs with 2,332 runs with one hundred and 16 fifties.
Hashim Amla, South Africa
The former South African batsman belongs to a Gujarati Muslim family who is of Indian origin and come from a middle-class background. Amla has been one of the most successful cricketers to ever play ODIs and hold records for the quickest to reach 2000, 3000, 4000, 5000, 6000 and 7000 ODI runs and  he has hit 10 ODI centuries. Amla played 124 Tests and scored 9,282 runs with 28 tons (including a triple hundred) and 41 fifties. In 181 ODIs, Amla scored 8,113 runs with 27 hundreds and 39 fifties with an average touching 50.
Ish Sodhi, New Zealand
The New Zealand spinner was born in Ludhiana, Punjab. At the age of four, Sodhi moved to Auckland, New Zealand along with his family. Sodhi has played 17 Tests taking 41 wickets and 33 ODIs with 43 wickets to his name.
Ravi Bopara, England
The England star all-rounder was born into a Sikh family of Indian origin. Bopara was born in London and played 120 ODIs scoring 2,695 runs and scalped 40 wickets. He also played 13 Tests with 575 runs and bagged a solitary wicket.
Jeetan Patel, New Zealand
The former Kiwi bowler's family belongs to the city of Navsari in Gujarat, however, he was born in Wellington. He played 24 Tests and 43 ODI matches for New Zealand taking 65 wickets and 49 wickets.
Rohan Kanhai, West Indies
The former West Indies cricketer was born in Guyana but has his family origins from India. Kanhai played in 79 Test matches and scored 6,227 runs with 15 centuries and 28 fifties.
Ashish Bagai, Canada
The former Canadian wicket-keeper batsman was born in Delhi and studied at St. Columba's School before he moved to Canada with his family at age 11. Bagai played 59 ODI matches scoring 1,922 runs including 2 centuries and 16 fifties along with 50 catches and 9 stumpings.
Asif Karim, Kenya
Although the former all-rounder was born in Kenya, he was of Indian ancestry. Karim played 34 ODI matches for Kenya and scored 228 runs and took 27 wickets. He also holds a unique feat of captaining his country in cricket as well as in tennis.
Ajaz Patel, New Zealand
Ajaz was born in India but made it into the record books as an international player for New Zealand. The left-arm spinner exploded into the limelight when he became just the third player in the history of cricket to take 10 wickets in a single innings. The fact that he achieved this feat against India, at Mumbai (the place where he was born), made it all the more sweeter. 
Keshav Maharaj, South Africa
Maharaj is currently South Africa's premier red ball spinner and is second on the list of South African test spinners with the most wickets. He has also recently captained the Proteas in white-ball cricket. Keshav, although born in Durban, has roots from India. His father Athmanand is an Indian-born South African who in his initial days played for Natal and dreamt of representing South Africa but couldn't do so due to the Apartheid regime. Nevertheless, one can say that his son has achieved the family's dream.
All these fanastic cricketers may ply their trade for different nations but they will always remain 'Dil Se Desi'