The Thane school were bundled out for 72 in 16.4 overs with Prisha Deorukhkar (3-5) being the pick of the bowlers for Shardashram. Mugdha Parte (2-4) and Madhura Dhadke (2-15) played a part too. Ira and Prisha bagged the best batter and best bowler award respectively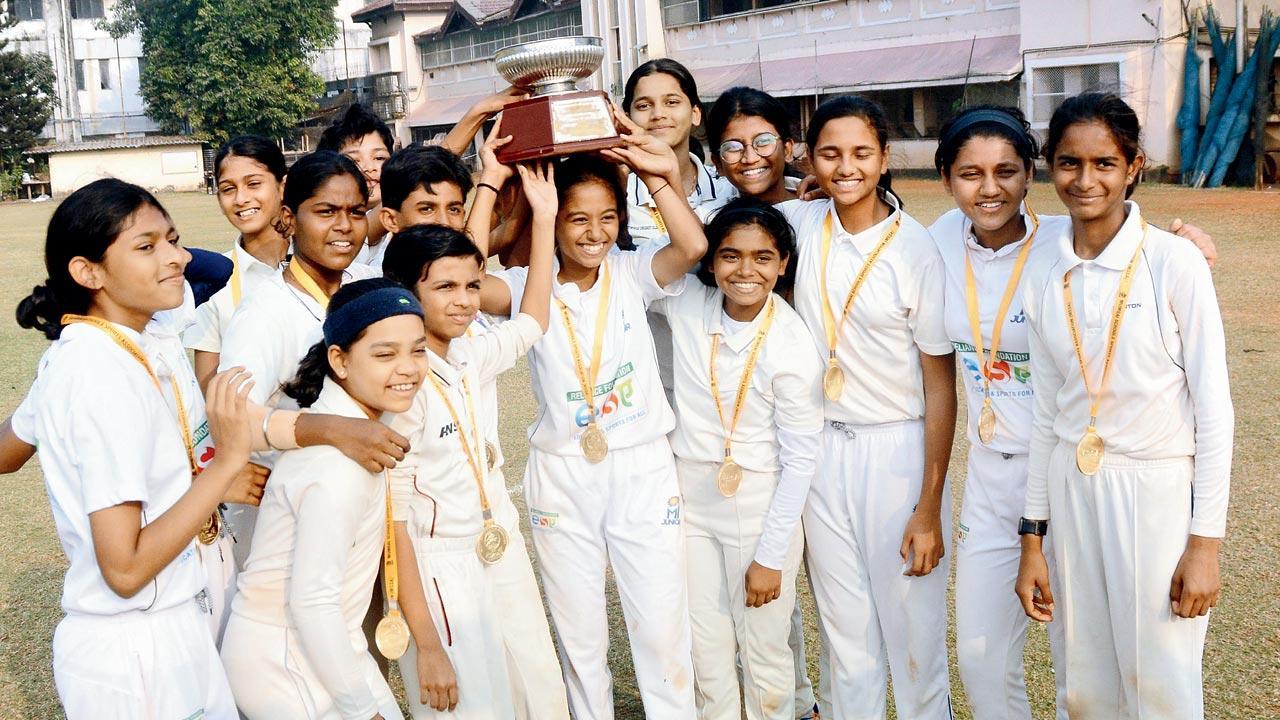 Manoramabai Apte tournament winners Shardashram Vidyamandir at the Parsee Gymkhana yesterday. Pic/Sayyed Sameer Abedi
Ira Jadhav's blistering 119 off 59 balls helped Shardashram Vidyamandir English (Dadar) defeat Vasant Vihar HS (Thane) to claim a 138-run win in the girls' T20 Manoramabai Apte Cricket Tournament final at the Parsee Gymkhana on Tuesday Opting to bat, Shardashram posted a massive 210-6 in their allotted 20 overs. Opener Ira did the bulk of the scoring and was assisted by Sarathi Bhakare who scored 56 runs off 41 balls for a second wicket partnership of 185 runs. 
Also Read: Yash Rawat scalps four as IES New English enter final, to play SVIS
Both retired out at the end of the 17th over to give others a chance to finish the innings. However, the move backfired as Shardashram lost three wickets for just nine runs. Pacers Sharvari More (1-46) and Saee Bhide (1-30) were the only wicket-takers for Vasant Vihar while Reeya Bhavsar and Anushree Dixit effected a run out each. The Thane school were bundled out for 72 in 16.4 overs with Prisha Deorukhkar (3-5) being the pick of the bowlers for Shardashram. Mugdha Parte (2-4) and Madhura Dhadke (2-15) played a part too. Ira and Prisha bagged the best batter and best bowler award respectively.