It is widely known that almost all the ten IPL franchises have branched out in various leagues, including CPL (West Indies), SA T20 (South Africa), Global T20 League (UAE), and the upcoming Major League T20 in the US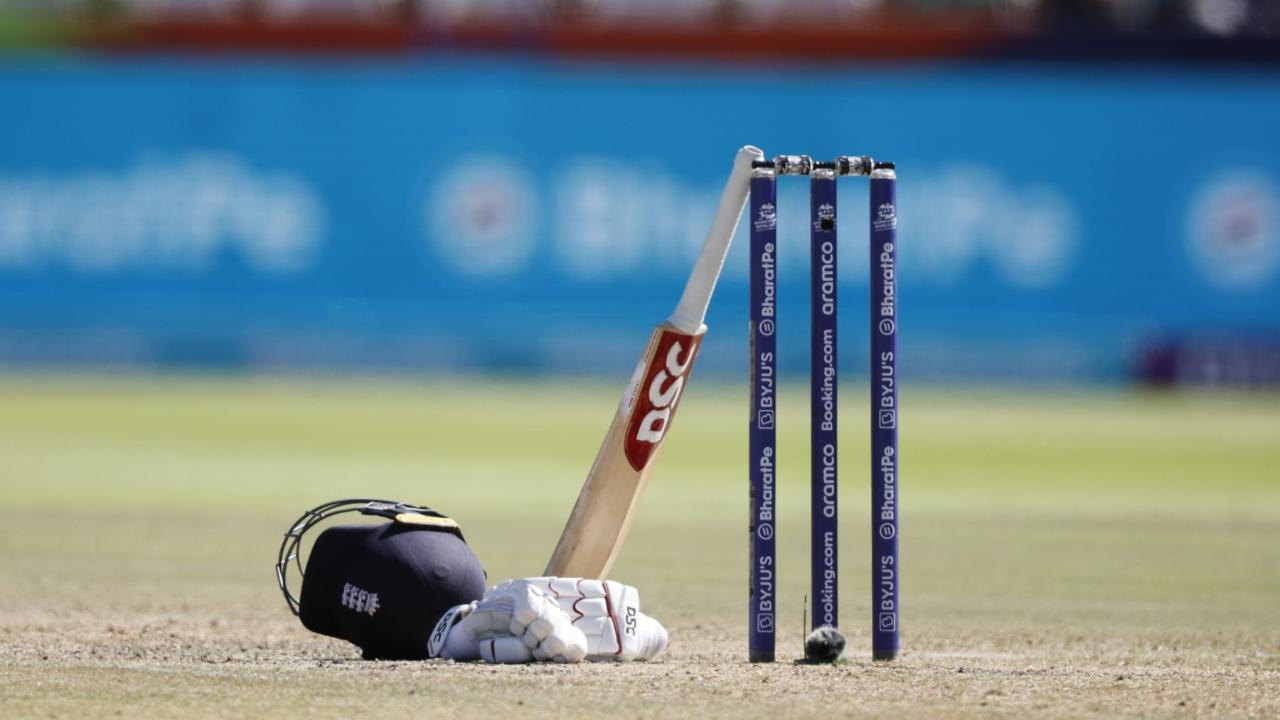 A general view of an England player's bat, helmet and gloves on the pitch between overs (Pic: AFP)
Owners of top IPL franchises are making desperate attempts to convince as many as six premier England players to quit international cricket and take up handsome annual contracts ranging up to 5 million pounds in order to play T20 leagues round the year, the 'Times London' reported.
It is widely known that almost all the ten IPL franchises have branched out in various leagues, including CPL (West Indies), SA T20 (South Africa), Global T20 League (UAE), and the upcoming Major League T20 in the US. However, the report doesn't state the names of the franchises and who are the players involved in the discussion.
ADVERTISEMENT
There will also be an ambitious Saudi T20 league which some of the IPL franchises might be investing in. 
'The Times' report quotes: "Initial discussions have taken place after at least six English players, including some international stars, were approached by IPL franchise owners and asked whether, in principle, they would accept a deal that would make an Indian team their main employer, rather than the ECB or an English county. This development follows discussions among players' unions around the world about the potential implications of 12-month franchise contracts, which would be a significant step towards the football model of elite players being primarily contracted to their team and released for international duty, rather than the other way around."
"One source told The Times that contract offers could come as soon as the end of the year."
Also Read: IPL 2023: Can Russell-power come to KKR's rescue?
There is no doubt that T20 cricket is here to stay and T10 is also fast catching the imagination of the public.
While ICC has always thought about putting a cap on the number of leagues that an active contracted player can take part in a year, one can't rule out a possibility of a lot of young players either retiring from international cricket or giving up on central contracts to become free agents. The only hurdle in such a scenario could be 'NOC' from the respective country's cricket board.
"The probability of such a model being adopted has grown increasingly likely in recent years as some IPL franchise owners have bought stakes in several T20 tournaments in the UAE, South Africa, Caribbean and now the United States with the new Major League Cricket venture which begins in July," the newspaper was quoted as saying.
The daily also claimed that a discussion on similar lines took place with star Australian T20 specialists also.
"Discussions have already taken place with a number of high-profile Australian players about full-time deals but this has now been extended to English players. Contracts could be worth upwards of GBP 2 million a year and even as high as GBP 5 million ¿ more than five times the value of the highest England central contracts."
It also spoke about the possibility of having partial contracts both with ECB or county and the IPL franchise, especially, the ones who play white-ball cricket.
"Reduced IPL deals covering at least three of the rounds would also be on offer. It is unlikely that any of England's Test stars will walk away from their central contracts in favour of a franchise contract but the sheer amount of money on offer makes that a risk in the future.
"What is more likely is that players will arrange "bespoke" deals depending on their own circumstances, which could result in them being part-contracted to their county or the ECB and part-contracted to a franchise."
(With PTI inputs)
"Exciting news! Mid-day is now on WhatsApp Channels

Subscribe today by clicking the link and stay updated with the latest news!"
Click here!