Indian tennis ace Leander Paes' seventh Olympics ends on Day One itself as he and doubles partner Rohan Bopanna are ousted by Polish pair of Marcin Matkowski and Lukasz Kubot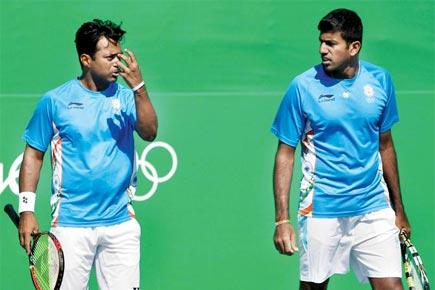 India's Leander Paes (left) with teammate Rohan Bopanna during their first round doubles match at Olympic Tennis Centre in Rio on Saturday. Pic/AFP
RIO DE JANEIRO: Leander Paes' dreams of winning a second Olympic medal went up in smoke as he and
Rohan Bopanna made an inglorious exit in the opening round of the men's doubles competition, losing in straight sets to the Polish pair of Marcin Matkowski and Lukasz Kubot 4-6 6-7 (6-8) here yesterday.
Also read - Rio 2016: Tennis stars look to open their campaign in style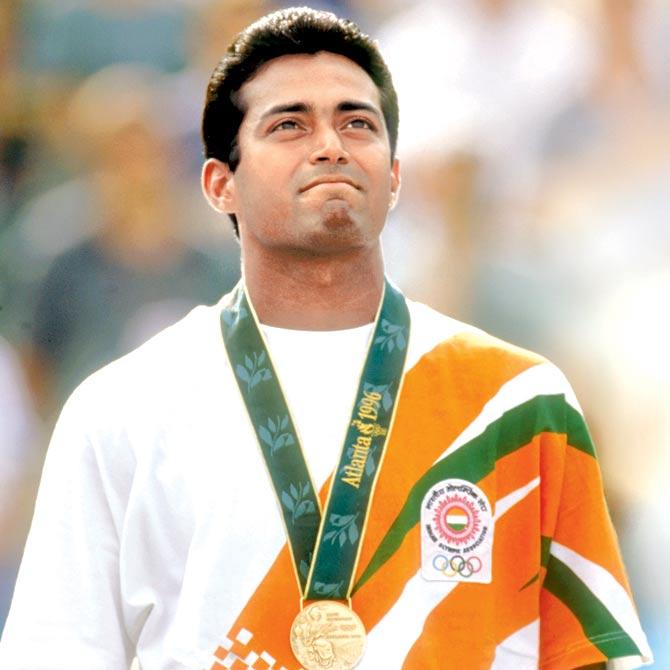 India's Leander Paes of India stands on the podium after winning a bronze medal in the men's singles tennis event at the 1996 Olympic Games in Atlanta, Georgia on August 3, 1996. Pic/Getty Images
Playing in his record seventh and probably his last Olympics, Paes — a bronze medallist at the 1996 Atlanta Games, saw his campaign get over in only 84 minutes as not for once did the Indian pair look like having forged a winning combination.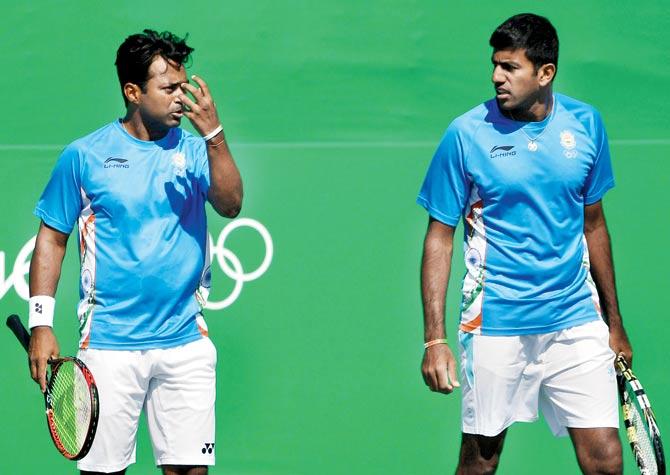 India's Leander Paes (left) with teammate Rohan Bopanna during their first round doubles match at Olympic Tennis Centre in Rio on Saturday. Pic/AFP
The controversies leading up to the first round match also did not do any good to the pair as there was a distinct lack
of on-court chemistry between them.
Ironically, at 43 Paes has possibly played his last Olympic match and too bad that it ended in whimper within two days of his arrival in the Brazilian city despite the bang that it created due to the off-court events in the lead up to the quadrennial extravaganza.
Questions being raised about Paes' delay in joining the squad after playing World Team Tennis and subsequent reports of not getting a bed in the earmarked apartment in the Games Village only made the matters worse.
Paes slams critics
An emotional Paes said: "I am in a position of being the soft target, so a lot of guys wanna (sic) take shots at me. Fine, go for it. I am also just another human being, trying my best. I will keep going as I am resilient. I know a lot of stories are being fed."
Also read - Rio 2016: What's the problem, guys? asks Leander Paes
His answer was all laced with sarcasm when he said that some people were trying to pull him down when they did not even know what it takes to win one Grand Slam.
"Not many people understand what it takes to win one Grand Slam. Not many people understand what it takes to win 10 Grand Slams."