"Last August, we won the MLC title, beating Atlanta Fire in the final. I got the Man of the Match award in the decider for my all-round show [53 runs and 4-21]," Ranjane told mid-day from Seattle on Sunday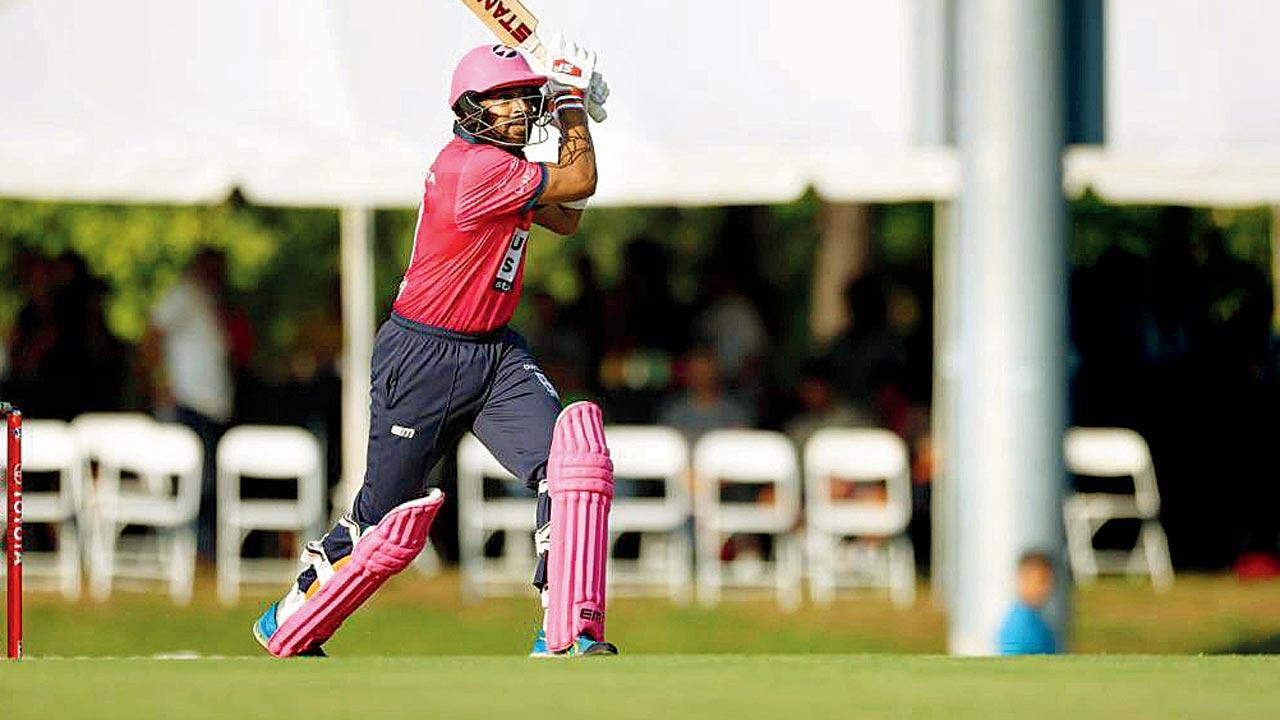 Seattle Thunderbolts' Shubham Ranjane during the Minor League final v Atlanta Fire at Morrisville, North Carolina, last August
Former Mumbai all-rounder Shubham Ranjane, 28, has shifted base to the USA.
Ranjane, who scored 595 runs and claimed 12 wickets in 15 first-class games, is now entirely focusing on white-ball cricket, eying a berth in the US national team and a place in franchise leagues. 
ADVERTISEMENT
Lack of opportunities
Ranjane reckoned that lack of opportunities in Mumbai forced him to shift to the USA.   
  
"I came here last August and I need an 18 month-stay in the USA to qualify to play for their national team. I am confident about my performance. I'm a professional MLC [Minor League Cricket] player. I have represented the Seattle Thunderbolts which was the national champions in 2022.
"Last August, we won the MLC title, beating Atlanta Fire in the final. I got the Man of the Match award in the decider for my all-round show [53 runs and 4-21]," Ranjane told mid-day from Seattle on Sunday.
Also read: Maharashtra captain Ankit Bawne wants BCCI to rethink Ranji points system
However, he will miss red-ball cricket. "Coming from Mumbai and playing tough first-class cricket there, I will miss it [red-ball cricket] a lot. But I am enjoying white-ball cricket. I will be also playing in the Major League which will be conducted in July and various other franchise cricket all over the world," said Ranjane, who was picked by Rajasthan Royals at the 2019 IPL auction.
In 29 T20 domestic games he scored 263 runs and took 19 wickets with his medium pace. 
In 23 List 'A' (50-over game) he scored 278 runs and claimed 14 wickets.
"It was a tough call to leave India and Mumbai. I had represented Mumbai in 12 first-class games, but there were hardly any opportunities for me in the Mumbai team. I then played three Ranji games for Goa in the 2021-22 season. Yes, it was a risk [to shift to the USA], but I knew I would get good opportunities here, so I took that risk.
"Cricket is growing here. The cricket season is of 10 months in which players get a lot of opportunities to play in different competitive leagues. I came here only six months ago, but I got many games to play—with and against top international players—like Martin Guptill, Sunil Narine, Shai Hope, Fawad Alam and others.
"My aim is to perform well in the Major League. I am pretty confident that I will play for the USA national team. I have got an NOC from the BCCI to play in different franchise leagues as well," Ranjane remarked.
Not short of inspiration
His next challenge will be to perform well in the Houston Premier League for Stallions XI on February 15. 
 
With cricket in his blood (father Subhash played for Maharashtra while he is the grandson of deceased India fast bowler Vasant), Ranjane will not be short of inspiration to hit the high notes in the second innings of his cricketing career.