Super hero Virat Kohli will be the first to admit that, from 31 for four, he couldn't have done it alone v Pak. He needed an ally, someone, who would occupy the crease with him, and Hardik stepped up in style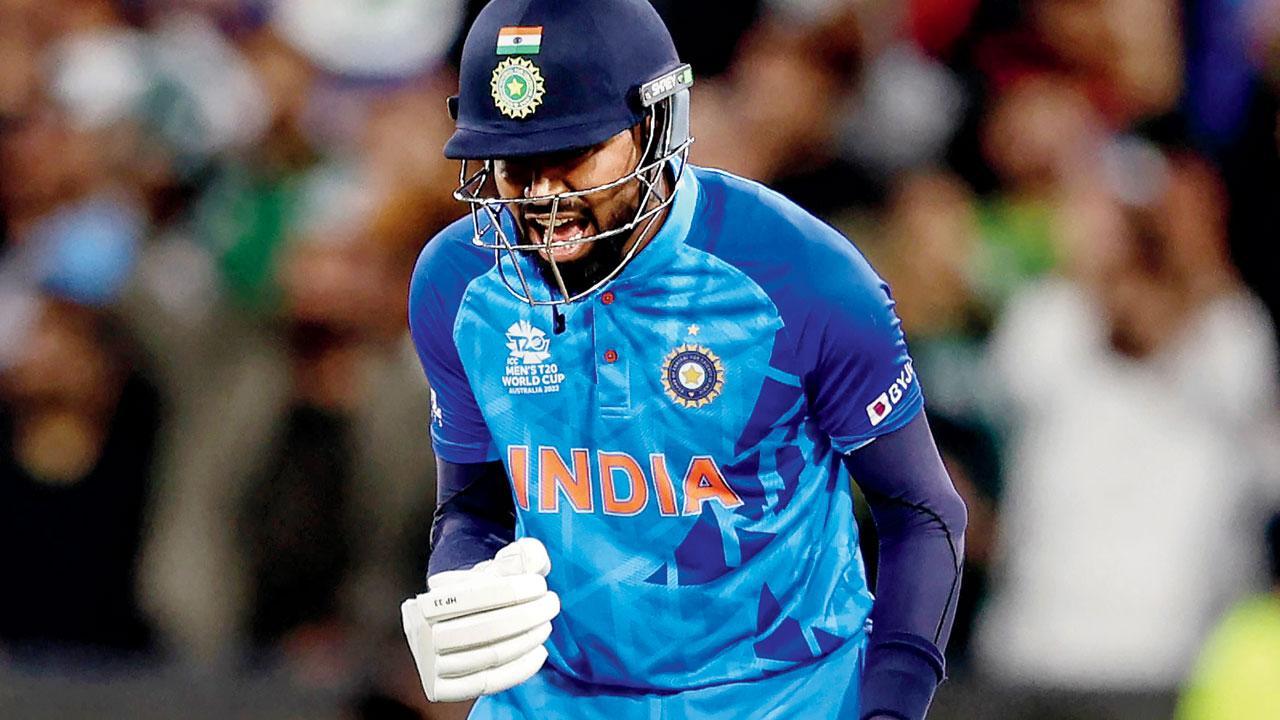 Hardik Pandya during the T20 World Cup match against Pakistan at Melbourne on Sunday. Pic/AFP
Hardik Pandya was among the first to rush to the middle of the Melbourne Cricket Ground (MCG) on Sunday night, seconds after R Ashwin brought up the winning run in a pulsating encounter against Pakistan. While Ashwin threw his arms aloft and celebrated the moment, Pandya and the others—KL Rahul, skipper Rohit Sharma and Axar Patel, notably—made a beeline towards the striker's end, where Virat Kohli was on his haunches, punching the ground in delight after having shepherded India home in a stirring, near-impossible run chase.
A night to remember
ADVERTISEMENT
Pandya had an excellent night in India's opening T20 World Cup Super 12 game, backing up an incisive burst of three for 30 with a measured 40. If he didn't get the accolades he deserved, like the admirable Arshdeep Singh didn't either, it was entirely because they were eclipsed by the luminescence of Kohli (53-ball 82, 6x4, 4x6).
Kohli will be the first to admit that, from 31 for four, he couldn't have done it alone. He needed an ally, someone, who would occupy the crease with him, and Pandya stepped up in style. Fluent and crisp at the start, Pandya began to lose shape and impact towards the last quarter of his innings when he tried to hit the ball too hard and was dismissed at the most inopportune moment—off the first ball of the last over with 16 needed. But he had more than played his part in the innings-retrieving fifth-wicket stand of 113.
Also read: Positive Pandya!
"Obviously, Virat batted superbly, but Pandya was very good too," Pakistan skipper Babar Azam acknowledged, before adding: "He was sensible, put the bad balls away and was busy between the wickets." That Pandya definitely was. At the MCG, six-hitting isn't the easiest proposition even if Pandya smashed two sixes in the same Mohammad Nawaz over. The situation called for common sense rather than bravado, and Pandya responded in style, though he might feel he should have finished the job instead of throwing his hand away with the Promised Land in sight.
All-round show
Earlier in the evening, Pandya had reiterated his value to the Indian side with an excellent burst of fast bowling. He didn't bowl for nearly the entire World Cup last year, throwing India's balance out of kilter, but now that he is back as a four-over bowler, there's a different dynamic to the team. His penchant for hitting back-of-a-length is perfect for the big grounds in Australia, and it should come as no surprise that all his wickets came off short deliveries. Going forward, he will have to continue to pull his weight with bat and ball if India are to keep to their tryst with a semi-final berth first, and more significant goals going forward.