Shastri was MCA's best junior cricketer for the 1977-78 season for which he was honoured with the Shantibhai Seth Trophy while the Justice Tendolkar Trophy came his way as MCA's best senior cricketer for 1984-85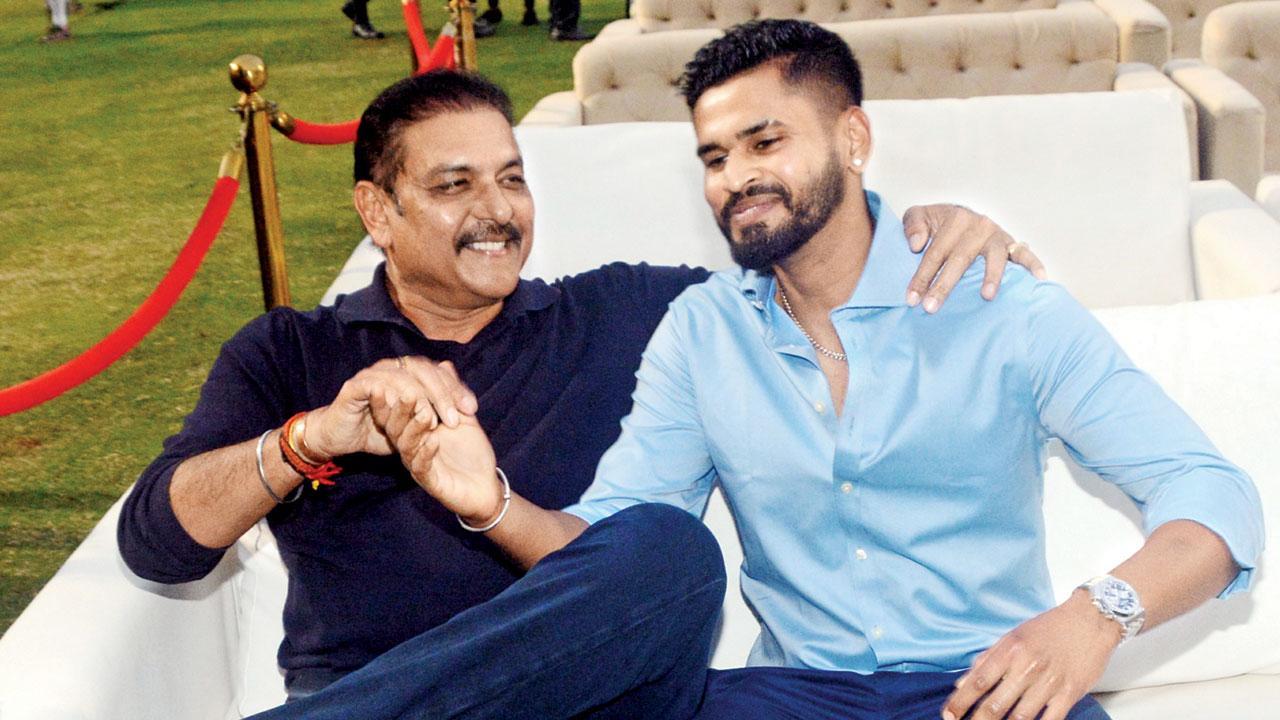 Ravi Shastri and Shreyas Iyer (right) during the MCA annual prize distribution function at BKC yesterday. Pic/Satej Shinde
Hundreds of Mumbai's current and future cricketers may have been charged up and motivated when they returned to their homes on Friday night after hearing former India head coach Ravi Shastri speak at the Mumbai Cricket Association's annual prize distribution function.
Shastri, 60, who started his Test career against New Zealand at Wellington in 1981 while batting at No 10 before becoming a successful opener, stressed that there are no shortcuts to attain certain goals. He also stressed on work ethics, a khadoos attitude and advised youngsters not to skip a single day of net practice. Shastri was MCA's best junior cricketer for the 1977-78 season for which he was honoured with the Shantibhai Seth Trophy while the Justice Tendolkar Trophy came his way as MCA's best senior cricketer for 1984-85.
ADVERTISEMENT
As chief guest of the function held at MCA's BKC ground, Shastri said: "Never treat a challenge as something that is impossible. Say [to yourself], I want to do that. That's why I am going to be different from the regular crowd. And when you think about that passion at a young age, you want that [challenge] to come to you. "Nothing is impossible… nothing. Opening the batting for India, not impossible. Winning a Test match at the Gabba [as India coach in 2020-21], not impossible. Doing things out of the ordinary—winning a World Cup, beating the West Indies [in 1983] not impossible. And this is what this city [Mumbai] teaches you at a very young age."
Also Read: Check out this fun banter of Ranveer Singh, Ravi Shastri at FIFA World Cup final
Shastri, a former Mumbai Ranji Trophy-winning captain, also recalled how he got inspired when he received awards from former India captains like Nari Contractor, Tiger Pataudi and Chandu Borde when he was between 14 and 17.  He advised cricketers to be prepared for tough challenges. "I like to see Mumbai cricketers, what I've seen is the one who is prepared to accept any challenge. And it is no excuse for a Mumbai cricketer. Otherwise, I would never open the batting for India; I started batting at No 10. If you start thinking in that passion, there is no fear of failure," he remarked.