MI outclassed Sunrisers Hyderabad (SRH) by 42 runs on Friday, thanks to a quickfire, 32-ball 84 (11x4, 4x6) from opener Ishan Kishan and Suryakumar Yadav's 82 off 40 balls (13x4, 3x6). But Hardik, who batted at No.3, scored just 10 in eight balls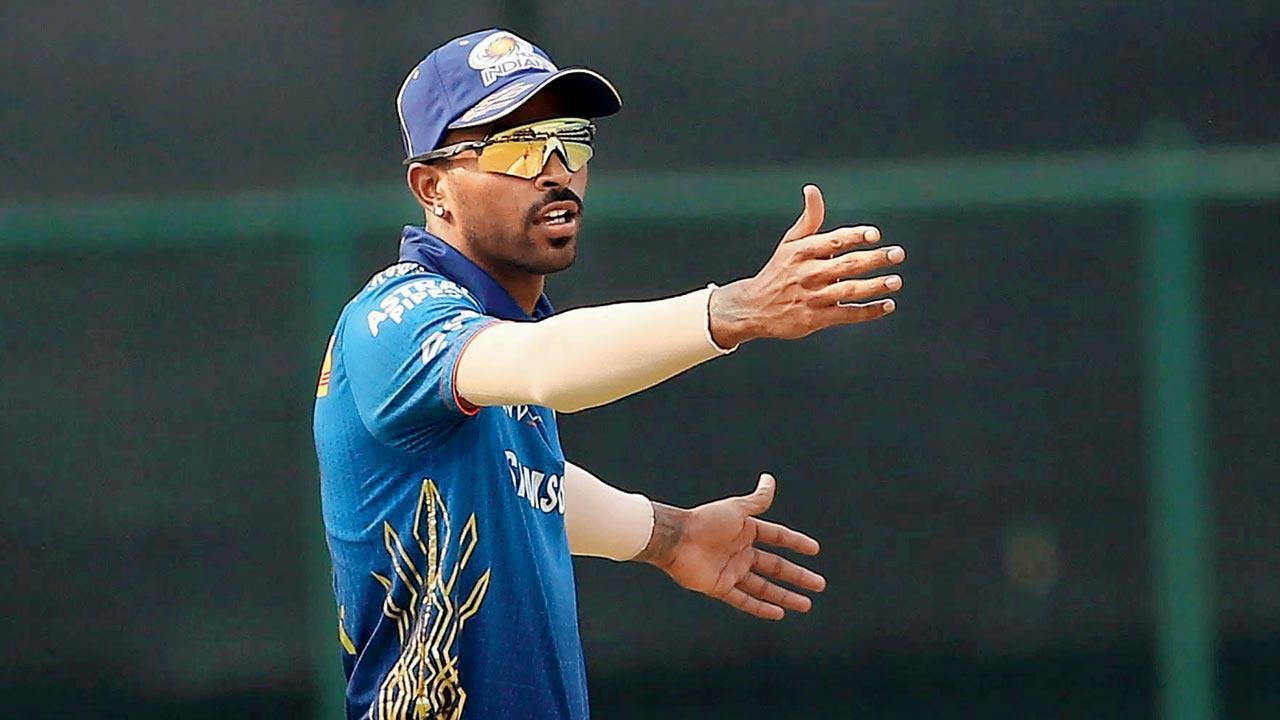 Hardik Pandya
All-rounder Hardik Pandya is one of the key members of India's T20 World Cup squad for the ICC event beginning in the UAE on October 17. However, Hardik has managed to score just 127 from 12 games in IPL-14 and didn't bowl a single over for his Mumbai Indians (MI) in the UAE leg of the tournament. But, MI captain Rohit Sharma is confident of Hardik producing a good show.
MI outclassed Sunrisers Hyderabad (SRH) by 42 runs on Friday, thanks to a quickfire, 32-ball 84 (11x4, 4x6) from opener Ishan Kishan and Suryakumar Yadav's 82 off 40 balls (13x4, 3x6). But Hardik, who batted at No.3, scored just 10 in eight balls. 
Despite a win over SRH, the defending champions were knocked out of the tournament as Kolkata Knight Riders qualified for the play-offs on better net run-rate. 
"He [Hardik] is a quality player, there is no doubt about that and he has come back from tough situations before. A player like him is probably just one good innings away from getting back to his natural ways. I'm personally very confident of his ability and there's no doubt that he will be a valuable asset [during T20 World Cup]," Rohit said during a virtual post-match press conference on Friday.
Also Read: 'I don't want to be in an Eng team that plays against India with Chahal in it'
Hardik, 27, played a lone T20I game on India's tour of Sri Lanka last July, when he scored 10 and had one wicket.
"We wanted to take one game at a time and see where he [Hardik] stands. He didn't bowl today [Friday] as well, but he is getting better day by day. In the next week or so he might be able to bowl…who knows. Only the doctors or physios will be able to give an update on that," Rohit explained.
Apart from Hardik and Rohit (381 runs), MI's pacer Jasprit Bumrah (21 wickets), batsmen Suryakumar (317 runs), Kishan (241 runs) and leg-spinner Rahul Chahar (13 wickets) are part of India's T20 World Cup squad. Except Bumrah, they have not had a great IPL.
"Yes, form matters. But it's a different squad there [T20 World Cup], a different squad here [in IPL]. The way we play here is different to what we do there. So, you cannot really look too much into that. 
"Yes, all the six guys we have here would have liked to have a good run, but it didn't happen. You saw a couple of fine performances today [Friday] from Surya and Ishan. 
"But again, when you talk about the World Cup, there'll be a couple of practice games and I believe the guys can get back into the rhythm," remarked Rohit, who is the vice captain of India's T20 team.
Also Read: ICC to have psychologists for players in T20 WC