All-rounder Capsey, 18, who took 3-26 and scored a vital 34 to help Delhi beat UP Warriorz and enter summit clash, spells out her simple success mantra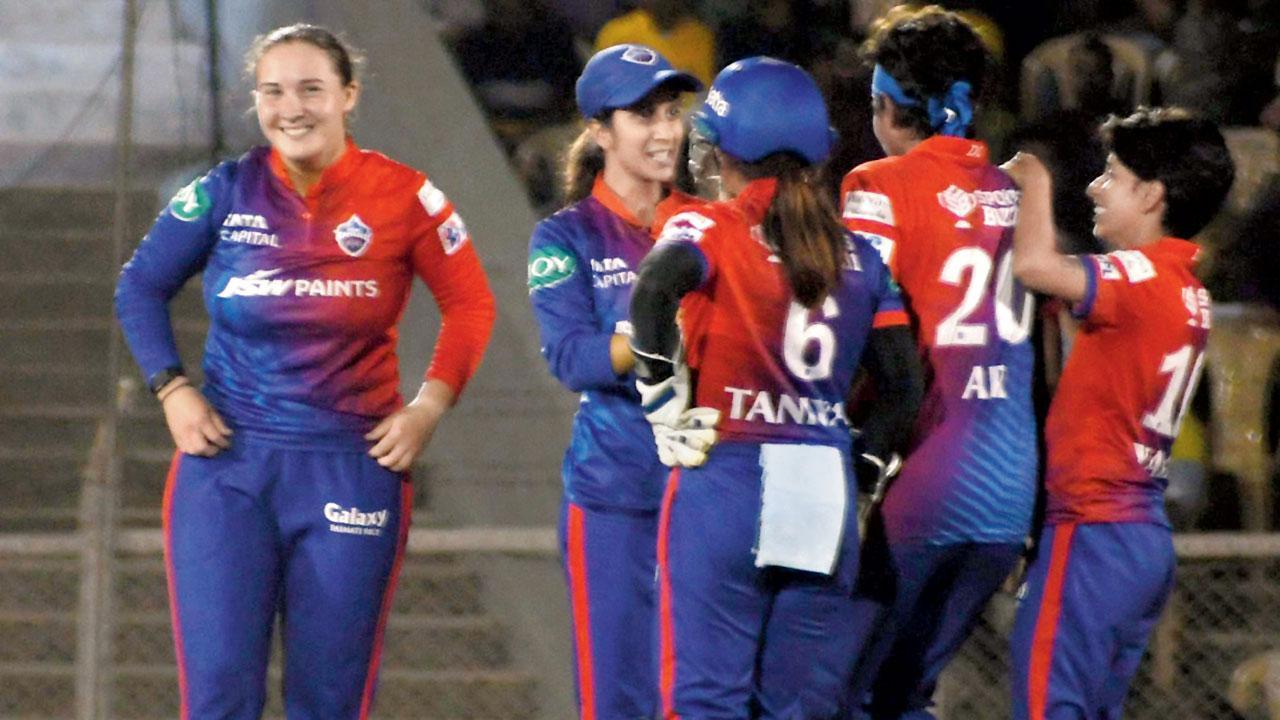 Delhi Capitals off-spinner Alice Capsey (left) celebrates a UP Warriorz wicket during a Women's Premier League game at the Brabourne Stadium on Tuesday. Pic/Ashish Raje
All-rounder Alice Capsey excelled (3-26 and 34 runs) as Delhi Capitals beat UP Warriorz (UPW) by five wickets to become the first team to enter in the Women's Premier League (WPL) final at the Brabourne Stadium on Tuesday. Capsey, 18, who aggregates an impressive 159 runs and six wickets in the seven WPL matches, insisted that she's happy to be learning and winning alongside some experienced teammates. 
"It's been such a cool experience. To be in a team with such experienced international players like [South African all-rounder] Marizanne Kapp, [skipper and Australian batter] Meg Lanning and Jess Jonassen  [Australian left-arm spinner]. It's been great for a young player like myself," said Capsey after her player of the match-winning performance.
ADVERTISEMENT
The big crowds are another inspiration for the young English woman. "Playing in front of big crowds... we played in front of 30,000 yesterday [against Mumbai Indians on Monday]. It was such a cool atmosphere. We've gelled together as a group as well, which has been great [and] got to know some different people that normally you're playing against. It has been an amazing experience and obviously, we've got through the group stages, but we have a pretty important game to go [the final]," she added.
Also Read: WPL 2023: The way I play, it's risk or reward, says Delhi Capitals' Alice Capsey
On Tuesday evening,  off-spinner Capsey bowled brilliantly, but refused to take too much credit for her performance. "I think it was all about keeping it really simple. I don't think I actually bowled well. I was given a couple of those wickets a bit freely, but you take them. My job was to get hit to the sweepers and bowl my best ball and make them play a high-risk shot. I was bowling to two left-handers for the majority of my overs and as an off-spinner, with some purchase off the pitch, that kind of aided me," she explained. 
Capsey who returned to do well with the willow (34 off 31 balls) put up a crucial 60-run partnership with Kapp (34 not out off 31 balls) to steer DC to victory. 
"It [batting performance] is definitely right up there. I felt a little more responsibility on myself to stay on and take us through, take it deep because we knew that if Kappie [Marizanne Kapp] and myself formed a partnership, we had pretty a good chance to win it," she added.