Royal Challengers Bangalore centurion Virat Kohli appreciative of Hyderabad crowd who savoured his splendid innings against Sunrisers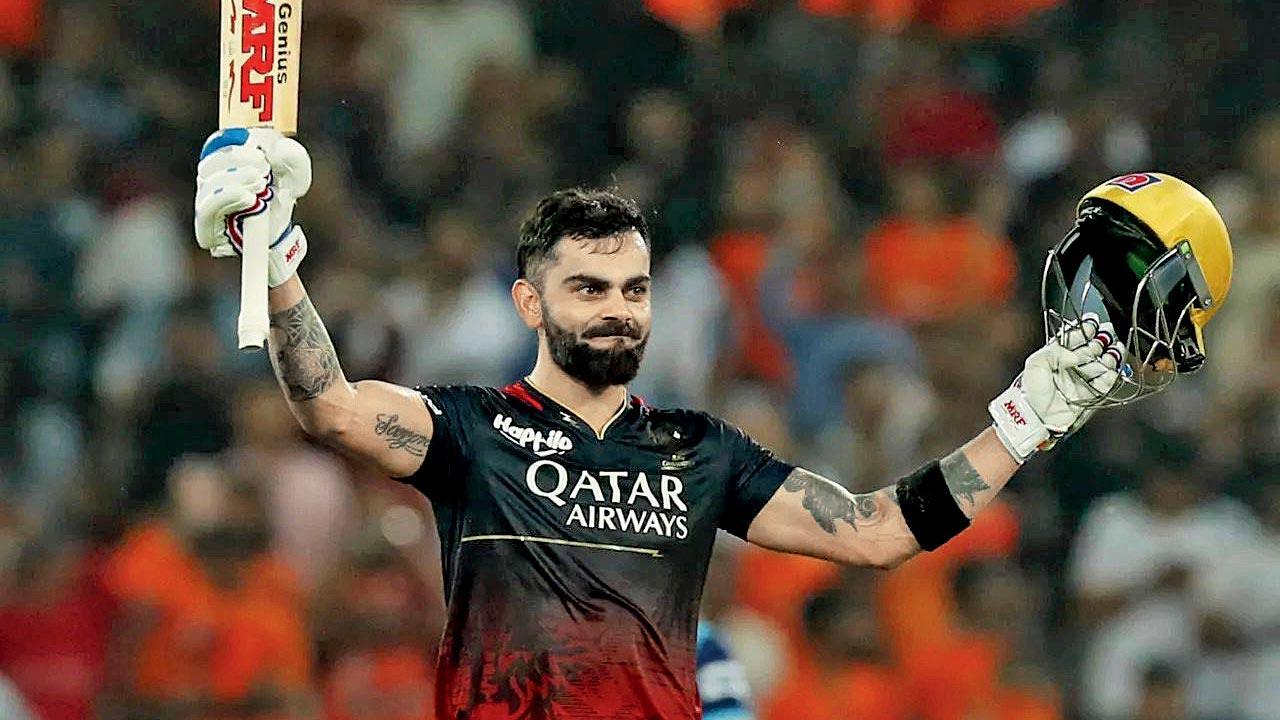 Virat Kohli celebrates his 100 against Sunrisers Hyderabad at Hyderabad on Thursday. Pic/BCCI; IPL
The Virat show lit up the Rajiv Gandhi International Stadium on Thursday night. Virat Kohli came, saw and conquered the hearts of a crowd of over 39,000 in Hyderabad. The chants of Kohli reached a crescendo the moment he reached his sixth IPL century, his first since 2019, in Royal Challengers Bangalore's eight-wicket win over listless Sunrisers Hyderabad. The venue was flooded with No. 18 jerseys. Kohli overshadowed SRH's Heinrich Klaasen's century and for the first time, there were two centuries in an IPL match. 
RCB now have 14 points and play Gujarat Titans next at home on Sunday. SRH, who are at the bottom of the table, tasted their ninth defeat and meet Mumbai Indians in their last league match at Wankhede on the same day. 
ADVERTISEMENT
Kohli, who scored 100 off 63 balls (12x4, 4x6) in the 187-run chase, was overwhelmed by the love shown by the Hyderabad crowd and said it was quite a special innings considering the magnitude of the game. "Blessed and grateful for the support. I told Faf [du Plessis] that it was like a home game, cheering for RCB and taking my name as well. I feel you can't create this. I'm myself on the field and think it resonates with the people. It is great to see people happy when I perform," he said.
Kohli was sublime. He, however, did not indulge in any T20 strokes. "For me, it's not about playing fancy shots and throwing my wicket away. We've got Test cricket [coming up] after the IPL, have to stay true to my technique. The way I was hitting in the nets wasn't transitioning into the middle in the last two-three matches. I wanted to make an impact and my intent was to go after the bowlers from Ball One, something I've done through the season. There was a dip, but I wanted to pick my game up at the right time. Never look at past records, when I can make an impact in an important game, it gives me confidence, it gives the team confidence." Kohli scored one and 18 in the last two matches against MI and Rajasthan Royals respectively.
Kohli said he did not expect to put on a 172-run stand with Du Plessis (41-ball 71) for the opening wicket. "We wanted a solid start, but did not expect to be 172 for no loss. That's how well Faf and I have played, he's been on a different level."
Also Read: SRH vs RCB, IPL 2023: All eyes on Virat Kohli as Bangalore play Hyderabad in must-win game