Less than 24 hours after guiding Mumbai to their maiden Syed Mushtaq Ali Trophy in Kolkata, Khan arrives at Sunder CC to play Purshottam Shield game for Parkophene; incidentally Mushtaq played for Sunder Cricket Club in 1957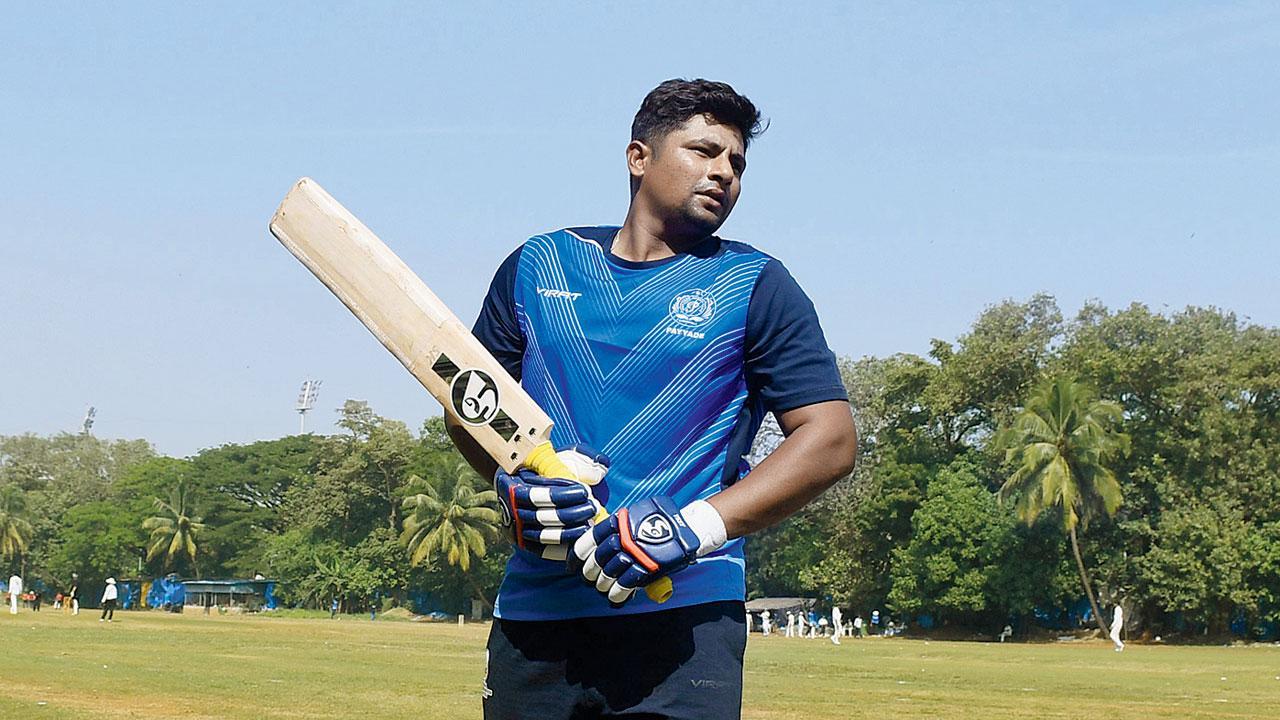 Sarfaraz Khan at Cross Maidan yesterday. Pic/Ashish Raje
Mumbai cricket is replete with stories of commitment. Sunil Gavaskar was known to arrive for club games despite landing in India in the wee hours of the morning. Dilip Vengsarkar played whenever he could for Dadar Union and there was a case of long-retired Polly Umrigar playing the Times Shield for his employers ACC, (which also had Gavaskar), a few days after returning from their 1977-78 tour of Australia, where Umrigar was the Indian team's manager.
On Sunday, Sarfaraz Khan, 25, added a refreshing chapter in Mumbai's club cricket history by turning up for Parkophene Cricketers in the Purshottam Shield at Sunder CC, Cross Maidan after playing the Syed Mushtaq Ali Trophy (SMAT) final for Mumbai against Himachal Pradesh in Kolkata.
ADVERTISEMENT
Interestingly, Mushtaq Ali represented Sunder CC on their East Africa tour of 1957, the first-ever Indian club tour to that region. On Saturday, Sarfaraz cracked an unbeaten 36 to pull Mumbai out of woods and help them lay their hands on the SMAT for the first time at the Eden Gardens. Sarfaraz's 94-ball 157 (26x4, 4x6) and Ninad Kadam's unbeaten 105 helped Parkophene Cricketers post a mammoth 422-3 in 45 overs. Khar Gymkhana were bowled out for 123 in 23.4 overs. 
Sarfaraz, who had only two hours of sleep on Saturday night, woke up at 3 am on Sunday. He reached Kolkata airport by 4 am to catch the 6.10 am flight. An hour of sleep on the flight was followed by a 9 am landing in Mumbai, where his dad and coach Naushad Khan received him. 
Also read: Ajinkya Rahane & Co eye maiden Syed Mushtaq Ali title against HP today
Sarfaraz went directly to Cross Maidan and made it just before the toss. "Most of the time we get good wickets in the Mushtaq Ali and Vijay Hazare Trophy tournaments, so I wanted to have good match practice on a difficult wicket. We have a few days before the Vijay Hazare Trophy, so I thought it's a good opportunity to utilise. Tomorrow [Monday] I will be doing match simulation at Islam Gymkhana," Sarfaraz told mid-day.
Busy schedule
The Mumbai team will head to Ranchi in a couple of days to start their Vijay Hazare Trophy campaign against Bengal on Saturday. Sarfaraz didn't want to rest. "If I take a few days' rest before the next match it breaks my momentum. Hence, I try to bridge the gap and stay in the game on most days. A good MCA [Mumbai Cricket Association] match helps—two professional umpires, 11 fielders and a decent bowling attack. They [Khar Gymkhana] had good bowlers like [spinners] Dhrumil Matkar [2-49] and Parag Khanapurkar [0-61]. The wicket was also challenging as it had turn and uneven bounce, which I managed to counter," remarked Sarfaraz, who also took two catches at first slip.
When asked about the close final against HP on Saturday, Sarfaraz said: "I was just thinking about playing till the last over and tried to win. In a low-scoring game, a batsman is always in two minds—whether to go for big hits or stay on the wicket. Himachal's bowling attack was very good. Most of their players had IPL experience and Rishi Dhawan has played for India. They were defending champions in the Vijay Hazare Trophy, so they are a good side. Mumbai had never won a T20 tournament and we were excited to perform well. I'm delighted to have played a role in Mumbai's win in the final."
The national selection committee has been criticised for not including Sarfaraz for India's tours of New Zealand and Bangladesh. Chetan Sharma & Co may have their reasons, but a lack of commitment can be safely ruled out.
Adhatrao smashes 193
Meanwhile in another high-scoring Purshottam Shield game at Dadkar Maidan, Matunga, New Hind Sporting Club's Siddhant Adhatrao smashed 193 (24x4, 6x6) to beat PJ Hindu Gymkhana by 263 runs. In reply to New Hind SC's 382-6, PJ Hindu were bowled out for 119. Spinners Akshay Jambhekar and Parikshit Valsankar claimed four and three wickets respectively.