Pacer Josh Hazlewood, who is a part of the Australia Playing XI for World Test Championship final against India at The Oval starting June 7, has showered praise on star India batter and his Royal Challengers Bangalore teammate Virat Kohli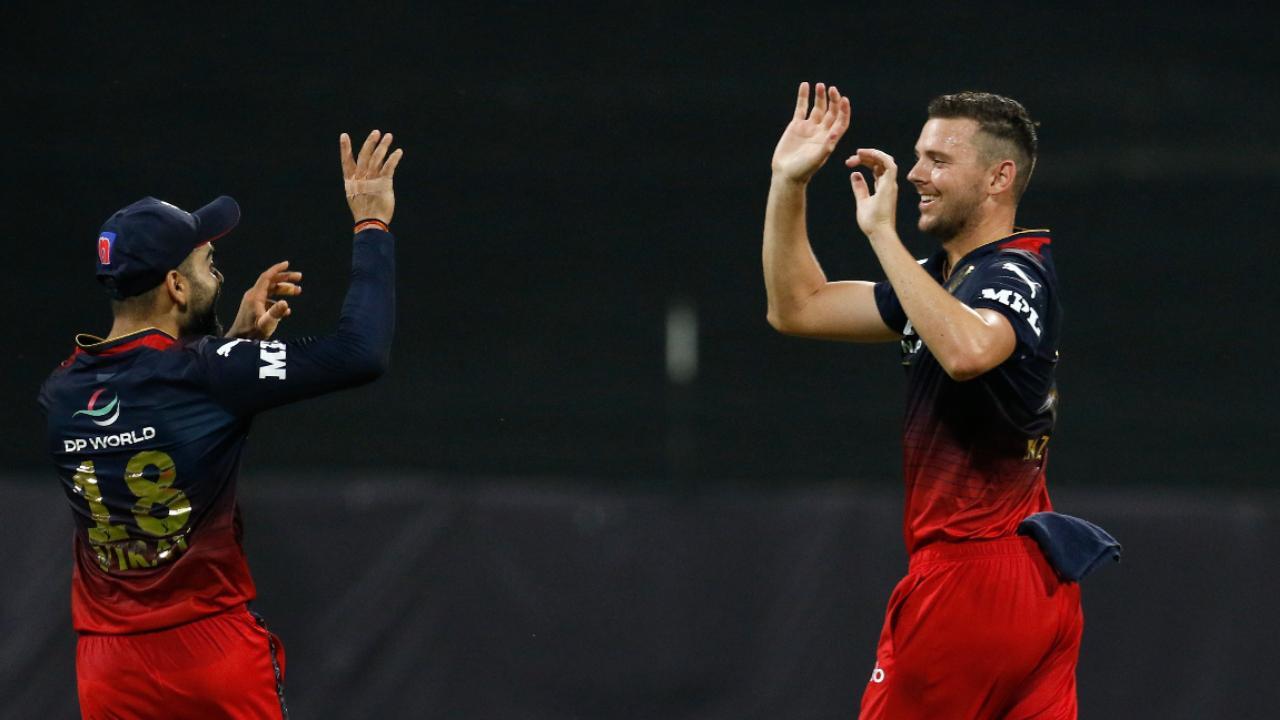 Virat Kohli and Josh Hazlewood (Pic: ANI)
Pacer Josh Hazlewood, who is a part of the Australia Playing XI for World Test Championship final against India at The Oval starting June 7, has showered praise on star India batter and his Royal Challengers Bangalore teammate Virat Kohli.
Hazlewood had to cut short his IPL stint due to a side issue. However, he maintained that he is not far from bowling at full strength as Australia gear up for the big final.
ADVERTISEMENT
Talking about Kohli, whose wicket he will be targeting at The Oval, Hazlewood expressed admiration for the Indian superstar's work ethic that makes him the player he is.
"I think it's probably how hard he works (that stands out). His fitness first of all - and then his skill work and batting and fielding in particular," Hazlewood told the ICC.
"He is always out there (training) first and leaves last, and the intensity he trains at all the time is at such a high level it drags everyone else along for the ride. That can leak on to the other players and improve them as well,"he added.
Talking about RCB's leading wicket taker Mohammed Siraj, who is expected to play a big part in the WTC final, Hazlewood said: "I was a bit late getting there (to RCB this year), but before then he was on fire."
"He is up there at the top of the wickets every time, and the economy rate was probably the thing as bowling at Chinnaswamy (RCB's home ground) is impossible sometimes and he was going at six or six-and-a-half an over. His control was great and he is bowling well," he added.

Close to bowling full pace

The Australian cricket team has been training in Formby in England ahead of the WTC final. Hazlewood trained with the team on Monday and said he is feeling good going into the big game.
"My fitness is pretty good and it is just a matter of ticking off every session from here until that date (June 7) basically. We will probably have anywhere from three to four more sessions - bat versus ball and then a couple of longer days in the nets as well or centre wicket down in London - so it is just ticking off those last few boxes and pulling up well from every session," he said.
"It was pretty close (to full pace today). I came down for a little bowl yesterday just to loosen up and to get a bit more out of today's session, so it is feeling good. It is always good to get the first one out of the way and when we get to London we will steam in," he added.
Hazlewood could feature in only three games in the IPL before his injury flared up.
"In T20 you are bowling a lot of various different balls every over. A wide yorker, to a bouncer, to a slower ball and it probably got jammed up a little bit and a bit of scar tissue from previous injuries flared up," he said about his injury.
"It calmed down pretty quickly, I had a week off but I didn't quite get back to going 100 percent at IPL. But the last few bowls have been good and I have been building up nicely," he added.
Having played as many as 15 Tests against India, Hazlewood is looking forward to the challenge of playing the Asian giants at a neutral venue.
"It is a strange stat that as I think I have just played a lot of cricket against them. What is going to be interesting is playing them here in England. It is going to be interesting for both teams how they go about it and how different it is to playing them in Australia or in India as typically you only play them there," he said.
"That is the exciting thing about it and everyone is looking forward to next week," he added. 
(With PTI inputs)
Also Read: WTC Final: Biggest challenge for Team India will be to adapt to the longer format, says Gavaskar
"Exciting news! Mid-day is now on WhatsApp Channels

Subscribe today by clicking the link and stay updated with the latest news!"
Click here!